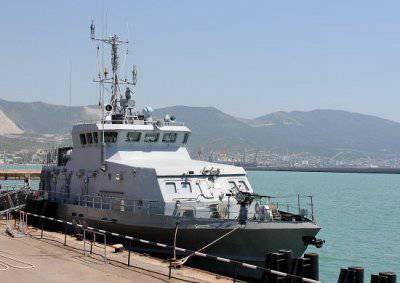 October 15 2013 of the year in Makhachkala passed state tests of the fifth anti-sabotage boat "Rook" (project 21980), built at the Zelenodolsk Plant named after A.M. Gorky.
This is the first of the boats of this project, which will be part of the Caspian
flotilla
.
This was reported in the press release of JSC "Tethys Pro".
The signing of the act of acceptance of the fifth boat was held in a solemn ceremony at the transfer base of Makhachkala, with the participation of representatives of the command of the Caspian Flotilla, plant management, representatives of the customer and contracting organizations.
During the solemn ceremony, workers of the plant and crew members who made a significant contribution to the construction and delivery of the boat were awarded with letters of appreciation and valuable gifts.
The anti-sabotage boat "Rook" is equipped with modern equipment that allows for the detection and examination of underwater objects. The main part of this search engine is the hydroacoustic search and survey complex (SEC) Kalmar, developed by engineers of Tetis Pro JSC.
In 2011, the Tetis Pro specialists specially designed the ship diving complex for the boat "Rook", which was installed on the second and subsequent boats. The diving complex is designed to provide diving descents during emergency rescue, underwater technical and other types of underwater work, treatment of specific diving diseases in the pressure chamber, and maintain the physiological fitness of divers.
You can read about the capabilities of the ship's diving complex and SCC Kalmar in the article "Anti-diversion boat" Rook "- Project of a new time".
Currently, the plant is in full swing building the sixth (laid 07 May 2013 of the year) and the seventh (laid 27 July 2013 of the year) boats. Upon completion of construction and passing all the tests, they also join the ranks of the Caspian Flotilla.