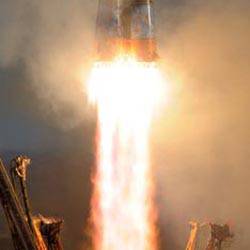 The Rokot light-class launch vehicle with three European Swarm satellites (translated from the English. "Roy) was launched from the Plesetsk cosmodrome, RIA reports.
News
"with reference to the press service of the Defense Ministry for the Aerospace Defense Forces (WKO).
Rokot was launched in 16: 02 MSK from the launcher No.3 of the platform No.133. Launch managed combat crews of the cosmodrome. Five minutes later, the main test space center named after Titov took the rocket to escort. At the same time, the Briz-KM upper stage was separated from the third stage. In 17: 33, as expected, satellites will be put into orbit.
Swarm satellites, each of which weighs 472 kg, will be launched into orbit 460 altitude - 530 kilometers. Their purpose is to study the magnetic field of the Earth.
The Rokot light class launch vehicle was created on the basis of an intercontinental PC-18 intercontinental ballistic missile. It was developed and released at the Khrunichev Center.
This is the second launch of "Rokot" since the accident of a rocket of this type that occurred in January of this year. Then, we recall, when the Rokot was launched with the Rodnik communication devices, the Breeze-KM overclocking unit did not work properly. Because of the emergency one of the three satellites was lost.
Problems with the launch of "Rokot" were before. In February, the 2011 carrier was unable to put the Geo-IK-2 military satellite into the calculated orbit. He did not enter the radio-visibility zone from the territory of Russia, but was later discovered by the Americans. It turned out that "Geo-IK-2" was in an elliptical orbit, and not on the planned circular.
Later, the Russian military were able to establish communication with the device, but they did not manage to bring the satellite into the calculated orbit. There was not enough fuel to return the vehicle to a given course, which made it impossible to use the orbital station for its intended purpose. Experts suggested that the deviation of the military satellite from the course was caused by malfunctions of the elements of the carrier control system and the upper stage.