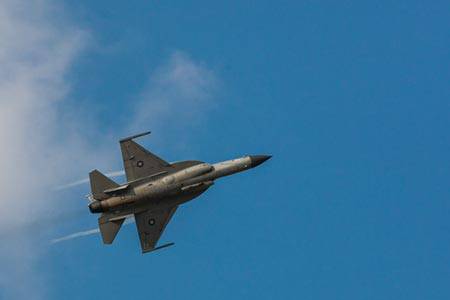 The editor-in-chief of the military magazine Kanwa Defense Review Andrei Chang (Andrei Chang, Canada), also known as Pinkov, said that in the near future, American and Chinese fighters and drones would dominate the global military aviation market, November wantsNTX. Such a statement was made by the editor under the impression of the international airshow held in Dubai (in the photo the JF-22 fighter of the Pakistan Air Force, a joint Chinese-Pakistani development during a demonstration flight at the exhibition, 17 in November).
Dubai Air Show-2013 is held every two years and is intended to demonstrate military
aviation
technology to the countries of the Middle East. The exhibition signed contracts worth a total of 55 billion US dollars. Chang told the Global Times that in addition to the new generation of American and Russian fighters, the Chinese Chengdu J-20 and Shenyang J-31 will enter the world market.
Chang also said that the development of unmanned aerial vehicles in China demonstrates progress.
The editor also believes that Russia is being ousted from the Middle East region, such countries as the UAE, Saudi Arabia and Jordan are focused on importing American and European fighters. "Russia realized that it was not able to compete," Chang said. The place of Russia in this region will be occupied by Chinese fighters and UAVs, which, thanks to their low price, will be able to compete with US military aircraft. Chang concluded that the time had come when the United States and China would dominate world military aviation.