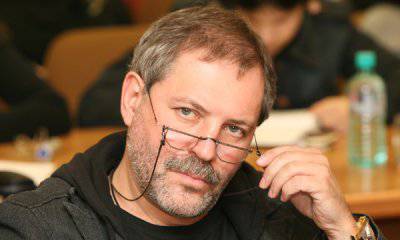 The media transmitted a statement from the Chairman of the Bank of Russia Elvira Nabiullina about a slowdown in economic growth. According to her, the old model of development has exhausted itself and the growth rate at the level of 1,5-2% is becoming the norm. Commentary by Mikhail Leontiev.
"What are the 2% growth with the current economic model ?! We must not forget about 2% and not about 5%, but about Russia! In the framework of the model that our macroeconomic block is implementing, we must forget about Russia. Well, it does not work for you in Russia!
Nabiullina hints at "Kudrinism," that is, at liberalizing relations with business, at the investment climate, and the like. All this, perhaps, would give rise to investment in a situation of good external conditions. But the current problems that have arisen within the framework of the old model are connected with macroeconomic policies, and I am ashamed of Nabiullina, who understands this, but due to changes in her official status, she has to voice completely different things. The problem of a sharp slowdown of the Russian economy in a very harmonious (in its degeneratism) macroeconomic policy. It is built on the appreciation of money, on the pseudo-fight against inflation and on an absolutely absurd exchange rate policy.
I'm not saying that our financial structures are deliberately annoying the ruble, although there are such suspicions, because it is beneficial in this model. It is beneficial because the conversion of ruble earnings inside the country into foreign currency assets takes place. The better the ruble exchange rate, the better the conversion rate. If you spend an effective devaluation on 50%, you will receive half as much money. Why do you need efficiency when you have to pay for it with your own money? These factors bury the economy, and there are no other factors.
Yes, we have many problems in the economy and we can talk a lot about labor productivity, but the external situation is favorable for us, and the economy is buried in the ground due to macroeconomic policies that make any activity that imports compete with uncompetitive. In Russia, only that activity that is protected from import is possible. This is a defense order, some types of services that are difficult to import by technological parameters, perishable products and the like. Everything else is impossible to do. It is economically absurd to localize automotive assembly production in Russia, even if investors have a keen desire for it. In the framework of macroeconomic policy it is impossible
So all this talk about 2% and so on is just a sermon in an insane asylum. Moreover, within the framework of the model, you drive power to a dead end, since any necessary devaluation brings down consumer ambitions of the population. At the same time, you are killing national competitive production, and the state is doing an accomplice to this social policy. By the way, we also have a banking system that borrows money abroad, then spreads the money here, and then converts it again. This system of the day does not exist with a serious devaluation: after all, the obligations are in currency, and the system goes into bankruptcy. The ruble is an intermediate link that allows you to earn income. We find ourselves in a situation worse than Greece, which needs to be devalued, but cannot devaluate the euro, and we find ourselves captive to the model, although it has its own currency and its sovereignty. "