Before taking the dignity, the future priest Nikolai Kravchenko managed to prove himself as a valiant defender of the Motherland.




Serving in the airborne troops, as they are called, "winged infantry", he took part in the fighting in the North Caucasus more than once. And here he had more than once to experience the action of the Highest forces. In the most dangerous moments of the battles, these forces invisibly kept him. Correspondent Valery Dukhanin talks to Father Nikolai.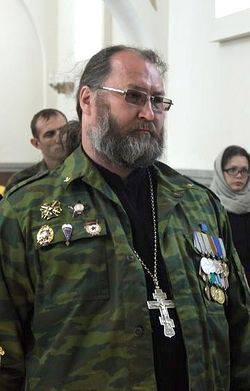 - Father Nikolai, you told how you participated in military actions on the territory of Chechnya. In your life or in the lives of other soldiers and officers, have there been any cases when the Lord manifested Himself?
- There were, and how! Suppose a fighter has stepped on a mine - and she did not explode. And only just walked a hundred meters - there was an explosion. Or more. When we went on reconnaissance, we faced "spirits" face to face. Slava, my friend, did not have time to shoot. "Spirit" was standing, aiming. Slavka shot earlier: the "spirit" in the machine gunner twisted the cartridge. As a result, Slavka is alive, but "spirit" is not.
The most vivid example with our brigade commander, Colonel Nikolai Batalov. After Abkhazia, we had a tradition before the exit of the battle, to read "Our Father". This reassured, and the importance of a properly executed case appeared. Once - it was in Grozny - we were tasked to control the underground garage. It was difficult to perform, because there was no room for movement. "Spirits" forced us to withdraw from the position. And we had to provide access to the Minute Square, control firing points on the other side of the street. We stood, read a prayer, at this time the brigade commander left. Says: "Guys, I'm with you." We grabbed the garage, cleaned it up, and began firing at points on the other side of the street. He again: "I am with you."
The commander of the group was me. Kombrig in this case was a stranger. He had no right to be among us. If he had died, the tribunal would have given me the full program. Then he began to tell what he saw: "When you started reading a prayer, I saw a transparent bell falling on top of you. And I felt that under this bell I would be safe. " Looking at him, we realized that he was telling the truth. Since then, he has read this prayer whenever there was an opportunity.
Eight years have passed. Met once the chief of staff. Have talked. I ask:
- Where is our brigade, did you see?
- Seen in Volgograd.
- So what, the command?
- Commands! He, unlike you, is already an archpriest!
And I also had such a case, from a number of those that led me, eventually, to the spiritual path. I had a friend Serega, we were familiar with the last war. He demobilized, went home. And in Chechnya, we met with him. He was a driver, and these still need to search. BVM kept in such purity, even though check handkerchief. I did not go to sleep until I was convinced that the car was filled and ready for battle. We met, but not for long, in February he died. At the BMP, I drove around UAZ, went along the side of the road - and she was mined. The explosion went up, right through it. I was very worried about his death: met - and again lost. Then, when we reached the Terek Range, our reconnaissance group received a week of rest. We were supposed to go to the baths in Tolstoy-yurt, but something went wrong for us. I lay on the field, the day is warm, I dozed off, the guys are playing volleyball - and the ball is rolling up.
And I see - my friend comes to me, I tell him: "Great, Seryoga!". And then: "Listen, you kind of died?"
- Where died - and where alive. I came to you. You three days to go exploring - do not go, die.
- How can I not go?
Then he told me: "Look here." And I see the road along which we walk, everything turned upside down, the earth has become transparent, and on it, in a staggered manner, there are mines tied - that is, if you hit one, the whole road will fly. "Look," he said to me, "if you go, read without stopping Our Father." You go by the second car. " And he went, I followed him, he entered a house and disappeared. The third day has passed - no movement. We go to sleep, rescues from the headquarters of the messenger: "Urgently, the combat exit in half an hour." The chief of staff resorts, sits on the head machine, I'm on the second. We conducted reconnaissance to identify firing points, revealed where the machine guns, where the hospitals. We return, the chief of staff says: "Let's go through the mountains." We go up the road - and I see the area that I saw in a subtle dream. And all this time I read Our Father. I take a sniper rifle, I see - a black wall rises in front of me - that's all. Woke up in the hospital. Contusion. We had such a second number, a good, reliable fellow from Siberia, Dima Novikov. I took it, went into reconnaissance with him. In his car, on an explosive wave, the tower was blown off the stopper, and they were sitting on the armor, and with a cannon it hit the ribs, broke two ribs. And my automaton flew from the explosion into the hatch, and I hung on my belt. BMP stopped - I fell out of the belt. I then went to Father Cyril, asking him about this phenomenon of my dead friend. And he says: "If a saint appeared to you and told you - you would not think about what you were told, you would only be proud: behold, the saint came to me. And the words themselves would have forgotten. And so listened. We always listen to the opinions of our friends. Pray for him - and he will pray for you. "
I remember it for life. I go and think: a friend is always there. I have someone to pray for. And what I have, I have thanks to him. Thank God for everything!