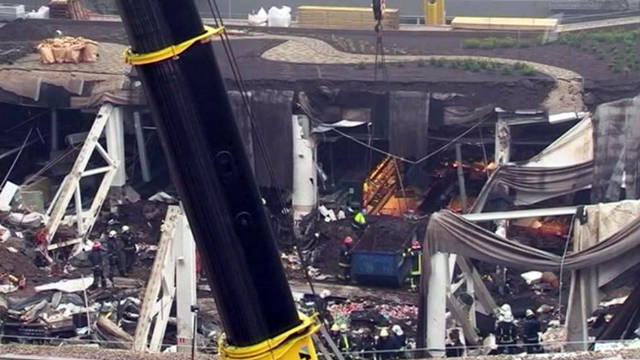 portal
http://snoom.ru
offers reliable information from different areas. Important
news
discussed today is the Riga tragedy. The latest news that comes from Latvia suggests that after the collapse of the roof and walls of the shopping center in Riga, the death toll has already exceeded 50 people. This is the worst tragedy of all
history
modern Latvia.
Last Thursday in one of the sleeping areas of the Latvian capital (Zolitude) the roof and walls of the Maxima shopping center collapsed. Eyewitnesses say that the first collapse occurred at about half past four in the afternoon. On the speakerphone, the surviving visitors of the shopping center were asked to urgently leave the building, panic began. The next collapse happened approximately two hours after the first one - at that moment the rescuers from Riga were conducting their work in what was left of the shopping center.
Initially, there were versions that the collapse of the roof and walls of the building in Zolitude provoked an explosion that was not a terrorist act. Declared that in one of the parts of the building a heating boiler exploded. According to other information, no heating boilers in the supermarket were used at all, and the collapse occurred due to the fault of designers and builders who made mistakes.
Now clarifying the exact causes of the incident involved special services, as well as experts in the field of construction. The latter express the version that the main reason lies in the use of low-quality materials, as well as in excessive load on the supporting structures of the building, formed after it was decided to build an additional superstructure on its roof.
Riga drowned in the buzz of sirens and in great sorrow. In Latvia, mourning has been declared for those who died under the rubble of the shopping center. In a sign of solidarity with Latvia, mourning has been declared in the neighboring countries of Latvia - Lithuania and Estonia. Russia sent a telegram to the Latvian authorities with condolences to the relatives and friends of the victims.
In this whole tragic story, one thing is surprising: the alarm, according to eyewitnesses, worked for at least 20 minutes before the first collapse, but no one thought to leave the building. Both the visitors of the shopping center and the merchants continued to go about their business. One gets the impression that at the first moment people were not informed that a case was necessary in the case of an audible signal.