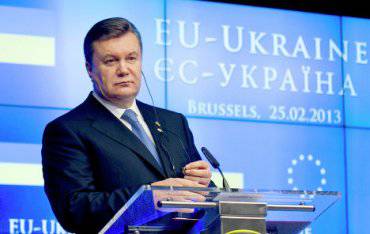 The suicide of Ukraine, so pompously organized by the European Union, "stops", maybe even forever, which is very disappointing for its inspirers and organizers - they tried so hard so that everything was on the highest level ... The death room of Ukrainian industry, called "European integration", was so beautifully decorated with civilized trinkets like "gay rights" and other democratic delusions. He is so reminiscent of the communist gibberish that he takes aback and took Yanukovich and his comrades at the same time ... At the last moment, he "suspended" his visit to the euro room of death.
Now much is said about some kind of bargaining between Ukraine and the European Union, and with Moscow. This is not fair in relation to the European Union. There really is a bargain with Moscow, but Europe has taken a fundamentally different position: bargaining is not appropriate, it's "
historical
", A civilizational and other choice, and as far as money and European aid are concerned, they are only promises to" deepen and expand democracy ", which will later turn into all kinds of benefits, but they forget to add: for those who survive the destruction of Ukrainian industry.
Kiev until the last moment did not believe that European democracy was completely gangster, with a colt in its pocket. After all, his neighbor, Poland, was once given a euro-room: all debts were written off, and they were given the same amount of money from above. And Ukraine is more than Poland ... But for Europe, Ukraine is not Poland. If everything were forgiven to Ukraine and given money, it would no longer be suicide, but suicide ordered, so Yanukovich's bargaining from the very beginning was not appropriate. He just didn't let him know how it was ... In the end, he understood it, and as a viable person, he refused to go to the room of death for European values.
So, the session of European magic in Ukraine did not take place, and now a session of its exposure will follow. It is unlikely to be avoided because Europe is absolutely predictable: it will continue to sing its song about the "European choice", and simply will not leave another choice to Yanukovych and his team how to open some details of the "association" with Europe, which the prime minister has already hinted at Minister of Ukraine Azarov, and immediately fell silent.
The West is getting stupid, right along Zadornov, he is no longer capable of a quick maneuver. For the time being, "Europe" will receive instructions from the State Department, while it will prepare new democratic sweets — and time is passing! And the pro-European Yatsenyuk, Lutseni and others will go straight to the slaughter of Yanukovych, who, if something happens, Putin will now back up. In general, "Farewell America", as Butusov and Geyrop sings!