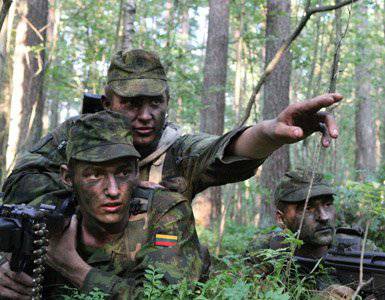 A spokesman for the Lithuanian army's strategic communications department, Lieutenant Colonel Arturas Yasinskas, said Friday that the Lithuanian troops, if attacked, are ready to wage an asymmetrical war and wait for the Allied assistance for at least a month.
"The goal of our armed forces would be to cause confusion in enemy units, to engage him in an asymmetrical war. As a result, 30 days of self-defense would be real, "said Yasinskas.
"The goal of our armed forces would be to cause confusion in enemy units, to engage him in an asymmetric war"
Responding to a question from Delfi, would Lithuania have lasted a day or two if it were attacked like Georgia, he said: "You shouldn't devalue yourself. We would have to defend to the last drop of the enemy's blood. Georgia is not an example for Lithuania, as it is not a member of the EU and NATO. Georgians had
weapon
, such as
Tanks
, and Lithuania focuses on defense together with NATO partners. We have anti-tank and anti-aircraft weapons, plus NATO support. "
Representatives of the Lithuanian army argue that there can be not only military, but also cybernetic, as well as informational threats in the country, so it is necessary to educate citizens against the actions of the enemy.
"The last two threats are directed not only against the army, but also against society. Without him, the army alone will not be able to fight. Currently, the main task of the enemy is to break the will of society to resist, "said foreman Thomas Cheponis.
Army representatives noted that the greatest threats emanate from states with an authoritarian regime. According to them, in Lithuania 8 thousand professional military and about 4,3 thousand volunteers.
Yasinskas stressed several times that the main thing for Lithuania is to be able to wage an asymmetrical war, this requires mobile armament.
An asymmetrical military conflict is a war between opponents whose military power, strategy and tactics differ greatly.
In such a war, they no longer count on military power, but on resourcefulness in military strategy and tactics, the ability of the weaker side to strike the enemy with the least cost.
Answering the question if Lithuania has a plan, how to defend itself against the enemy, if NATO partners do not come to the rescue, Yasinskas first excluded this possibility, but added that there is a so-called plan B.
"Of course, there is a plan. In addition to NATO, as an organization, there are obligations of individual allied countries. Their support comes from the contribution of our military in international operations, where we help them ensure the security of their countries, "he said.
Recall that on the night of 8 in August of 2008, Georgian troops attacked South Ossetia and destroyed part of its capital. Russia, defending the inhabitants of the republic, many of whom possessed citizenship of the Russian Federation, sent in troops and after five days of battles ousted Georgian troops from the region.
During the events, 64 of the Russian military were killed, including 15 peacekeepers. As a result of the hostilities unleashed by Georgia, 655 houses were completely destroyed, 2139 houses and buildings were partially destroyed.
Dmitry Medvedev, then president, explained that Russia was thus forced to respond to the corresponding aggressive actions that were then taken by the Georgian armed forces.