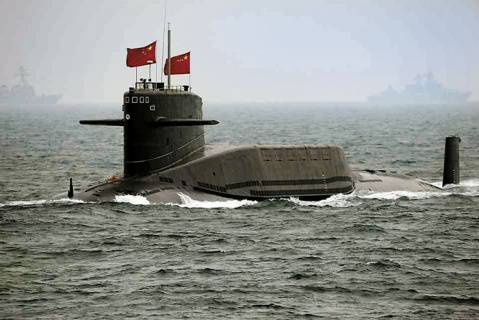 The US-China Economic and Security Commission has prepared a report on the state and prospects of the naval component of China's nuclear deterrent forces. According to the report, two projects of nuclear submarines are being developed in the People's Republic of China - the 095 APS submarine with missile-torpedo armament, and the 096 A / C with ballistic missiles.
By the end of 2013, the Chinese solid-propellant ballistic missile to launch from JL-2 submarines is expected to reach the level of initial combat readiness. Presumably, its range can reach 4 thousand nautical miles (7400 km). The rocket is designed to arm the submarine Ave 094. Now, the PLA Navy has three such submarines. Before 2010, two more are planned to be commissioned.
The report predicts that the strategic balance in Asia will change dramatically over the course of 5 – 10 years. Objects on the island of Guam, bases and ships of the United States and its allies throughout the entire Asia-Pacific region will be under attack by Chinese land-based missiles.
It is worth noting that the territory of Russia almost to the Urals will also be in the zone of action of Chinese ballistic missiles. At the same time, the PRC still refuses to participate in any negotiations on nuclear deterrence, and the construction of huge underground shelters in case of a nuclear war continues in the country.