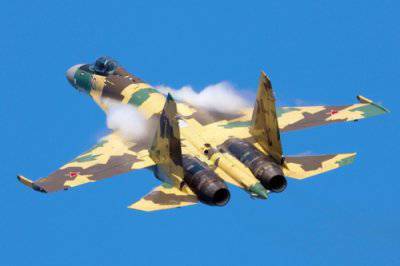 Russian media reported that Sergey Chemezov, General Director of Russian Technologies, said that this year it was impossible to sign a contract with China for the delivery of Su-35 fighter jets, military.china.com writes today. The contract may be signed at the end of 2014 or the beginning of 2015. The delay in the conclusion of the contract allegedly occurred because of Beijing's demands to equip fighters with Chinese equipment.
These messages did not fail to be used for "provocative purposes" by the Japanese press, in particular, Diplomat magazine (November 19). The magazine reports that "in view of China's theft of Russian military technology, Moscow is cautious." In 1992, China signed a contract for the purchase of more than 200 Su-27 fighters worth 10 billion US dollars, but later he himself began to produce their clones under the indices J-11 and J-11B, thereby partially fulfilling and terminating the contract.
The magazine reports that the current situation is very similar to the 1992 situation of the year. Beijing hopes that Moscow will help in setting up a Su-35 technical service center, so China will be able to carry out their own maintenance. But the "curse of the Su-27 clone" will force Russia not to provide a lot of technical documentation to China. In the future, Russia may lose incomparably more if China sets up production of cheap Su-35 clones.
The Japanese edition very clearly dictates its position: "Russian interests will suffer when one day Moscow faces military equipment that it has sold to Beijing, and this will be regrettable."