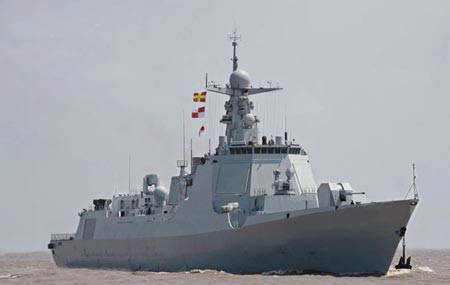 In China, the fourth rocket destroyer Type 052D "Chengdu" class "Kunmin" was launched, reports wantchinatimes.com 21 November.
Destroyers Type 052D are the most powerful warships of the PLA Navy, are a further development of the ships Type 052C. The new destroyers are equipped with 130 mm universal gun mounts, ship-to-air and ship-to-ground missiles, a multi-function radar with an active phased array.
The Chengdu is the 10 of the Chinese Aegis system ship. Destroyers of this class have UVN with 64 missile cells (transport and launch containers) and, in their combat power, are comparable to American ships of the Arly Burk type, are armed with long-range air defense systems HQ-9 and long-range cruise missiles DH-10.
The lead ship "Kunmin" (pictured) completed tests of the propulsion system during sea trials in the East China Sea.
Currently, the Chinese Navy can simultaneously deploy two or three Ajis destroyers, while Japan is only one. In addition, China is developing a new generation destroyer Type 055, which will be analogous to the American stealth ship Zumvalt. Ships Type 055 will be equipped with a rail gun and a HQ-26 air defense system, and will form the basis of the combat power of the PLA Air Force between 2020 and 2030 for years.