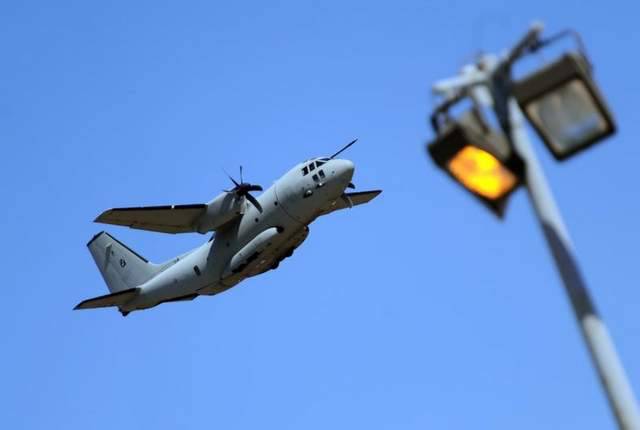 African countries are forced to spend more on the purchase of military aircraft and helicopters to modernize the air force, combat sea piracy and transnational terrorism, Defense News reported November 19. Demand will be, though slow, but steady in the period up to 2022.
Boeing Defense, Airbus Military and Russian Helicopters expect an increase in demand for new and modernized aircraft. Boeing has a contract with Libya to supply Xinchx Chinook transport helicopters (22 CH-16D and six CH-47F) through foreign military sales. Morocco will purchase three more CH-47D helicopters to increase their number to six cars. The company also expects to sell more reconnaissance aircraft, helicopters and tanker aircraft for the Algerian Air Force. Since the beginning of this year, Algeria has been evaluating Boeing's C-47 transport aircraft and the Airbus Military's multipurpose А17 transport tankers. The country needs to replace the Il-330 tanker aircraft and has already expressed interest in purchasing the newest Boeing KS-78 air tankers, which will be available in the 46 year.
"Africa is a new market for us, and we are beginning to understand this market better, but it will take time. Africa will not be the holy grail for us right now, but in the long run its role will be exceptionally great, "said Boeing's Middle East and African Vice President Paul Oliver.
In August of this year, Algeria received several of the six King Air 350ER reconnaissance aircraft equipped with radar and infrared equipment for sea and ground surveillance. The aircraft will go into service with the 5 reconnaissance squadron, which monitors the illegal transportation of drugs and
weapons
and also by al-Qaeda militant groups in the Islamic Maghreb countries (al-Qaeda in the Islamic Maghreb - AQIM).
Meanwhile, the Egyptian Air Force ordered six more C-295 airplanes from Airbus Military to bring them to 12. "A repeat order from a regular customer is extremely appreciated, the trust that the Egyptian Ministry of Defense has for us says that we offer an aircraft that meets the needs of our customers. The C-295 is the workhorse needed to complete current and future tasks, and is an effective addition to heavy transport aircraft, "said Antonio Rodríguez Barberán, senior vice president of the company.
Tunisia wants to upgrade its fleet of X-NUMX F-12 Tiger II fighters with the installation of Northrop Grumman's equipment in the amount of 5 million dollars. The deal is funded through the US Department of Defense Defense Cooperation Agency.
Nigeria's largest African country is also in need of procurement of a new
aviation
equipment, in particular, to fight the Muslim extremist organization Boko Haram, to support internal and external peacekeeping operations, but the lack of a unified approach to procurement requirements hinders the process of acquiring them, said Air Force Chief of Staff Marshal Alex Badeh.
The Italian company Alenia Aermacchi will supply Chad with two new C-27J Spartan transport aircraft (see photo). These aircraft are designed to increase the capacity of the Air Force to combat international terrorist groups in remote areas of the Sahel and the Sahara. Transfer of aircraft may take place before the end of the year.
Angolan air forces purchased 18 ex-Indian Su-30K fighters and spare parts for Mi-17 helicopters, according to the Russian company Rosoboronexport. The Russian newspaper Vedomosti recently reported that these contracts are part of transactions worth 1 billion. Rosoboronexport Deputy General Director Alexander Mikheev said that the company is ready to repair and modernize these aircraft, and also hopes to supply more Su-30 fighters to such traditional partners as Uganda, Angola and Ethiopia.
Niger will receive from the United States two upgraded reconnaissance aircraft DA-42 Twin Star from Diamond and two transport aircraft Cessna Caravan. This program is part of helping this country fight terrorism and smuggling in the Sahel region.
"There is a need to localize the modernization and maintenance of aircraft supplied to the countries of the Middle East and North Africa, resulting in an increased need for international cooperation in engineering, education and research in this area", says the regional ambassador of the international engineering systems (International Council on Systems Engineering) in the Maghreb Nauman Arshad (Nauman Arshad).