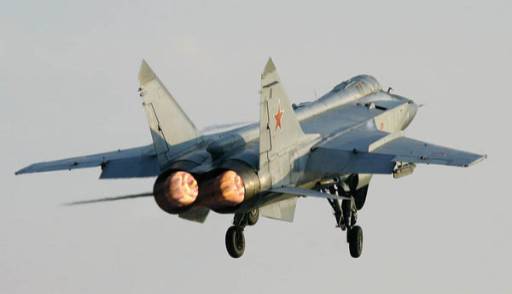 According to the commission on the investigation of the collapse of a military aircraft near Karaganda, technical problems on the aircraft occurred as a result of a violation of the technology of installation work during the repair of the aircraft at the 514 aircraft repair plant in the city of Rzhev.
The results of the investigation of the crash of the MiG-31 declined to comment on the Rzhev aircraft repair plant.
On April 23, in the Karaganda region, during a scheduled night training flight due to equipment failure, the MiG-31 crashed. The crew ejected, while the crew commander, Colonel Marat Edigeev (commander of military unit 50185) - died, the navigator Major Ruslan Galimzyanov survived. As noted in the main military prosecutor's office, during the investigation a large amount of investigative actions and a number of forensic examinations were carried out, including those carried out by the Research and Development Center for Maintenance and Repair
aviation
RF technicians.
"Based on the findings of Russian experts, the cause of the crash was the disconnection of the steering gear due to the spontaneous unscrewing of its fastening nut. According to the conclusion of the accident investigation commission, technical problems occurred as a result of a violation of the installation technology during the repair of the aircraft on 514 aircraft repair the city of Rzhev of the Russian Federation, held at the beginning of this year, "- said in a statement department.
It is reported that the question of sending a criminal case to the competent authorities of the Russian Federation for further investigation is currently being considered.