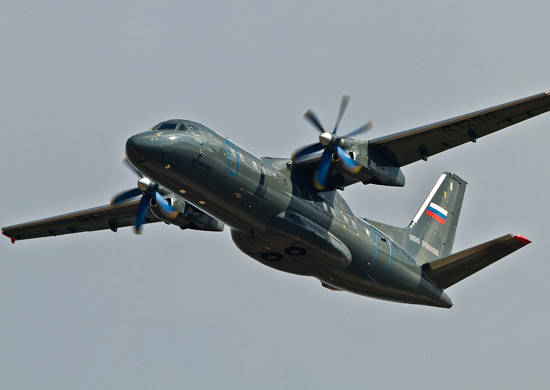 Group of Marine Officers
aviation
Of the Baltic
fleet
(BF) departed for the Aviakor Samara plant to accept the new An-140 military transport aircraft built for the BF.
During acceptance, the engineering and technical staff of the naval aviation base of the fleet, together with representatives of the manufacturer, will check the equipment of the aircraft, its conformity with the specifications, the presence and proper operation of each on-board system and additional equipment units. In addition, experts will conduct an inspection of systems with running engines, their borescopy and other procedures.
After completion of the acceptance actions and signing of the transfer certificate, the pilots will transfer the aircraft to the Baltic Fleet, where it will be included in the naval aviation base.
By design, the An-140 is a twin-engined high-wing aircraft. It has a three-rack all-terrain chassis with low-pressure tires. The An-140 design includes an auxiliary power unit located in the rear fuselage and providing autonomous operation of the aircraft on unequipped airfields.
The main features of the An-140 aircraft include the possibility of using in high altitude, hot and cold climates, on small airfields, including those with little equipment with short runways (including unprepared) with low surface durability (including unpaved ones); ensuring a high level of comfort due to the low level of noise and vibration in the cabin, modern interior, optimal pitch and seating, excellent ventilation and lighting that meet modern international standards and requirements; high flexibility of interior layout in relation to customer requirements; high fuel efficiency, low maintenance and operating costs.