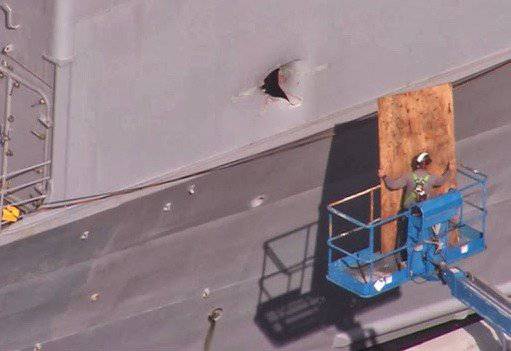 The details of the drone attack during the planned cruiser exercises off the coast of California became known. Earlier it was reported that the incident occurred during the planned exercises of the cruiser off the coast of California. According to preliminary data, during the flight at the drone there was a breakdown and he fell aboard a warship.
But later published photos of damage to the USS Chancellorsville missile cruiser, there was a side opening in the ship's superstructure as a result of a missile target.
The 60-cm hole in the USS Chancellorsville (CG 62) URV cruiser add-on with the latest Aegis (Baseline 9) ASM system from the BQM-74 target missile during the Combat System Ship Qualification Trials of this very "latest version of automated battle control systems" .
In the absence of any official explanations, it is rather difficult to determine the exact cause, but our colleague Prokhor Tebin assumes that everything happened because the ship did not plan to actually use air defense weapons during the exercises (except for tracking the object).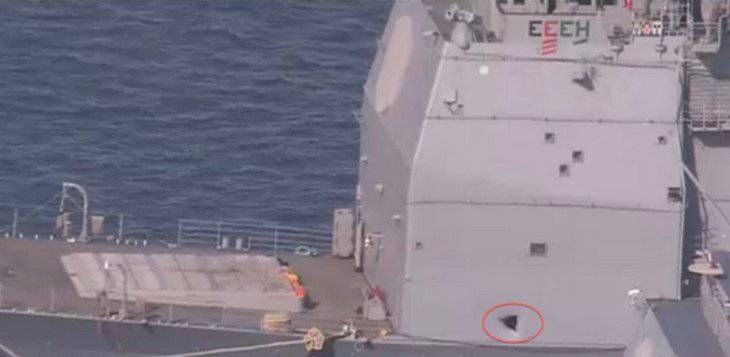 When the unexpected happened, it was too late to launch the missiles, and they did not manage to switch the CIWS from manual (which is practiced during the exercises) to automatic mode. If CIWS was used, then to no avail. Those. this event does not tell us that Aegis is godlessly outdated and is not coping with its tasks. But the lack of clear explanations from
fleet
is surprising.
Recall that as a result of the incident, two crew members of the missile cruiser USS Chancellorsville were injured. Damage to the ship at the moment hidden from prying eyes and all information about the incident kept secret.