One of the main hot topics of the German press is Chechen refugees. Germanic publications are about Chechens, who rushed en masse to the most developed country in Western Europe. Newspapers and radio stations report 14.000 refugees from Russia. In ten months of 2013, only 1.800 Chechens arrived in Berlin and Brandenburg. Representatives of this particular nation now constitute in Germany, according to the media, the largest group of refugees. Some of the Chechens claim that they are simply looking for a better life, others talk about oppression in their homeland, where they are credited with working with nationalist terrorists who oppose Kadyrov, while others say they are terrible stories about the torture they have suffered in Chechnya.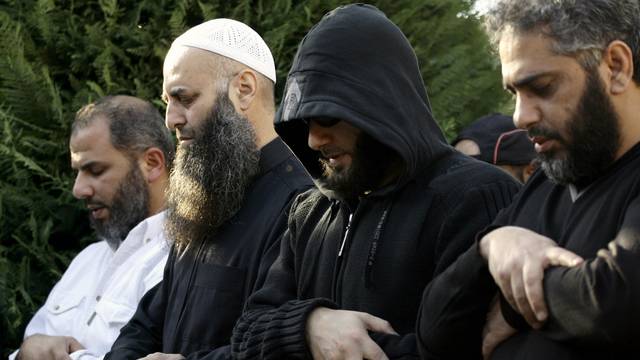 In a report by Benjamin Bidder and Christina Hebel (
Spiegel
) reported thousands of Chechens, who are currently sent to Germany. Only in the first ten months of 14.000 people from Russia made requests for asylum. This is almost seven times more than the entire 2012 year. These are not any approximate or estimated figures: the correspondents referred to the data of the Federal Office for Migration and Refugees.
Journalists cite the words of human rights activist Svetlana Gannushkina, who believes that Kadyrov and his apparatus of power are cruel and ruthless. Nevertheless, the Kremlin is generous to Grozny, sending more than 1,6 billion euros there annually. At the same time, only a million people live in a small republic.
Article migration specialist and journalist Klaus Bad (
Zeit
) exposes the "cynical paradox." Many people complain that the number of individuals abusing the right of asylum is growing, however, according to the journalist, the asylum system in Germany and the EU has not been working for a long time.
According to the rules, asylum seekers in Germany can receive such only under a constitutional amendment from the 1993 of the year, that is, in exceptional cases. They can learn about the reality of their own chances at a consultation with the German consul. Usually, everything ends with the use of a deportation scheme worked out in German lands.
Most refugees use illegal ways to get to Germany, the expert writes. These people, using the advice of experienced comrades, claim that they have lost their documents, and also are not eager to state their names and clarify what kind of roundabout ways and from where they came to Mother Europe.
The author notes that illegal flows of refugees in Europe have increased dramatically. It highlights the journalist of Chechen migrants.
Chechens left their "house-plowed shells" in Russia and moved to Poland, Bulgaria and Greece. From there they stretch mainly to Germany. According to the author, only this year, to September inclusive, 13500 refugees from Russia arrived in the country, or almost 800 percent more than in the corresponding period last year. And the number of refugees continues to grow.
Greece is not satisfied with migrants because of the rampant Nazi sentiment, as well as because of the terrible economic crisis. Those who arrived earlier in Greece are now looking at Germany.
Italy provides refugees with only a few weeks of residence (tourist visa) and a temporary allowance for Euro 500. From there, the refugees mostly head north to Germany.
Adrian Bartocha and Olaf Sundermeier (
Radio Berlin-Brandenburg
) in the report "Escape through revolving doors" report that Chechens constitute the most numerous group of refugees in Germany. This year alone, 1.800 Chechens sought asylum in Berlin and Brandenburg.
However, politicians and governments do not want to talk about it in public. The fact is that Poland is actually responsible for these people - the country from which they now come.
Chechens tell the German authorities about the terrible harassment to which they were subjected in their homeland. Journalists give a written statement of one refugee who told about dousing him with boiling water, torturing him with electric current through a telephone cable, sitting in a barrel of ice water for several hours.
Correspondents indicate that only a few people from Chechnya who are seeking asylum will remain in Germany. Most will be immediately deported to the countries from which they entered - in the same Poland.
According to the authors of the material, there is no war now in Chechnya, but violence prevails in everyday life. People who are in opposition to Moscow, loyal to Ramzan Kadyrov, do not feel safe. These are mostly Chechen nationalists, their supporters, or simply those who are suspected of this. Some arrivals claim that this is the reason why they are seeking asylum in Germany. Many also claim that they are simply looking for a better life.
The German Federal Office for Migration and Refugees (BAMF) is ready to recognize only 2,4% of asylum seekers. The vast majority of the rest will be deported. Most likely, these people will return to Poland - the country from which they illegally came. Often refugees cross the border in Frankfurt an der Oder, where now the federal police have activated checks. However, the actions of the police can only have relative success.
A certain Azamad J., who was in his family in Germany before, described his path this way:
"At first I arrived by train to Belarus from Chechnya, then I moved from there to Warsaw, and there I took a taxi directly to Berlin ..."
Until 2000, the euro is taken by Polish smugglers who organize trips from the east of Poland to Berlin, journalists say. Chechen compatriots are also involved in the business of illegal transportation of people.
Interestingly, the journey by train at the same distance can cost less than 50 euros. However, refugees feel safe in cars with a familiar middleman. "Many of us never even left Chechnya, did not go anywhere," said one of the refugees.
The German authorities remain silent on the largest group of refugees. In the meantime, Poland received the nicknames of the "marshalling yard" and "revolving door", through which tens of thousands of Chechens pass through to Germany and back.
Chechens themselves always speak of themselves in Germany as "citizens of Russia". Of the almost 6,5, thousands of Chechens who were to be deported in the first half of 2013, only about 600 were actually transferred to Poland.
Daria Eremina (
"Lenta.ru"
) also recalls the issue of radicalism. In Germany, there are enough preachers for whom young Chechens are fertile ground for manning. The chairman of the German-Caucasian society in Berlin, Ekkehard Meuse, says that there is a tendency towards radicalization among young Chechens in the Federal Republic of Germany. According to him, many of them came to Germany as children and grew up without fathers who died in the Chechen wars. Later, the mothers ceased to be an authority for them, and they found an example to follow in the face of preachers who advocated strict adherence to religious norms. Fearing radicalization, the German authorities are now making every effort not to provide asylum to people from Chechnya.
German intelligence services are increasingly interested in Chechen refugees. After the terrorist attack in Boston, they tightened control over immigrants from the North Caucasus republic. In the autumn, the Constitutional Protection Service published a recruitment announcement with knowledge of the Chechen language.
In addition, German intelligence agencies cooperate with the Russian. For example, in May, the FSB handed over to German colleagues information about the impending terrorist attack by Chechen and Syrian Islamists in Germany. The German authorities calculated one participant in the planned operation, an 18-year-old Chechen refugee who sought asylum and lived in Berlin.
In such a tough scenario and counteracting illegal migration, we'll add on our own, to Chechens, who are massively emanating from Poland, hope for almost nothing. "Revolving doors" work in both directions. And the "sorting station" is, in fact, an ordinary base of criminal business, where "taxi drivers" repeatedly profit from refugees who dream of a German residence permit in a European paradise.
Observed and translated by Oleg Chuvakin
- especially for topwar.ru