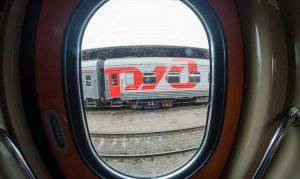 Railways continues to reform its company. Starting next year, the company intends to begin the process of abandoning the use of cars with reserved seats and at the same time increasing the percentage of double-deck cars. The first train based on double-decker cars set off this month from the Golden-domed capital to the South capital. The excitement was great, even despite the relatively high
train tickets cost
and despite the fact that on the same day, other trips from Moscow went to Sochi and Adler.
Next year, the company Yakunin intends to freeze the price of rail transportation, but not all. The price policy of passenger transportation will not change only with regard to compartment and luxury cars. Prices for reserved seats will rise.
Railways plans to continue building new railway lines and upgrading stations. Much attention is paid to the program for the development of the Far East and the Baikal region. This project includes the task of modernizing the Baikal-Amur Mainline, working on the Trans-Siberian Railway - the longest mainline railway in the world. The main idea of ​​this work is to increase the capacity of the existing railways, which today clearly do not cope with the traffic that goes from the European part of Russia to the Asian part or in the opposite direction.
An even more ambitious task is to extend Transsib to the ports of South Korea. This task so far rests not so much on the economic, as on the political barrier. Her decision to slow down due to the existence of serious political disputes between the two Koreas - the Republic of Korea and the DPRK. The heads of these states are not yet ready to cooperate in economic matters, which does not allow the plans of the Russian Railways to be realized in full.
At this stage of development, construction of a high-speed highway is planned, which will have to stretch from Moscow to Kazan. This project has already been included in the Russian Railways program, but so far the amount required for the project has not been indicated.
The total amount of RZD investment programs for a three-year term (2014-2016) remains at the level of 1,2 trillion rubles today. Based on this amount, the main tasks facing the company will be solved.