The American Civil Liberties Union (ACLU) is a non-profit organization founded in 1920 and aimed at protecting the rights and freedoms guaranteed by the constitution and laws. ACLU is the largest American non-governmental organization active in the field of the protection of citizens' rights.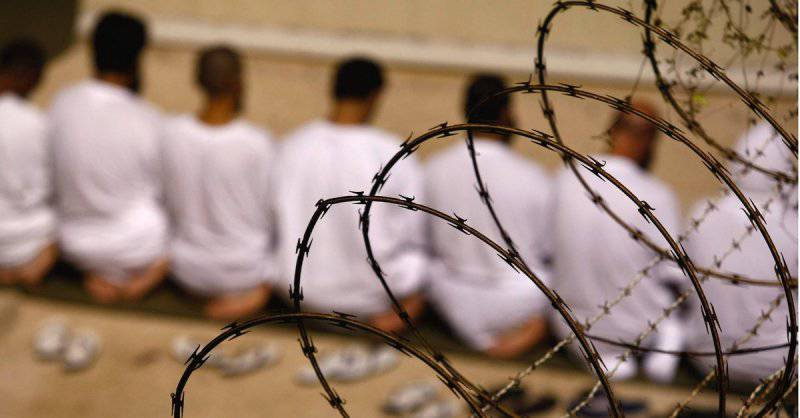 The other day on the website of the organization was
published
a report on the "living dead" - people who not only went to jail in the United States, but sat there for life.
The report called the number - 3278 people. According to human rights activists, these are people who have committed non-violent crimes - for example, petty theft - and received life sentences without the right to appeal.
Many of these "living dead", committing crimes, were prone to mental illness, suffered from drug addiction or simply in poverty. None of them will go home to their parents and children, the authors write. And taxpayers spend billions of dollars to keep all these people behind bars.
According to the ACLU, 22-year-old Patrick Matthews was arrested for stealing tools and a welding machine. According to American law, he received a life sentence for this - only because at seventeen he committed burglary (without being armed). Patrick has no criminal
stories
related to violence. One of the judges who reviewed Patrick's appeal said that he did not "consider that the mandatory punishment of this 22-year-old guy contributes to the achievement of the goals of justice". Patrick himself says: "I never would have thought that this could happen." And he adds: "Once I made a mistake, and they equated me with a murderer."
Teresa Griffin was sentenced for her first offense. She was 26 years old, and she was seven months pregnant when the police detained her with 38500 dollars in cash belonging to her boyfriend and half a pound of his own cocaine. According to Griffin, her ex-boyfriend hit her and threatened her with death. Because of jealousy, he forbade her to go to school or to work. Teresa told me that a friend used her as a mule to transport drugs along the Texas-Oklahoma route. She took cash from the sale of drugs. Griffin (who is 47 years old now) has already been imprisoned for 22. She says: "I understand: I did something wrong, but this is not enough to take away my life."
Anthony Jerome Jackson has six classes of education. He worked as a cook. When he was 44 of the year, he stole a wallet from the Myrtle Beach hotel room. Police arrested him when he tried to use a stolen credit card. Due to his two previous convictions for burglary, Jackson was sentenced to life imprisonment without the right to parole.
Stephanie Yvette George - 23-year-old single mother. Police found drugs hidden in a safe in the attic of her house. The judge did not want to pass a harsh sentence, but his hands were tied due to Stephanie's previous convictions for petty offenses.
Sharanda Parlett Jones was sentenced to life imprisonment without parole to spread cocaine by criminal conspiracy. The charge was almost entirely built on the testimony of accomplices, who thereby reduced their sentences. In the case of a conspiracy, 105 people were arrested. In addition to a telephone call, in which two government informants participated, there was no evidence against her incriminating her in a criminal drug dealer conspiracy. This woman has been serving more than 14 for years. She carefully allocates 300 minutes for her monthly calls, trying to talk to her daughter for 10 minutes every day. Her daughter is now 22, and was nine years old when her mother was imprisoned.
Timothy Jackson is also serving a life sentence without parole. This man stole a jacket in the store for 159 dollars.
The theft was committed at a New Orleans department store in 1996. At that time, for the crime of Jackson, if it was committed for the first time, they gave 2 of the year, and now they give only six months. However, the court sentenced Jackson to life. The fact is that twenty years ago, while still a minor, Timothy was convicted of robbery without
weapons
and two carjacking without aggravating circumstances.
Jackson already 16 years languishing in prison. "They put me as if for murder. They have people who have received shorter terms for killing than I, "says Jackson.
"Jacket for 159 dollars! Tell me someone that I can get for this life, I would not believe him. "
According to human rights defenders from the ACLU, the total financial savings of taxpayers in the event of a review of sentences for non-violent crimes will be at least 1.784.000.000 $. According to the estimates of the American Civil Liberties Union, only the federal penitentiary system will save more than 1,2 billion dollars. But the calculation for one person: for example, the life of a prisoner in Louisiana for one prisoner who has committed a non-violent crime will cost the state taxpayers about half a million dollars.
Recall that currently the United States leads the world in the number of prisoners: 730 per 100.000 residents (data from the International Prison Research Center, ICPS). There are about 2,2 million people in US prisons.
Observed and translated by Oleg Chuvakin
- especially for topwar.ru