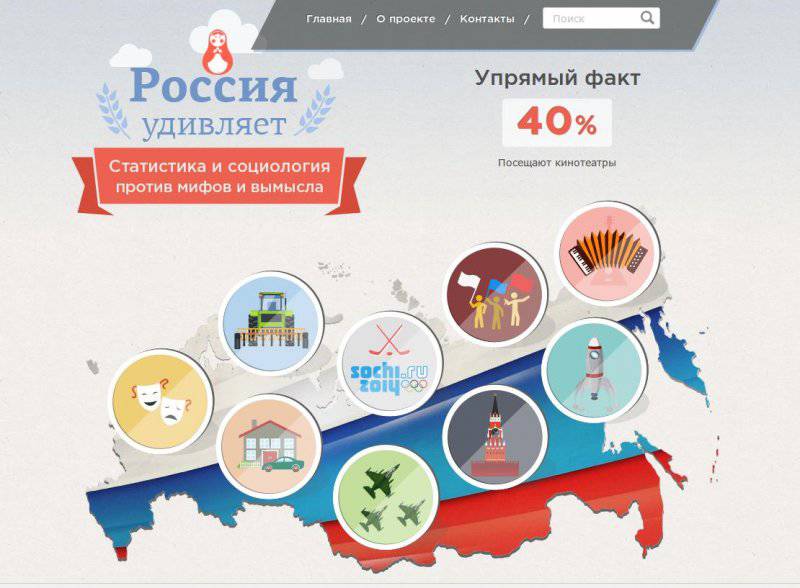 VTsIOM, FOM and the ISEPI Foundation launched a project
"Russia is surprising"
. This is a new brain break for hamsters, and in huge portions and - most importantly - from official and serious structures.
If "Made by Us" by Roman Kovrigin, "RuExpert" by Oleg Makarenka (fritzmorgen blogger) and other sites, individual bloggers are private initiatives of ordinary people who are sick of reading the total dummy about Russia on the Internet, then here come reputable institutions with huge baggage of knowledge and skills. It is clear that convinced "all propalschiki" is not able to convince anything, and especially the official data of "Rosstat" and VTsIOM - they say, Putin's henchmen work out their bread with caviar. This is all clear.
But at the same time, it is obvious that it will not be easy to dismiss such information, and that it will be useful for many millions of sane people on the Internet to find out the truth about their country, and not the dill.
***
Myth: "Russians are dissatisfied with themselves and life"
REALLY: Over the past 8 years, the number of people satisfied with life has increased significantly. Moreover, in 2, the respondents began to talk less often about dissatisfaction with life.
*
Myth: "Russians no longer believe Putin"
REALLY: Today, three out of four Russians (73%) admit that V. Putin has done a lot for Russia in difficult circumstances - his services to the country every year are more and more obvious to the population. The majority does not doubt the assertion that V.Putin is a strong leader (74%) who pursues the right foreign policy (74%).
*
Myth: "Russia is on the verge of revolution again"
REALLY: Over the period of 2006-2013, the indicator of personal protest potential significantly decreased. Compared to 2006, the figure has halved: only 17% of those surveyed in 2013 have indicated their readiness to take part in mass protests.
*
MYTH: "Russians are not satisfied with the course of the country's development.
REALLY: Most Russians positively assess the development vector of the country, and approval grew from 2005 to 2007 a year. However, the economic crisis and its consequences have affected the opinions of Russians. At the beginning of 2009, the approval of the country's development vector was the lowest in the last 7 years. Since 2009, more and more people in Russia agree that things in the country are moving in the right direction.
*
Myth: "Russia does not have its own food" or "Imported products are better than local ones.
REALLY: The absolute majority of respondents (69%) declare that they prefer to buy products of domestic production. Only 1% of respondents prefer products from foreign manufacturers.
*
MYTH: "Russians monitor oil prices and fear a crisis.
REALLY: The absolute majority of respondents in recent years have noted that they do not follow world oil prices. At the same time, the share of those who monitor oil prices in 2012 decreased to 16%. It should be noted that in 2001, the shares of those interested and those not interested were distributed equally.
*
Myth: "Russians do not believe the ruble"
REALLY: Russians now tend to trust the ruble more than foreign currencies. Only every fifth respondent in 2012 reported that he trusts the currency of other states more.
*
Myth: "Russia produces nothing"
REALLY: Agricultural output is growing. In 2009-2010 There was a decrease in crop production, but in subsequent years there was a noticeable increase. Livestock production is steadily growing.
*
Myth: "In distress, in education, science and culture"
REALLY: Almost every second Russian believes that the state of affairs in the sphere of culture, science and education can be assessed as good and satisfactory. These numbers haven't changed much in the last 5 years.
*
Myth: "Science does not develop in Russia"
REALLY: The number of organizations doing research and development related to nanotechnology has been growing since 2008. In 2011, the number of organizations doing research and development related to nanotechnology has reached 485.
*
Myth: "Patriotism is not in vogue"
REALLY: The absolute majority of respondents call themselves patriots of their country.
*
Myth: "Russian is peculiar to chauvinism" or "Russians are racists"
REALLY: For the absolute majority of Russians, the word "Nationalism" has a negative meaning.
*
Myth: "Islamophobia is growing in Russia"
REALLY: Every second respondent has a negative attitude towards Islam, every fifth (19%) positively. Almost half of the respondents said they would be neutral to the adoption of Islam by people close to them.
*
Myth: "Russia has nothing to be proud of"
REALLY: Russians are most proud
history
their country (85%), Russian sports (77%), culture and art (75%). Also, the pride of more than half of the respondents are the military power of the country and Russian science, while every second is proud of Russia's position in the international arena. But the standard of living, by contrast, tend to be more critical.
*
Myth: "Russians are the laziest nation" or "Russians don't like and don't want to work"
REALLY: Every second respondent believes that the majority of Russians work hard at their jobs. At the same time, more than half of the respondents stated that they work hard, "plow" in their workplace.
***
This is only part of the myths, debunked by the project "Russia is surprising." And it should be noted that from many polls it is clear that the authors are not trying to embellish the reality and confirm many of the negative aspects that exist in the country.
However, all these data in aggregate do not leave a wet place from the dill, which we have been forced through the information space for more than 20 years. And if the official structures and such serious research institutions really take up the work begun and continue to break the hamsters patterns, then there is no doubt that in a few years, many of the hamsters will again become sober-minded people, and the mood in society will change dramatically. And along with it, there will be a massive enthusiasm, without which it is impossible to rebuild the country, let alone make with it a qualitative leap into the future.