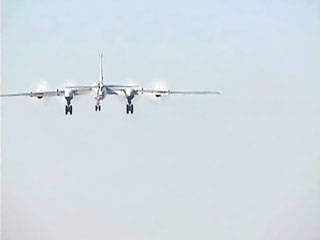 The air forces of Russia and Japan last Sunday, as they say, staged a "exchange of courtesies." Back on Saturday, two Russian long-range reconnaissance aircraft Tu-142 were also observed in close proximity to Japan.
And on November 17, two Russian strategic bombers Tu-95 appeared already near the airspace of the Land of the Rising Sun. In response, Tokyo raised its fighters into the air, ITAR-TASS reports.
However, as reported by the Joint Committee of the Chiefs of Staff of the Japanese Armed Forces today, the bombers of Japan's air borders did not break. They were spotted in the Tokyo area, then went to the southern island of Okinawa, turned to the northeast, flew along the Japanese archipelago and went to Sakhalin.
This year this situation has happened not for the first time. In late August, the Japanese flew fighters to intercept two Russian Air Force bombers, who allegedly violated the country's airspace. And on November 1, the F-2 fighters of the national self-defense forces of Japan were sent to intercept the aircraft of the Russian Air Force, which flew today over the waters of the Sea of ​​Japan.