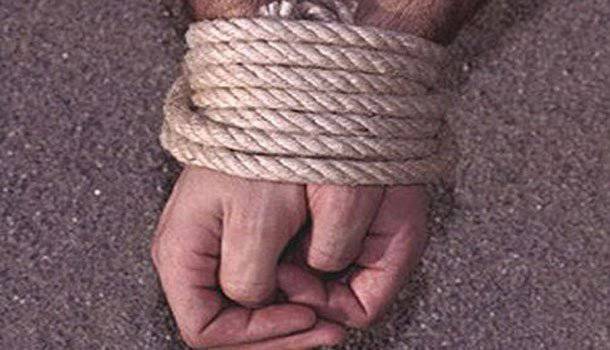 In early November, the 50-year-old deputy of the Syrian People's Council, Mejham Ibrahim Al-Saho, visited his constituency in Deir ez-Zor on a working trip. When he returned to the capital, he was kidnapped by terrorists between Deir ez-Zor and the famous city of Palmyra. After spending several days in captivity, the politician was brutally murdered by militants. 10 November was found his body.
In a statement about the brutal reprisals against a colleague, Syrian parliamentarians said: "Criminal gangs have added another murder to their list of atrocities against those sons of Syria who reject extremist ideas alien to the country."
From the very beginning of the Syrian confrontation, gangsters abducted and killed not only military personnel and security forces, but also civilians - specialists, teachers, doctors, politicians, engineers, representatives of the creative intelligentsia, athletes. Everything - from workers to deputies - become their targets. All those who did not betray the country. In this case, the militants killed the prisoner. This is a serious war crime. But the so-called "International Criminal Court" is silent. As with the attacks by "oppositionists" on schools, hospitals, houses, embassies (this fate did not escape the Vatican's embassy - in such a strange way the bandits revenged the pontiff for his calls for peace).
Currently, another member of parliament, Mahann Faisal Al-Fayad, is held captive by Islamist terrorist groups associated with Al-Qaida. His life is also in danger. As well as the lives of thousands of ordinary Syrians, who are used by terrorists as human shields or kept in torture chambers. Improvised prisons and torture chambers are former schools, libraries, and even mosques, as well as basements of ordinary houses. I personally had to see in Homs in the Bab-Amr quarter such a library where prisoners were kept. There were traces of gore on the floor. Books were lying randomly. Maybe one of the prisoners killed there, in the last hours of his life, read the pages of these books in weak daylight that penetrated a powerful grid that had never been in the library window before the war ...
Syrian television told
history
one abducted Syrian. A resident of the province of Aleppo, Muhammad Merai, was captured right outside his home. The militants tried to recruit him into their ranks, but he refused. 2 of the month he spent in captivity, where he was constantly beaten and humiliated. Then he was transferred to another gang, where he spent 15 days. Then one day the gangsters promised to release him if he got into a car with food and arrived at the army checkpoint. The followers, two Islamists, drove to a certain point with him, but then he was ordered to stop the car and got out. He guessed that the car was mined. I tried to get out, but it turned out that the doors could not be opened. Miraculously managed to get out the window and run away. The car exploded. The surviving hostage managed to get to the military and told about everything that happened to him. On the air, he raised his shirt - there were signs of torture on his body.
This is just one story, the fate of only one person. And how many failed to escape from captivity! They were then found in graves after the liberation of the territories. And how many more to find!
In October, one of the groups seized six employees of the International Committee of the Red Cross, as well as a volunteer from the Syrian Red Crescent Society. These people performed their civic duty, providing medical assistance to the needy and carrying humanitarian aid. Fortunately, four of this group have already managed to break free. Three are still held by criminals.
Until now, two Christian priests, Bulos Yazidzhi and John Ibrahim, are held captive by Islamist extremists. They were abducted by 22 on April 2013 of the year in the province of Aleppo, where they were carrying out a humanitarian mission, and there is still no information about their fate. During the abduction, the deacon who drove their car was killed. Several times the militants started rumors that they had already been killed, but then they denied it. Despite the fact that both the Russian Orthodox Church, and the Pope, and representatives of other world religions have called for the release of the clergy, that numerous demonstrations took place in Europe and even in Jordan, but the direct patrons of the terrorists are in no hurry to put pressure on their bloody " pets "to force them to release two elderly people held captive for more than six months.
Militants do not even spare those who go to Syria, either explicitly or implicitly supporting pseudo-revolution. The Italian journalist Dominico Chirico and the Belgian writer Pierre Pichinin, who had been held captive by the bandits, managed to escape by a miracle. They sympathized precisely with the rebels, but this did not save them from the difficult ordeals.
Polish photographer Marcin Suder was captured by militants in the province of Idleb in the city of Serakib. He also sympathized with the "democracy", also stayed in the hands of "freedom fighters" for several months, but was able to run and return to his homeland.
They all remember these days as a nightmare. Everyone was being bullied. Now in their words it is difficult to find sympathy for the Syrian "revolution" - they have experienced it for themselves.
Back at the start of 2013, French photographer Edouard Elias distributed photos about the daily life of terrorists on the Getty Images website. But he, of course, called them not terrorists, but "rebels". Here is one of his "heroes" launches a rocket. Another - makes an improvised explosive device.
Probably, Elias did not worry for a long time about where the rocket would fly and who the hellish machine would kill. But in the summer he, along with his colleague Didier Francois, was taken hostage. So far, they only know that they are alive ...
Unfortunately, the citizens of Russia also become victims of abductions of terrorists.
The famous traveler from Tomsk Konstantin Zhuravlev, a man completely apolitical and gentle, was planning a long trip to the Middle East, which he planned to complete with meditation in Egypt. But in Syria, in the province of Aleppo, he was captured by an Islamist group called the At-Tawhid Brigade. Militants accuse him of so-called "espionage" and threaten to execute him, despite hundreds of letters in his defense, who come to the site of the group from people who knew the traveler personally. The last time the information about him was 19 of October, when his picture appeared on the network - he was holding a sign with this date.
Unfortunately, the Ministry of Foreign Affairs of the Russian Federation and the Russian Embassy in Damascus, instead of due efforts to release a citizen of Russia, accused him of "irresponsibility".
Normal life is when a person can travel in the desert. When he has freedom of movement. When he sees people are not enemies, but brothers. But the terrorist war unleashed against Syria is not normal. Militants abducting innocent people is not normal. Islamists, ready to grab and kill anyone - this is not normal.
Another Russian in the hands of terrorists is engineer Sergei Gorbunkov. The militants who grabbed him from the so-called "Free Syrian Army" recorded a video with his participation. He was forced to ask to exchange himself for some Khaled Suleiman, a Saudi mercenary seized by the legitimate Syrian army. Thus, terrorists openly admit that foreign mercenaries are fighting on their side, including those who arrived in their ranks from Saudi Arabia. Such a "Syrian revolution" is, firstly, not a revolution, but gangster lawlessness, and secondly, it is not at all Syrian!