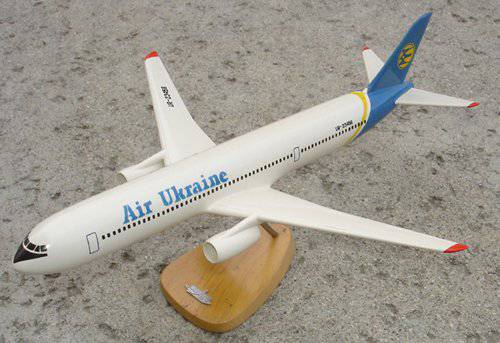 Dry and in numbers - the An-218 was designed as a wide-body passenger aircraft. He had to fly on two engines from "Ruslan" and / or "Mriya", that is, the D-18TM, which was planned to upgrade. The number of passengers is usually different, depending on the planned modifications, in the 300-400 area. On the flight distance from 4500-9000 km. 59 meters length, wingspan 50 meters; diameter of the fuselage 5.6 meter. Maximum take-off weight 170000 kg.
When I first saw him (in the picture, of course), then my first association was something like this - "it's a classic." Size, nose, keel, everything reminded me of the "essence of the plane". All my life, when I used the phrase "passenger plane," I used to draw in my head exactly such a picture. Everything is simple and elegant, nothing superfluous. It would be very interesting to look at this plane in reality. He would stand out very much from the general fleet of transports of the An family.
Why was he needed?
The main trump cards for him should have been, as they say, those who had anything to do with him: practicality in service, commercial profitability (for airlines), versatility of modifications ... in general, everything is standard (for example, they walk on the Internet data that he would have fuel consumption in 2 times smaller than the "Tu" or "IL"). In addition, P.V. Balabuyev saw in this (and further modifications) aircraft the future of the total passenger traffic in the CIS. Replace "IL", "Tu" ... really, if you dream, then of course the idea itself is good. Do not buy Boeing and Airbus, and build "their" large and small passenger aircraft. Orders are big ...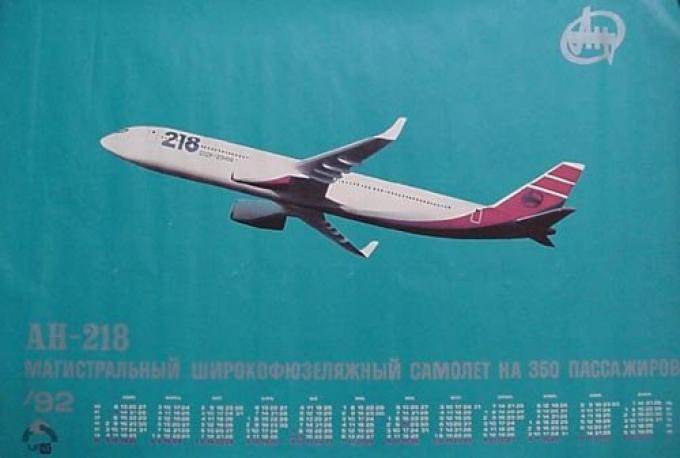 Calendar on 1993. Surely to raise morale in the team
Also, people as close as possible to the project have repeatedly said that by launching An-218 and making it more or less "massive" in production, it would greatly accelerate the program for fine-tuning D-18TM engines. That in parallel would be reflected in "An-124" and "An-225". And in general, the engine had problems that were fixed (and detected) before / during / after the first flight of the An-124. Since the An-218 engines should have been two, not four, as on the An-124, it was necessary to minimize all possible problems. Any plane crash of a passenger liner, due to engine failure, would put all the work at risk. Therefore, it was planned to allocate a considerable amount of fine-tuning and upgrading the engine. Looking ahead, we can say that it would be appropriate, since they are not being released at the present time, which slows down the program for the resumption of production of An-124.

Photo of the model of the museum of the ASTC. Antonov
Well, another reason that pushed the team on such projects as An-218 was "gigantism". Create and build a large and successful liner, it is prestigious. It is beautiful, and against the background of other giants, released by Antonov, whether it is stylish or something. It is for this reason that the An-140 "was on the shelf" for a long time, which of course could not impress many fans of the "big one" comparing with the An-218. In the end, "An-218" still gave way to "An-140".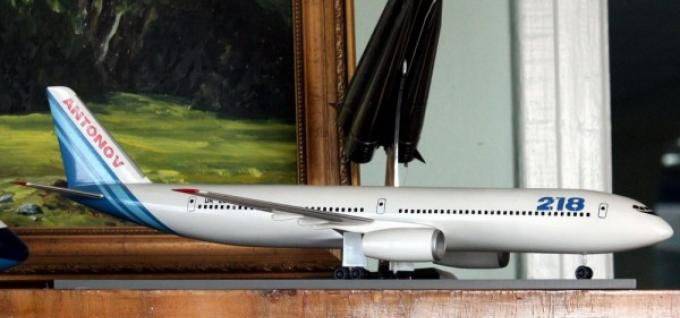 Photo of the model of the museum of the ASTC. Antonov
How far did the project go?
It is that far. This is interesting. It makes no sense to write so much, discussing only a picture marked "An-218". After all, there are a lot of different layouts and ideas on any air production. There is no point in discussing them so seriously. And we are now talking about quite / almost finished aircraft. On paper, the plane was ready for 90 (85 as others say, but does it matter?) Percent (as for the final drawings and notes to them). The layout was compiled into a real (1: 1) value, made of wood. With a full layout of passenger seats, cabinets and of course the cockpit with working displays (special effects :)). Delegations of foreign customers drove into the aircraft mock-up at full speed ... As some eyewitnesses say, the workers really "burned" with this aircraft. At the beginning of difficult 90's, no one doubted that this plane would be in the sky. Not so long ago they raised "Mriya" to the sky. Now they have a new, worthy challenge.
This is how the layout looked like before disassembly-destruction. As you can see, there is already no part of the wing and the mock nacelle. 2007 year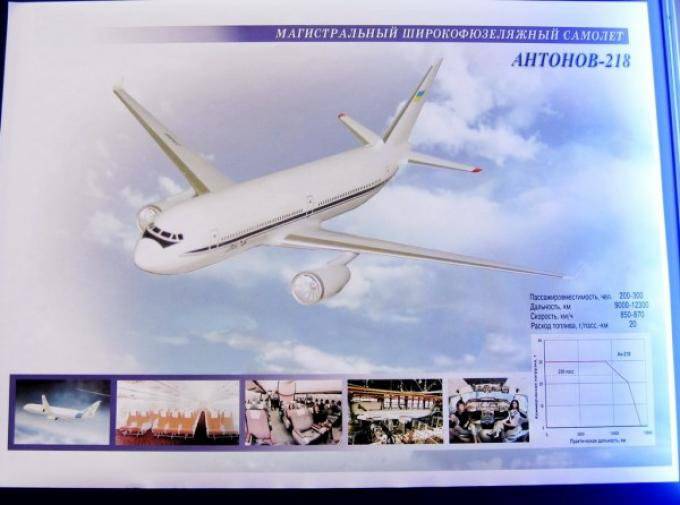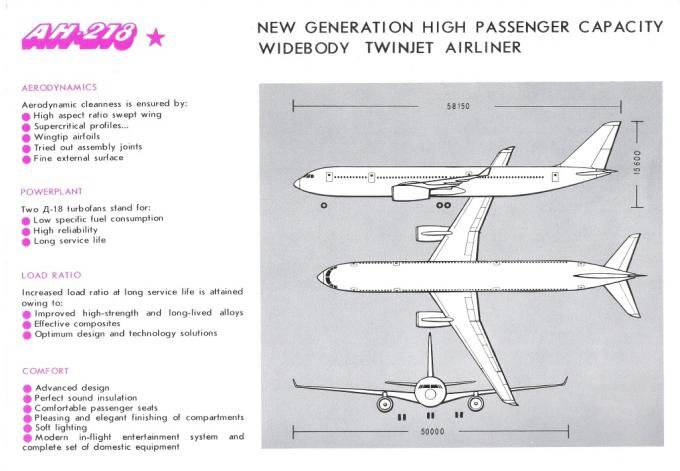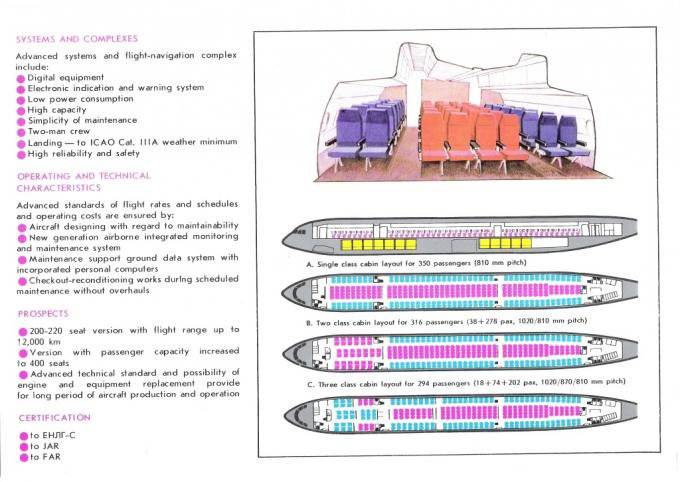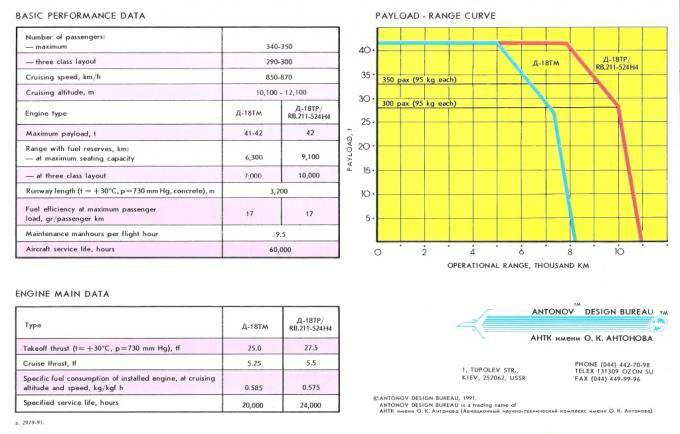 Pages from various booklets about An-218
For the assembly of the first machine were laid stocks. According to some reports, some details on An-218 were even launched into actual production, but during 10 days, everything was discontinued. The parts themselves, according to the words, lay somewhere long outside. (maybe they are lying now, but what's the use?!)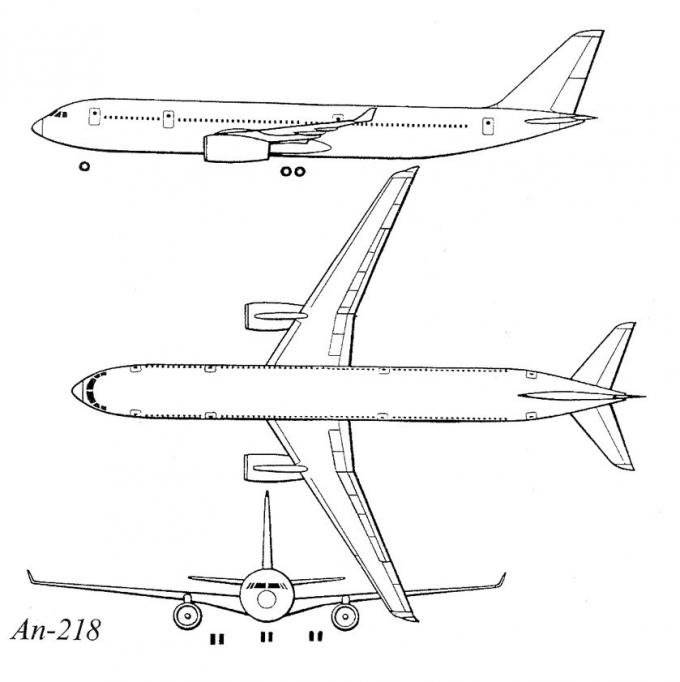 Schemes An-218
And all this, all this work was in vain. In 94, funding stopped. Why? The future of the aircraft was very vague. This is a passenger plane. It had to be worked out completely before being handed over to the customer. After all, he does not carry goods, and people. And the reputation of the aircraft depended on the opinion of these very people. Compared to other players in the "passenger market", the Antonovites lagged behind. And in those 90-e year "catch up and overtake" for "your account" was unreal. A lot of energy would be needed to bring the car to a "reliable" mind. So that the plane was not only good on paper, but also for passengers and airlines.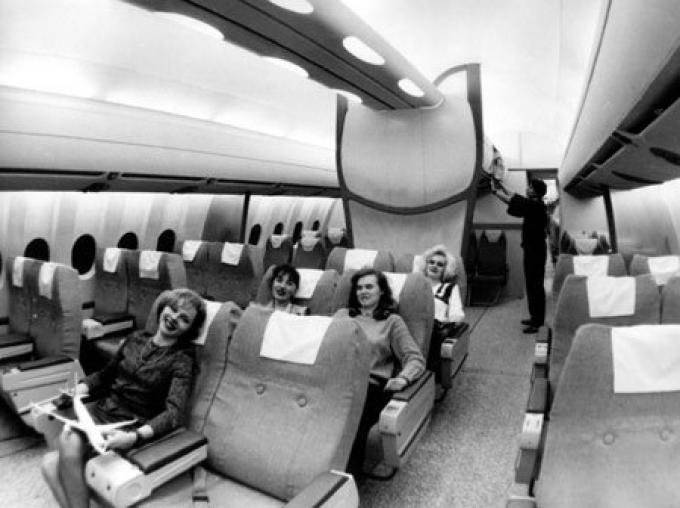 Demonstration of the passenger compartment. Layout inside
For economic benefits, it was necessary to build and build. This is not a transport worker, and Antonov Airlines would not need it. This aircraft was built purely for sale. The profitability of such projects is usually far from 5-10 machines, but more. Therefore, in this situation, you need either "all" or "nothing." The project "An-218" turned into "nothing."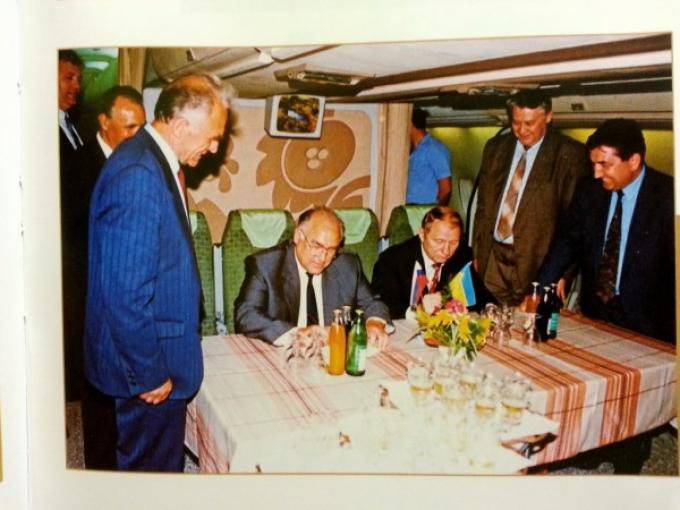 Kuchma and Chernomyrdin signed a number of agreements on An-70 in the An-218 cabin. ON the photo also P.V. Balabuev and D.S. Kiva. The photo was published in the book "The Calling" by D.S. Kiva
Afterword ...
To be honest, and I would doubt this project. It was not that time. It was during this period, the maximum that could "come out", this is another long-term construction with the label "an unparalleled aircraft" and "that's about to go into series". The minimum is the guest of any air show, the maximum is the subject for pumping money from foreign customers. Against the background of the same competitors, it would be a shame. Shame would not be the plane itself, but its implementation. But this did not happen. And good.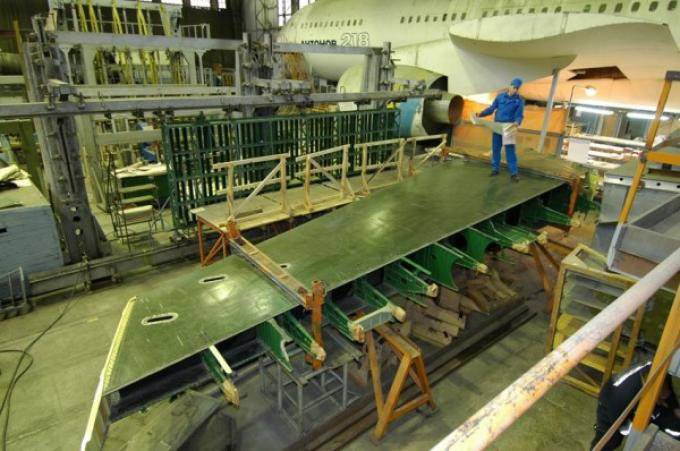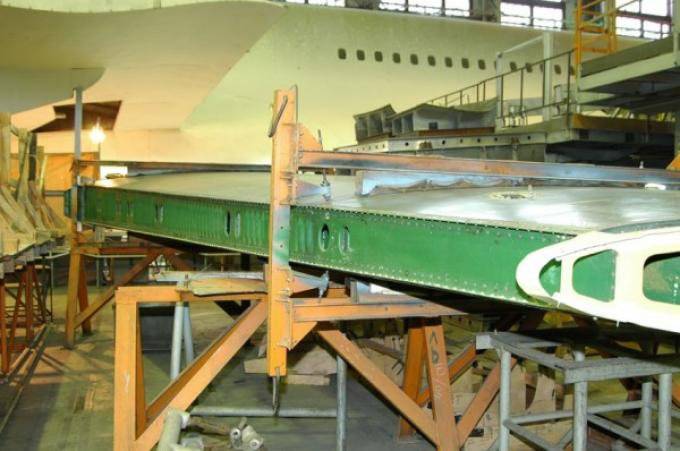 A couple of photos that accidentally hit (to the back) parts of the "An-218" layout. On the photo itself keel on AN-70
You can imagine what it was for those who "burned" with this plane. But the time was difficult:
- An-70 is about to be completed, hopes for it (to this day :));
- "An-225" Mriya becomes a seven-year parking / analysis due to lack of funds;
- the production of An-124 inertly goes (or has come) to its end;
- in a hurry, the OKB "switch" to the "modest" An-140, which, it already seems, is much more real and necessary than the same An-218 (although P. Balabuev did not think so at the end of the 80);
- plus inflation and other delights start 90-x, and as a result we have thrown and forgotten, quite a real plane.
That's what I think and remember, looking at his photos.
FLIGHT TECHNICAL CHARACTERISTICS
Type: wide-body mid-haul passenger aircraft
Crew: 2 person
Power plant: two TRDD D-18TM Zaporozhye ICD Progress (2 × 245,2 kN, 2 × 25 000 kgf); planned installation of engines D-18TP (2 × 269,7 kN, 2 × 27 500 kgf) or Rolls-Royce RB.211-524Н4
Dimensions:
wing span 50 m
58,15 aircraft length m
height of aircraft 15,6 m
Wing area 270 m²
diameter of the fuselage 5,62 m
The weight:
empty equipped aircraft 90000-91000 kg
maximum payload 42000 kg
maximum take-off 170000 kg
Number of passengers:
in a single-class layout 350 or 400 (810 seating pitch mm)
300 three-class layout (1020 / 870 / 810 seating pitch mm)
Flight data:
cruising speed 850-870 km / h
cruising altitude 10100-12100 m
practical range
- with a maximum payload of 4570 km
- with 350 passengers 6300 km
- with 400 passengers 5100 km
- with 300 passengers 7200 km
- with a full supply of fuel and 200 passengers 9400 km
required runway length 2900 m
Design features: An-218 used design solutions, technology and systems, worked on the An-124 aircraft and planned to include components and complexes of the Tu-204 aircraft. Wing with aerodynamic end surfaces. The landing gear was supposed to allow the aircraft to operate at the same airfields for coating strength as the Tu-154M and Tu-204, which would significantly expand the geography of the new airliner and make more 50 airports available to it (IL-86 operated on 19). The predicted design life was supposed to be 60000 flight hours.
Equipment: the installation of a pilotage-navigation complex was planned, which allowed the aircraft to be used at a minimum category IIIA of ICAO, the use of a highly automated cockpit was planned, the display system had to include six electronic indicators
Status: Canceled
For more information:
development began in 1991, the release of technical documentation was to be completed in the first half of 1993, the first flight of the prototype was scheduled for 1994, certification in the CIS - a year later. It was supposed to build An-218 in Ukraine, cooperating with the aircraft manufacturers of Russia. According to calculations, An-218 should have surpassed Tu-154 and IL-86 in fuel efficiency (An-218 should have consumed 18 g of fuel per passenger-kilometer against 34,5 g of IL-86), comfort, possibilities of transportation of packaged cargo, operational efficiency . It was supposed to develop a fundamentally new system of servicing the aircraft at the airport, reduce its labor intensity and get the operating time 3,5-4 thousand hours per year for each aircraft. The complexity of aircraft maintenance is estimated at 9,5 man-hours per 1 flight hour.
sources:
Article taken from http://maksiemens.livejournal.com/3289.html
slightly modified flight performance and design description taken from http://www.uhlib.ru/transport_i_aviacija/aviacija_i_kosmonavtika_1995_05/p23.php
some photos taken from http://www.secretprojects.co.uk/forum/index.php/topic,3766.msg174081.html