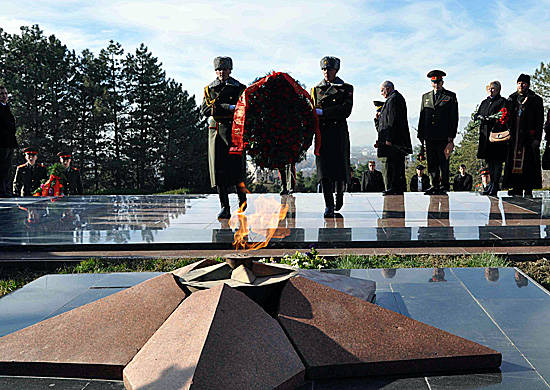 A group of 201 officers of the Russian military base in Tajikistan, as well as historians and journalists of the country set out to find and restore the graves of soldiers who died of wounds in evacuation hospitals, who were buried in the city's Dushanbe cemetery. So three years ago the group "Memory - 201" appeared. The base command provided the search group with all kinds of assistance: transportation was provided, volunteers from among the conscripts and contract servicemen were given the opportunity to regularly travel to search for military graves and improve the graves of soldiers.
During the years of the Great Patriotic War, more than 240 thousand people went to the front from Tajikistan. Here three full-blooded mountain-cavalry divisions were formed and sent to the front, fighting near Moscow, in the Caucasus, near Stalingrad. 54 envoy of Tajikistan received the title of Hero of the Soviet Union for the fighting. 90 Thousands of Tajiks did not return home, forever remaining on the battlefields of the Great Patriotic War.
And so, paying tribute to the memory of older generations who defeated fascism, "Memory-201" began its noble work. The first two years of the work of Russian peacekeepers made it possible to create a memorial of military graves in the cemetery, to clear and restore dozens of graves of veterans of the 201 th Gatchina motorized rifle division, and other numerous units and subunits stationed in previous years in Dushanbe.
Due to the extreme 50-degree summer heat, the group interrupts its work at burial sites to focus on archival searches, the purpose of which is to restore the biographies of the fallen soldiers. In the autumn of this year, "Memory - 201" resumed its work on November 2, on the day when the Russian Orthodox Church celebrates Dimitry parent's Saturday. Seven contract soldiers from the 201 base arrived at the memorial complex who, under the direction of Gafur Shermatov, the head of the search group, the correspondent organizer of the newspaper "Soldier of Russia" produced by the Russian base, cleaned the graves from the autumn leaves, laid flowers to the monument to the hero of the Moscow battle , liberator of the city of Klin, Lieutenant General Alexander Fedorovich Chudesov, Heroes of the Soviet Union N.P. Balakin and P.S. Khanzhin, as well as the mass graves of soldiers of the Great Patriotic War who died from wounds in a hospital Dushanbe.
The other day, the base command decided to create search groups "Pamyat - 201" in the units deployed in the cities of Kurgan-Tyube and Kulyab. Here are hundreds of graves not only of veterans of the Great Patriotic War, but also the graves of Red Army men and commanders of the Red Army who died fighting against Basmachi in 1920-1930's.