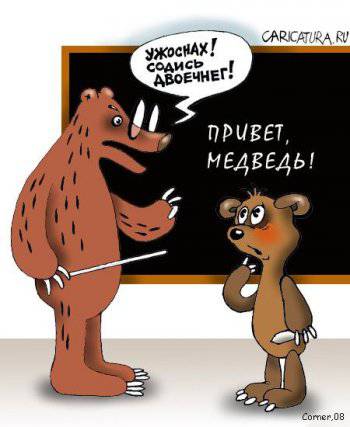 I apologize for some confusion, but I will try to speak.
Often, reading various military and near-military literature, we are confronted with different terms. Some of them are composite and composite materials. Many, including myself, have difficulty understanding the text. Often it is necessary to re-read to understand what is at stake.
Even Wikipedia gives an ambiguous definition: Composite reinforcement (English fiber-reinforced plastic rebar, FRP rebar) - non-metallic rods of glass, basalt, carbon or aramid fibers. But at the same time Composite material (composite, KM) is an artificially created heterogeneous solid material consisting of two or more components with a clear interface between them, for example, plywood, reinforced concrete.
I suggest that you begin to adhere to some rules, at least within this site, and adopt the following terminology:
Composite materials are composed of inorganic components, for example, cermet;
Composite materials are carbon plastics, polymers.
So, it will immediately be clear that composite armor is steel sheets with ceramic or Kevlar layers. A composite - carbon fiber and Kevlar. In this case, I am not an expert, and I will only be glad if more competent comrades can correct and enlighten me. I want to know the opinions of material experts. I agree in advance with reasoned criticism based on knowledge and logic.
But what I can't agree with is that many site visitors and commentators don't want to write in Russian. Given that the site itself is exclusively Russian. Yes, I myself often make mistakes, but most of them can be avoided. I will give a few examples selected from the comments on the site to some articles. True, he allowed himself to criticize some excerpts from the texts.
Recall шtats captain Rybnikov!
This is probably the captain of the States Army?
That rivet pоbotago T-72
. Our literati have already made a tank robot from the hard-working T-72.
Vocational schoolsь
. The words "sol" and "beans" are written with a soft sign, and "plate", "fork" - without a soft sign. It can not be understood, it must be remembered.
Tanks not accordingцtvuyut
. Naturally.
Ce processorвoneиon the day
. And zavrishniva too.
SovereignЕTET
. And an engineer builds buildings.
Will sow House
. Yeah, the doctor will come from the series to save us from the chaos in our thoughts.
They do not disdainаare ground
. They disdain literacy.
There are also fights fromashRenny ideas
. In izdashdnyh people.
Irina Konstantinovna plagiarismchitsa!
And Anna Ivanovna school director!
My descendants - serfs who fled from their "owners" to the Kuban
on a time machine. I can only envy a person who is able to look into the future. Or sympathize.
Jew - antisеonist,
preaching the Christian religion on Mount Zion.
So bаRzet not worth it, but you can end up as JаHar Dudayev
. Without kamintariv.
At least laser эby the protesters
. That is, electromagnetic pulse simulators?
Nice lookingеsh, in the photo))
Yeah, before the exam.
In a state of extreme drug intoxication
. Again without comment.
And finally:
An alternative to a nuclear reactor is
,
it's a torus
ь
evy reactor.
в
case
pe
there is no radiation from them. Americans are already actively engaged yes
н
oh topic soon they are in
Od
ut forward
and we will stay
и
mash behind. And everyone is trying
someone
prove
that nuclear power is harmless ... A dozen mistakes in three lines. Even at the age of fifteen they are supposed not to do them.
Of course, many will disagree with me, but I consider it important for me to adhere to certain norms in my native language. So, I know that in classical Russian there is no prefix as such
roses-
and therefore I always write not
bottling
,
spill
. Even in spite of the fact that this word appeared in dictionaries. And for me, COFFEE is always HE, and not IT, as it was recently accepted in the spelling amendments. It is unpleasant, reading the comments of many knowledgeable people, to meet a huge number of elementary mistakes. Is it difficult to remember the simplest rule from school lessons: if a question to a verb ends in a soft sign, then the verb also ends in a soft sign, and if the question is without a soft sign, then the verb itself must be written without it. It is not even worth talking about cases. It is better to quote my favorite parody of E. Nefedov "The Case in the Forest."
I was in the forest, I was looking for words
For songs about a girlfriend,
Sat on the shore first,
Then he lay on the meadow.
Stopped on the bridge
And I thought: "It's not for nothing
Words come yes not those
To put them in verse.
Here the critic suddenly from reeds
Swam to me on the raft
And says: "You are cases
Do not recognize for a long time?
Kohl really is not in tune
Or on purpose it,
Better jump into the water
And your song is sung! "
I say: "Are you in delirium?
And what do you have in the form?
Roll, honey, as on the ice
And I saw you in a tomb! "
He left without saying "Goodbye"
With personal interest.
This, comrades, case
With me went out in the forest.
So we have now taken a disregard for literacy. But illiterate writing of texts is, first of all, a disrespectful attitude towards both ourselves and the people around them. Even, if you never have to meet face to face with an online discussion in life, this does not mean that you can be rude to communicate. I can hope that none of the readers of the site will like writing articles in this style:
Achirida vaenai shit Pindosav cranes: apy libirasty are felled from Auggan. Saldatas NATA are freaked out and the year will be overshadowed.
Instead of:
The next US military adventure is coming to an end: once again, foreigners are leaving Afghanistan, never conquered by anyone. This time, ISAF, the international security force operating under the auspices of NATO, is leaving the country. The military of the United States and other members of the Alliance is expected to be withdrawn from Afghanistan at the end of 2014.
(An arbitrary excerpt from an article on the topwar site. Taken just for example.)
Why do so many "gentlemen officers" allow themselves to leave comments of this kind, showing their low level of politeness and literacy? I do not believe that a person who has mastered a computer at the user level does not know how to use search engines. After all, now it is not necessary, like twenty years ago, to buy a spelling dictionary. Now it's all free. Just enter the problem word in the search box and check it in the dictionary. Make your brain tense for a few extra seconds. For me personally, such an order of action sometimes makes you feel like a Man, who is not only different in the amount of hair from a monkey.
One of the indicators of the development of Russian culture is the use of simple words and the ousting of little-used letters and signs from the written language during social disruptions. For example, deleting the letter "Yat" from the language (logical decision), canceling "Ъ" at the end of words (justified), ignoring the letter "Ё", illiterate use of hard and soft signs.
Let me ask myself rhetorically: when in our Fatherland was the strongest school system (I mean, of course, not only secondary, but also higher education) system? He himself will answer - in the fifties and sixties of the last century. Take in your hands almost any book published at that time, and everywhere you will see the letter "E" in the text. In the books of the eighties, this letter disappeared and was almost replaced by the letter "E". Those who are older can remember all the changes in those twenty to thirty years in their lives. I cant. But I know from the parents' stories that the wooden glazed gazebo of the grandfather's service apartment on the first floor in the fifties and sixties was used normally, and in the early seventies it had to be demolished and bricked out as several times people broke into broken glass openings. Or that a neighbor in 1983 disfigured the decorative fence of his front garden with a reinforcing mesh more than two meters high because of drunken night guests breaking windows in the house and bottles in the garden, after which we (the children) ran with cut hands and legs. Language is an indicator of the state of society.
The culture of speech is one of the fundamental criteria for the health of a nation. The limitation of one's own intellect, originating from the limitation of vocabulary (lexicon) by replacing many terms and concepts with simplified variations of several abusive words, is the first step to returning to the primitive communal system. After all, it is much easier to remember one word than dozens.
A typical example, known, probably, to all: Na.uya do.uya na.uurili? Ras.uyrivay on .uy! Translated into Russian, it means: Why did you load so much? Unload back! Everything is elementary simple. The age of the cannibal ellochki is not over, it is gaining momentum. A modern laborer has enough 800 words for everyday communication, while a technician can find thousands of words from 2 to 4, only linguists use a larger number (according to a study of English in Britain). And some two dozens are enough, among which there is always loot, booze, smoke, buzz, fuck.
The Explanatory Dictionary of the Living Great Russian Language "by V.I. Dahl has about 200 thousand words. According to the "Frequency Dictionary of the Russian Language" edited by L. N. Zasorina, the most common are about 30 thousand words. A little more than 6 of thousands of words have the greatest frequency, covering more than 90% of the texts processed during the compilation of the dictionary. According to current estimates, the vocabulary of a first grade student in a high school is 2000 words. A person with higher education knows the order of 10000 words, and scholars know up to 50 thousand words. The Pushkin Language Dictionary, which contains the words used by the classic, contains more than 20 thousand words, and the V. Lenin Language Dictionary contains more than 37 thousand words. (Information from Wikipedia).
It is very interesting to me, where does so much self-esteem come from Lenin's critics, who have 3000 words in the lexicon? I'm delighted with the young men, reasoning about the fate of the world, having an opinion about everything. It is a shame that their opinion is based for the most part on the statements of "great" thinkers from the yellow newspapers. Although, according to the words "Canine Heart", they are "in the presence of ... people with university education they are supposed to be silent and listen," they also "allow themselves to give advice on a cosmic scale and cosmic stupidity!" It's even more offensive to read people's sayings but not always well-versed in many issues, such as: statements about the anarchy of those who did not read a single work of Bakunin or Kropotkin; reasoning about the Great October Socialist Revolution of people who know little
history
and not familiar with the works of Marx, Engels, Lenin; reasoning about Orthodoxy "Christians" who did not even read the Bible.
Why do so many of our fellow citizens independently, of their own will, limit their vocabulary and, accordingly, the capacity of the thinking apparatus? Because the criminal jargon was brought into fashion, the prison romance and prison "slope" are being promoted. Who benefits? We can estimate. First, the power, seeking to acquire a large number of slaves (wordless creatures), which will be characterized by the absence of unnecessary brains and desires, with a minimum of needs. Secondly, people who came to power by chance without any reason. They do not want to have under their start more intelligent and educated subordinates than they themselves. After all, then it will be possible to do anything, without fear of being ridiculed by people with low social status - no one can notice the mistakes and other nonsense of the boss. Especially not mistakes, but principled sabotage aimed at the destruction of our country. Thirdly, according to the theory of the world conspiracy, those who want to destroy Russia as a country and a state that opposes Western civilization.
And the mode of action is simple - the devaluation of the prestige of teachers. Why is my former class teacher working in customs, a huge number of teachers retrained as salesmen, accountants, "managers"? The salaries are minimal, the undertake of students, and as a result, they took almost any student. I still remember, when my Soviet entrant used to say: "No health, go to honey, no mind, go to the ped!" Already at dusk of the Soviet era, the prestige of the teacher's profession was near zero. In high school, two of my teachers went to our school from the "boarding zone". Methods of education and level of education were slightly different than other teachers. And what could the historian tell me about the exploits of Susanin, who had led the fascists to the swamps, to teach me? Or asserting with foaming at the mouth that in the famous Peterhof statue of the Grand Cascade Samson is tearing apart the mouth not of a lion, but of a dragon? What will a teacher of "works" (!) Or history working as an informatics teacher teach children in our time? I do not want to summarize, there are also such specialists, but there are very few of them. And in the total mass ...
And what efforts does our state make to get rid of the remaining people who love our native Russian language? It is enough to open any edition of the automobile orientation, and immediately you run up on the pearls of "Russophiles", something like this: "Behind the wheel of this crossover, you get real driver's enjoyment, passing through a chicane" or "Hardtail is a pleasure for a sophisticated rider (biker)". In one article (!) I saw three spellings of the company name: Hyundai, Hyundai, Hyundai - none of them is correct (Hyundai) based on traditional Russian transcribing! And these hacks who introduce cool foreign words into our lives, giving them a reason to be proud of their own mastery of verbiage, have a considerable influence on the fragile heads of adolescents who read with greed the only "technical" literature accessible to their understanding. In fact, the introduction of words of foreign origin, which originally developed the language, has now become the systematic destruction of our Russian language, our culture.
Why is it allowed to replace Russian traditions with foreign philosophizing?
The Eastern saying "The dog barks, the caravan moves on again ..."
(from the comment of one user). It's bad when, under the influence of the mass media, some people forget about the Russian saying "The dog barks - the wind wears". I do not bring to the primacy of the Russian version of the proverb, probably the Eastern version appeared earlier, but why return to the original source a second time, if our language has already been enriched by it and introduced its own nuances peculiar to us? Visitors to the site have added new capacious words "libest", "tolerant". Let them be used only within the boundaries of this resource, but it shows the ability to think more widely, unconventional, willingness to develop. Not alien and borrowing. "Nuglia" - a country from the book of Uspensky, "Where we do not exist." Or the incorrect "Pindos" ("pendos") in relation to North Americans, although originally the Greeks of the Azov Sea region were called (and continue to call it), the name is akin to "Khokhlov" and "Katsaps".
As a speaker of the Russian language, I consider it crucial for me to observe the norms of its use even in everyday life. No, I do not consider myself an intellectual botanist. I can use non-literary vocabulary and do it quite regularly, which is dictated by the conditions and place of work, just some people do not want to understand otherwise, perceive politeness inadequately. I attribute this to professional costs. But I consider it shameful to demonstrate my limitations, therefore I urge:
Fellow citizens! Be polite and cultured in dealing with your own kind, develop yourself, do not let it fuck up finally the great and powerful!