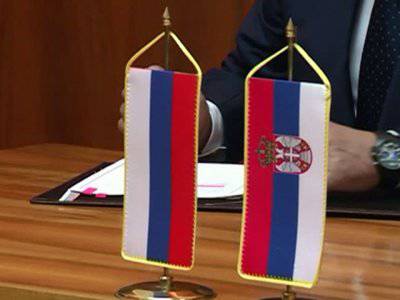 Moscow and Belgrade have signed an agreement on military cooperation. For this step, as noted by the head of the Ministry of Defense of Russia, the parties have been preparing 15 years. Sergei Shoigu not only noted the importance of military-technical cooperation between the two countries, but also spoke about some further plans. Now the military of the two states will exchange experience, information and conduct joint exercises.
In the Serbian Chamber, the Russian minister was met by his Serbian colleague Nebojsa Rodic. Moscow and Belgrade are strategic partners, and, according to Shoigu, cooperation between the defense departments of our countries should reach a new level. As an example of successful cooperation, he cited the creation of the Russian-Serbian Humanitarian Center for Emergency Situations in the city of Niš, designed to deal with the elements.
Following the talks, the parties concluded an agreement on military cooperation. Three more documents are under preparation and can be signed soon.
At a meeting with the President of the Republic Tomislav Nikolic, the Russian Minister was awarded the Order of the Serbian flag of the first degree. As head of the Emergencies Ministry, Shoigu repeatedly visited Serbia. Russian rescuers provided the republic with humanitarian aid, organized refugee camps. They are still participating in the demining program for Serbian sites.
At the end of his visit, Sergei Shoigu laid flowers at the Belgrade Liberators Memorial. 818 soldiers and officers of the Red Army are buried in the city cemetery along with the soldiers of the national liberation army of Yugoslavia. In the fall of 1944, they fought side by side for the capital of Serbia.