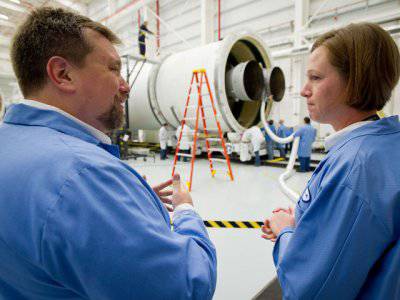 NASA plans to abandon the services of Roskosmos for the delivery of astronauts to the ISS. The function of the Soyuz will be performed by a new American manned ship, the first flight of which will take place in 2017. Until that time, international crews will continue to ascend into the Soyuz orbit. Experts estimate that one place on the Russian ship costs the US 65 million dollars.
The director of the US space agency, Charles Bolden, has announced the acceptance of applications from commercial firms that are ready to start building a manned spacecraft. Participation in the program has already been confirmed by companies such as SpaceX and Orbital Sciences. For the development of new NASA spacecraft for the 2014 fiscal year, 2,7 is planning to spend a billion dollars. The project, based on a public-private partnership, will be half funded from the state budget.
In 2012-2013, SpaceX twice launched the world's only private, reusable Dragon cargo ship to the ISS. The launch into orbit was carried out with the aid of the Falcon-9 rocket, reminds ITAR-TASS. The contract with NASA assumes that Dragon will make another 10 cargo flights to the ISS.
Orbital Sciences, in turn, launched a Cygnus truck to the ISS, lifted into orbit with the help of Antares carrier. In the next three years, Sugnus will make eight more flights to the International Station.
Charles Bolden said that now that the US cargo ship is secured, a new phase must begin, involving the transportation of people. SpaceX and Orbital Sciences have already begun to develop manned versions of their transport workers - they will be used to deliver astronauts to the ISS and, possibly, for space travel.
The corporations Lockheed Martin and Boeing are working on the creation of a new Orion spacecraft that will be used for flights to deep space. In particular, it can help expeditions to Mars and to asteroids.