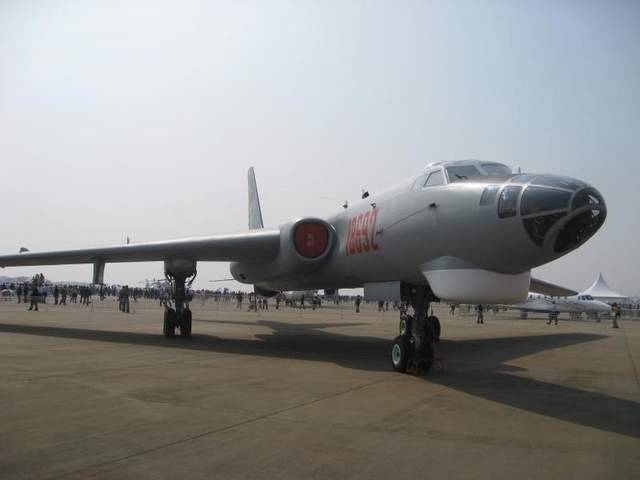 For the first time in
stories
Strategic nuclear deterrent forces of China's sea-based basement will get closer to acquiring initial combat readiness, the upcoming report of the US Congress on China Commission said in November, Defense News reported November 12.
At the end of this year, operational deployment of new JL-2 solid-propelled SLBMs with a range of 4000 miles (7400 km), which will allow China to deliver nuclear strikes on the continental US, is expected. The missiles will be deployed on two of the three built-in SSBNs Type 094 "Jin". By 2020, the PLA Navy can adopt two more strategic submarines of this class. China also is deploying two new types of submarines - the multipurpose Type 095 and the strategic Type 096. It is noted that US military facilities on about. Guam is already within the reach of Chinese conventional missiles.
In June of this year, the PLA Air Force adopted the 15 new bomber H-6K with increased flight range (in the photo) capable of carrying long-range cruise missiles. In addition, China is working to increase the range of anti-ship anti-ship missiles of the type DF-21D from 810 miles (1500 km) to 1600 miles (3000 km). These missiles can threaten US warships throughout the western Pacific.
China conducted a successful take-off and landing of the J-15 carrier-based fighter aircraft on the Liaoning aircraft carrier. In November, the first group of fighter pilots was trained on 2012. As expected, the first aircraft carrier regiment J-15 will begin operation during the 2015-2016 period.
The report mentions other "impressive achievements" of China in the construction of surface combatants. In 2012, two new classes of ships were launched - the 052D rocket destroyers Lüyang-3 and the Jingdao 056 corvettes. Rocket destroyers 052С "Lyuyang-2" and missile frigates 054А "Jiankai-2" are under construction.
Probably, by 2015, China will firmly take the second place in the world in the number of built warships and their commissioning after the end of the Cold War. By the 2020 year, if the US does not activate its naval program, China may take first place in the world in the construction of submarines, surface ships and boats.
One of the alarming findings of the report is the suggestion that during 5-10 years China can change the strategic balance in Asia in its favor after decades of American military superiority. While US military and diplomatic representatives are "working feverishly" to improve Sino-US relations, Beijing is rapidly building up its ability to attack the United States and its allies.