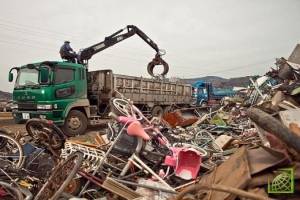 Visiting Russian villages, you pay attention to the fact that sometimes dozens of power lines spans remain empty, and the supports designed to maintain the wires at the right height look lonely at the sky. Non-ferrous metal hunters continue to do their "black" business, leaving hundreds of inhabitants, production shops and farms without electricity. The situation is no better in many Russian cities. If you now had a pioneer competition for the title of the best managers of those who brought scrap to school, then the pioneers would have to not only find abandoned metal parts and structures. It was not the pioneers who managed to put all this into business.
Many municipalities have decided to resist the illegal sale and acceptance of scrap metal. For this was installed on
scrap price
fixed values ​​and conducted the most real census of items for the reception of ferrous and non-ferrous metals. In addition, the owners of points on the reception of the metal are obliged to sign a document according to which they fully assume responsibility if metal illegally mined enters the item. Such measures have significantly reduced the illegal actions of metal hunters, as it became impossible to sell the power lines wires. A full ban has been imposed on their reception, as well as on such type of metal products as manholes. The gaping holes of sewers to the inhabitants of cities are pretty bored. In some areas, they began to be replaced with concrete "substitutes."
Theft of scrap metal occurs not only in civilian environments. Have time to "distinguish" and the military. A couple of weeks ago it became known about the identified theft of the metal parts of the C-300 air defense system. Theft was carried out for a long time. And the person who analyzed C-300 "in parts" turned out to be an ordinary private soldier serving conscription. He was doing his job at the time when he stood on the post for the protection of the complex. Why the fact of systematic theft for a long time did not guess the commanders of this soldier is not clear. While it is known only that the soldier did not act alone. He was assisted by a certain friend who sold the stolen through the channels known to him. Now both are threatened with real deadlines, and the check of the officers in this part is in full swing.