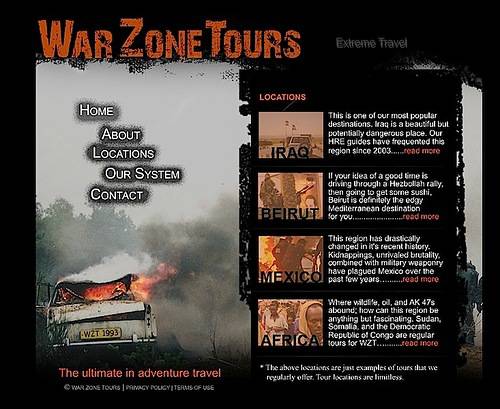 Rick Sweeney recently organized a tour for a small group of vacationers. Everything was adjusted. They had to fly to Turkey, and then by land to get to their destination. Syria. At the last minute they decided to abandon the tour. And not because of danger, although, as they say, more than one hundred thousand people have already died in Syria in the civil war, but because tour operators based in the United States were afraid that officials would blacklist them suspected of having links with Al Qaeda.
If this happened, Rick Sweeney and the other founders of the travel agency Warzone Tours could not do their business: organizing tourist tours in Mogadishu and Baghdad and ensuring the security of politicians and top managers as private contractors.
Sweeney and his colleagues are a small group of people who are engaged in a niche business and send people not to Spanish beaches, but to countries where military conflicts take place or are smoldering. Sweeney's company works in the most expensive and adventurous niche of tourist bines, and some even call this niche reckless and perversely voyeuristic. The price of an individual tour to Baghdad for vacationers reaches 40 000 dollars.
Warzone Tours is positioning itself in the market as a company providing services in the field of "extreme travel" in zones of military conflicts. The company's website depicts soldiers, a burning car, and the background music are the sounds of explosions and screams.
Riku Sweeney 49 years, he served in the army and worked in the security industry for 25 years. The idea of ​​business arose during his service in hot spots: "I was in Bosnia and Iraq, and there were so many cultural monuments that I could not see, and so many people with whom I wanted and could not communicate!"
He discussed his idea into a couple of potential customers and their enthusiasm convinced him that there is a niche in the industry for people who would like to visit the places where a military conflict is going or has already ended. In 2008 Good, Warzone Tours has earned it.
A typical client is a person who never served in the army and did not work in the field of security, but "made money and has the means for something adventurous that he could not afford while he earned capital." Most of the company's customers are middle-aged businessmen who earn more than 100 thousands of dollars a year. Although Rick Sweeney remembers among his clients and one woman who bought a tour to Iraq for his elderly father. "Maybe she wanted to get her inheritance early," he grins.
Security is the most expensive part of the tour. But it's worth it, according to Sweeney, who sends a team of private contractors to the destination in advance and hires local guides who can be trusted. "Logistics and planning is our main concern. And it costs money. Even a top manager when traveling to his plant in Mexico does not receive as much security services as my tourists, "Sweeney said.
The real military tourists, Rick believes, are loners who usually travel to the war zone by themselves. There are rumors about people who pretend to be a journalist to gain experience on the front lines. In Syria, there were
stories
about a woman who went to the front to marry a fighter of the Free Syrian Army, another woman only went through a breakup with her lover and went to war to kill her, and two college students just wanted to get the right to hang around their photos with AK -47 in hand.
Rica Sweeney is not confused by the danger of Baghdad or Mogadishu (the United States and the United Kingdom do not recommend their citizens to visit Iraq and Somalia). "Probably, these places seem more dangerous to people than they really are. It happens that they shoot nearby or a car explodes, "he says blithely," but nothing is directed specifically against us. "
The idea of ​​military tourism causes the rejection of James Wilcox, the British, who helped two businessmen (one from Pakistan, the other from Afghanistan) to establish Untamed Borders in 2006, the year ("Untamed Borders"). Unlike Rick Sweeney, he does not have a military or security past, but he, when he could, traveled a lot in central Asia. "Traveling is my way of education," Willcox, who is now organizing tours to the Bamiyan caves, where the Taliban have destroyed huge Buddha statues, is on fire.
"Military tourists, black tourists, devilish sights, military tours — we try not to use all these terms, as they reflect what we are doing," says Willcox. Nevertheless, he notes that travelers love to be photographed against the backdrop of the burnt Soviet takens in Afghanistan or at the site of the fall of the Black Hawks in the Somali capital in 1993.
The basis of his business is the organization and supervision of tours to Afghanistan, especially hiking in the Wakhan corridor in the province of Badakhshan. Kandahar and Helmand are not included in the list of places visited, but it takes travelers to inspect Kabul (where they initially arrive).
"People think that there is only war. In Kabul, 6 millions of people go to work every day and nothing happens to them. Fear is disproportionate to risk. "
Dramatic stories on TV and press coverage distort everyday reality. "During the riots in London in 2011, I received calls, SMS messages and emails from friends from Grozny, Kabul and Mogadishu asking if I was okay. They saw pictures of a burning building in London and thought I was in trouble. "
Nicholas Wood, the former Balkan reporter for the New York Times, who created Political Tours in 2011, also finds the term military tourism repulsive. His company arranges tours to Libya, North Korea and even the City of London affected by the crisis.
After the American ambassador to Benghazi was killed last September, Wood decided that Libya was too unstable for tourists. "I have a moral responsibility towards clients to avoid unnecessary risks," he says.
He also does not want to indulge in voyeurism of "drug addicts" who have long been hooked on the war, who would like to witness the hostilities live. Wood admits that military reporters are excited and get adrenaline drive from coverage of military conflicts, although he notes that this is partly to blame for the servility of the public in front of the military reporter as the hero of the war.
Jeff Hann works for those who would like to discover Afghanistan and Iraq. Hann founded Hinterland Travel thirty years ago and says that business has never gone so briskly as it is now, especially after the Internet has sparked interest in the business. Hann is worried that with business development he will not be able to find a worthy assistant with the necessary knowledge. He himself speaks a little Arabic and somehow in Pashto and Farsi. He usually manages to talk to people in hot spots "in simple English and slowly"
Hann, like the others, says that this kind of business will not make him rich. At Rick Sweeney, owner of Warzone Tours, the main income of the company brings security activities. Tourism to hot spots is only a side activity, and this allows him, among other things, to reject the offers of those tourists whose motivation seems to him suspicious.
"We immediately get rid of customers who want to be given AK-47. We believe that
weapon
should be in the hands of professionals, not customers. " Although, Sweeney admits that there are others, "operators-cowboys" who look at it differently. Sweeney does not call himself a "travel agent", preferring to say that "we are just security guys who know how to behave in the conflict zone."
He also denies that he is profiting from the suffering of others. "Usually, critics accuse us of the fact that our business is politically incorrect. And this is not the case at all. On the contrary. I want customers to just sit down with the locals at the same table, share the common meal and talk with each other. "