Last Friday, Reuters published a story titled "Qatar Reduces LNG Prices for Asian Customers" (the English version is somewhat more detailed). The material is very interesting in terms of the volume of traditionally inaccessible data on contract terms. As for the thesis submitted in the title, it is not all that simple. Considering the importance of the topic for our country, we suggest talking about it.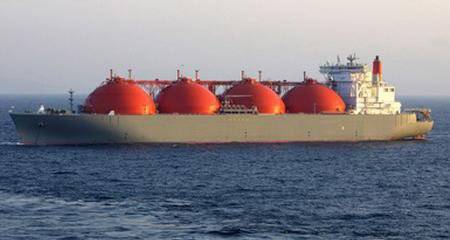 History questions [/ b
]
For several years now, we have been frightened that Qatar will overwhelm Europe with cheap LNG. Every year it became more difficult to speculate on this. The emirate transferred its supplies to Asia, and almost did not enter into new European contracts, and if it did, it was at such prices that it was possible to buy one and a half times more gas from that amount from Gazprom; exactly such
terms
contracts for future LNG supplies to Poland.
But now Russia intends to actively enter the Asian LNG market. And if so, then our country needs to be intimidated with "cheap Qatari gas" not in Europe, but in Asia. And this is not just psychological pressure. The moment is very important now - there is a negotiation process on concluding long-term contracts (Gazprom Vladivostok LNG, Rosneft plant on Sakhalin, Novatek Yamal LNG), and the general information background, of course, affects the negotiations. From a formal point of view, Qatar really reduces prices in the Asian market. But this is connected with the transition from spot sales to long-term contracts. And here we are not talking about any dumping.
Let us briefly recall the history of the issue. Qatari plants were prepared for the American market. It is for this reason, by the way, that the main fleet of Qatar gas carriers is supertankers, which after that no one else began to build. But for long distance transport — from the Middle East to the USA — they seemed like a good way to save on transportation costs.
We all know what happened afterwards - because of shale mining in the United States, Qatari gas was not needed there. Therefore, LNG began to be redirected to Europe, to the spot market. And then there's the crisis. As a result, prices briefly collapsed to 40 dollars per thousand cubic meters, which did not even cover the cost of liquefaction and transportation. But with the help of this figure, for several more years we will be frightened by cheap LNG from Qatar.
But Qatar was not discouraged. And he gradually began to get good profits, redirecting LNG to Asia, having achieved good success here. Data for the current year is not yet, but I think the picture will be even more indicative.
And in Europe, spot gas prices began to straighten. Now, on average, prices in Europe are 10 dollars per million BTUs, in Asia, 15 dollars and above. The question arises: why did the emirate initially prefer to leave part of the gas in Europe, because in Asia LNG has been more expensive in recent years?
Someone prefers to explain this by conspiracy - the fact that Qatar is largely controlled by the British, the factories are partly owned by foreigners, etc., etc. Indeed, the UK is the main market for Qatari gas in Europe. But judging by the way Doha ignores the requests of the British to sell them some more LNG (we will return to this later), this version hardly looks plausible.
Most likely, the reasons are different. LNG volumes, which the United States actually abandoned, were dumped onto the spot market - Asian or European. And if Qatar transferred all supplies to Asia at once, the spot market would collapse. Therefore, Qatar balanced supplies between the European and Asian markets in order to get the maximum profit. And now, in the wake of growing demand in the Asia-Pacific Region, the bulk of gas is finally relocated to Asia.
In addition, there was another reason. Older Asian LNG receiving terminals often could not accept supertankers. As a result, Qatar had to charter "foreign" gas carriers to ensure the transportation of LNG to profitable Asian destinations, or, using its fleet (which is cheaper), to send LNG to Europe. Now, after the modernization of the old terminals (in Japan) and the emergence of new (in China), this problem has been largely resolved.
[b] Long-term contracts: no dumping
Anyway, now comes a new stage. Many new producers are entering the Asian market (Russia, Australia, etc.) who cannot afford to sell all their gas on the spot market. Therefore, they will all tie their deliveries to long-term contracts. And Qatar is in a hurry to complete its "games" with the spot market by selling free volumes of LNG under long-term contracts.
All Qatari liquefaction capacity is now 77 million tons. Contracts - 61 million tons. Remains 16 million tons - not so much. And what about prices?
Reuters is right here. Qatar will get less. Selling on the spot market is a riskier strategy, but in some cases, especially when there is a shortage of gas, this approach allows you to make a decent profit.
But if you compare the proposals of Qatar at the conclusion of long-term contracts with the overall picture of the market, it is clear that Doha is trying to knock out the maximum prices. And there is no question of any dumping.
To understand what's the matter, you will have to sort out a bit the pricing formula for contracts for the supply of LNG in Asia.
LNG price (US $ per million BTU) = Oil price (US $ per barrel) * K + b
Where K and b are coefficients, and it is for them that the main trades go when signing contracts. The main factor, of course, K - it actually reflects the relationship between oil and gas prices. b plays a smaller role, usually a small value (for example, 0,5 dollars per million Btu, and this is a fixed "additive" to the base price.)
Suppose that b = 0. Then, if K = 0,15, it means that at the price of oil in 100 dollars per barrel, the price of LNG will be 15 dollars per million BTU. Approximately such prices are now observed.
And one more important point. K = 0,17 reflects energy parity with the price of oil, and therefore usually this coefficient is not higher than 0,17, but rather a bit lower. Still, gas, even LNG, has a discount to the price of oil. Yes, and b adds something to the final price.
And now the data from the Reuters message: Qatar offers buyers to enter into long-term contracts with the coefficient 0,146 – 0,147. Australia, where LNG is very expensive to produce, has entered into contracts with the 0,145 coefficient. With the price of oil in 105 dollars per barrel, as it is now, LNG in this case will cost 15,2 dollars per million BTU, even without taking into account the fixed additive (b). This is exactly at the level of current spot prices in Asia, although they sometimes increase to 17 dollars per million BTUs.
The material also contains data on the Russian contract between CNPC and Yamal LNG. K is small, total 0,122, but the fixed coefficient b is very high (the exact value is not specified).
But back to our topic. Of course, Qatar puts such prices not out of solidarity with Russia and other exporters. But whatever the reasons, the strategy itself is obvious - Qatar sells its LNG expensive and very expensive. All his sales combinations pursue one goal - maximizing profits, and not a hypothetical market seizure by dumping. By the way, the Reuters note itself was written fairly objectively, but the title may well leave the wrong impression. Therefore, it seems that it was important to disassemble this plot.
What will remain the UK?
Consider another question. To what extent can gas flow from Europe to Asia continue? The answer to this question is not as obvious as it may seem. It is clear that almost all free volumes will go there (more precisely, they have already left). And, by the way, after the conclusion of long-term contracts, they will not return back, even if the price of LNG in Europe rises.
And what about long-term European treaties? It is striking that by the end of last year, less gas was supplied to Europe than it corresponds to long-term contracts (see table and graph). With what it can be connected? The main reason is that the seemingly guaranteed European supplies can be redirected to Asia. When is it possible, and who is the beneficiary of such combinations?
First, you should pay attention - who is the importer of gas. Often it is a global company (even with a European registration) or a gas trader. Then such an importer can redirect gas to more lucrative markets (of course, if the importer has no obligations on these supplies in the market of the country of initial destination). But here, two options are possible. First, LNG can be delivered by Qatar to its destination, or the inability to change this item is spelled out in contracts. Then for re-export to Asia, LNG has to be reloaded in Europe to other vessels. But even such a costly option often turned out to be profitable. It is even more profitable if the importer himself takes the goods in Qatar and takes him wherever he wants, at his discretion.
Such situations have occurred in recent years, and all this time Qatar sadly watched how other companies receive additional profits, in fact, reselling its gas. Therefore, Doha and refused to enter into new contracts with the EU. Still: on the one hand, Europe insists on pricing with reference to European exchanges, and then resets the fuel to Asia, where the price linkage is oil. Poland agreed to the oil linkage - and, please, guaranteed deliveries without problems. Although expensive.
We can not say about the UK. This country is the main importer of Qatari gas to the EU. From 20, with a little million tons of last year's imports, over 10 million went to the island. Conversely, it is Qatari supplies that make up the bulk of all British imports of liquefied gas. The main part of LNG is under contract 2009 of the year (see table), and, apparently, importers have long-term obligations to deliver at least part of this gas exclusively to the British market.
But the country, as is known, has been experiencing a gas shortage in recent years, and therefore is trying to conclude additional contracts. Qatar stubbornly refuses, limiting itself to the 3 – 4-year agreements.
In particular, in 2011, the British Centrica agreed to supply 2,4 million tonnes per year of Qatari LNG for three years. And most recently expiring in the middle of next year, the contract was extended to 4,5, and expanded to 3 million tons per year. By the way, Centrica is one of the importers who are really interested in receiving cargo at the planned destination, as its main business is gas supply for British consumers (it operates under the British Gas brand on the market).
But we did not include this contract in the list of European contracts, and here's why. Qatar reserves the right to deploy this LNG to Asian markets (albeit by paying a small penalty). As a result, under the 2011 contract, Centrica received only about half of the planned supply volume. Recently, Qatar has concluded several smaller contracts with European consumers under the same conditions.
One way or another, amid LNG shortages, the UK has been receiving 10 million tons of Qatari gas from 77 million tons of total Qatari liquefaction plants in recent years. And maybe this year will be even less. To date, the island has arrived at 38% less gas carriers than in the same period last year. So the talk of British influence on Qatar's policy appears to be "greatly exaggerated."