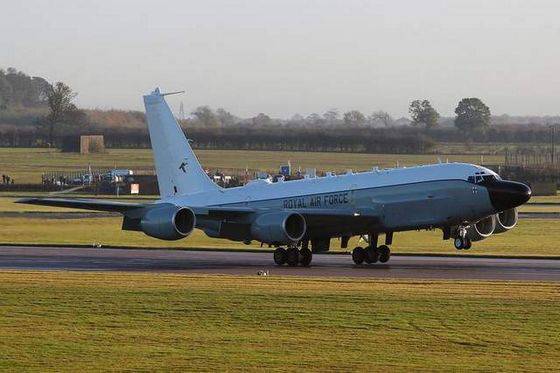 The first of three RC-135V / W RC-12V / W Rivet Joint planes, ordered for the British Air Force under the Airsicker program, landed on November XNUMX at Waddington Air Base.
As the press service of the British military department reported, the plane with b.n. ZZ664 (formerly KC-135R 64-14833) arrived in the UK after successfully completing flight tests at the company's main project contractor, L-3 Communications, in Greenville (Texas).
In the coming months, the crew of the aircraft and the technical personnel of the 51 Squadron of the British Air Force will receive additional training in the use of the aircraft. The combat use of the first RC-135V / W Rivet Joint aircraft of the British Air Force will begin in October 2014. From 2011, personnel of the 51 Squadron technical personnel were trained together with US Air Force personnel. The raid of British crews exceeded 32 thousand hours.
It is assumed that the second RC-135V / W "Rivet Joint" (ZZ665, formerly 64-14838) will be handed over to the British Air Force in 2015, the third (ZZ666, earlier 64-14830) - in 2017. They will also be part of the British Air Force 51 Squadron (a / b "Waddington").
The MoD of Great Britain decided to replace the Nimrod R.1 aircraft in service with the radio reconnaissance aircraft with the American RC-135W Rivet Joint aircraft in the middle of the 2008 year. To implement the project, the United States Air Force acquired three KC-135R air tankers, which are modified to the RC-135V / W electronic reconnaissance aircraft version by L-3 Communications.
The KC-135 modification to the RC-135W standard includes the removal of the airborne system boom, the integration of the airborne system receiver, the installation of a modern "glass" cockpit and a set of equipment for radio and radio intelligence.
Finally, the issue of the supply of three aircraft and ground systems under the program "Foreign military sales" of the United Kingdom of Great Britain and the United States agreed on March 2010. The first tanker aircraft KC-135R with b.n. ZZ664 (formerly KC-135R 64-14833) arrived at the L-3 communications company in Greenville for retrofit in March 2011 of the year.
According to the report of the National Finance and Audit Office (NAO), the cost of the Airsicker program, which envisages the adoption of three RC-135V / W Rivet Joint planes, will be about 1,27 billion pounds sterling, including 634 million pounds sterling (1,08 billion ) for the purchase of three aircraft and equipment and 637 million pounds to support them up to 2025 year.