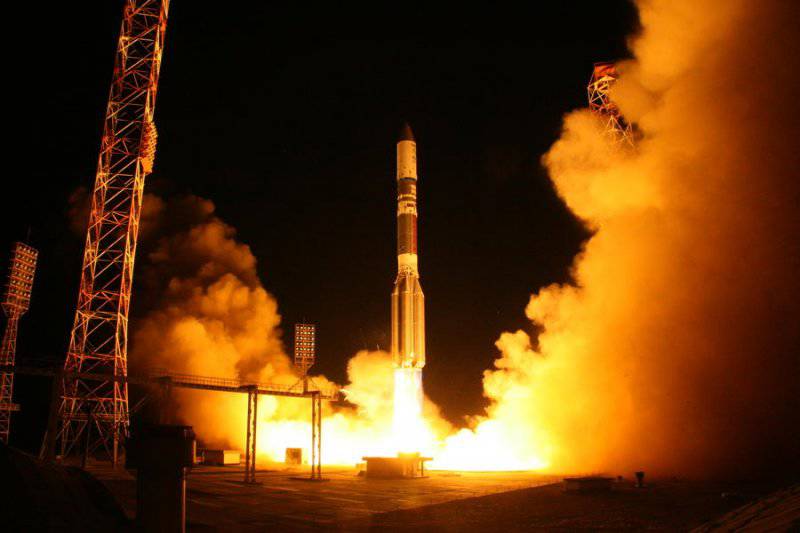 The rocket should launch the Raduga-1M communication device of the Russian Ministry of Defense into space. According to Interfax, this was stated by the Russian military department. This is the third launch of "Proton" after the accident that took place on 2 in July of this year.
According to the official representative of the press service and information department of the Ministry of Defense for EKR troops, Colonel Dmitry Zenin, the removal of the vehicle into the target orbit using the Proton-M launch vehicle, as well as the Briz-M upper stage, will take about nine hours .
"EKR troops using ground-based automatic control systems provided control over the launch of the Proton-M rocket with the Raduga-1M spacecraft, launched from the Baikonur cosmodrome at 03: 46 Moscow Time," he said.
In 03: 55 Moscow time, there was a planned separation of the upper stage with the satellite from the launch vehicle. According to Zenin, the launch of the satellite into the target orbit is scheduled for 12: 47 Moscow time. He added that both the launch of the Proton-M rocket and the separation of the upper stage with the satellite proceeded normally. "The further launch of the spacecraft into the target orbit will be carried out with the help of four start-ups of the Briz-M upper stage engines," the colonel noted.
The third-generation military communications satellite, Raduga-1M, is included in the Unified Space Satellite System of the second stage. The device was manufactured by Reshetnev Information Satellite Systems OJSC.