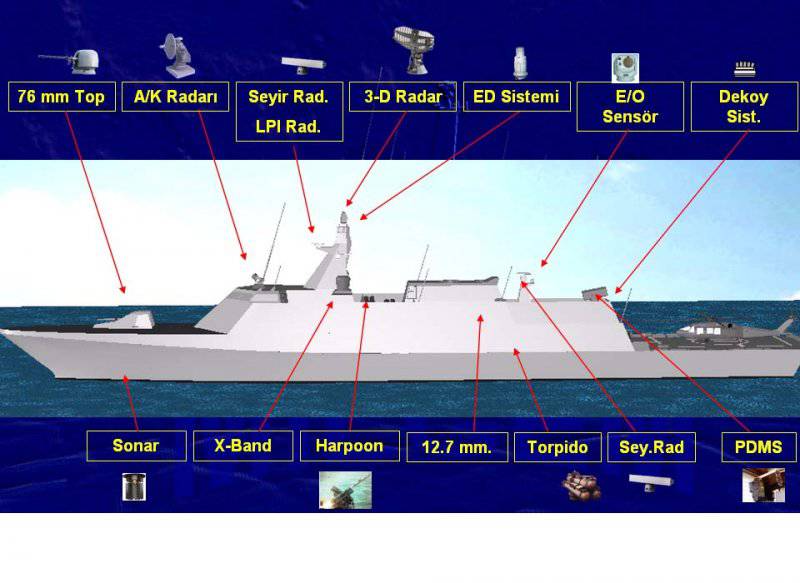 In Turkey, a political scandal erupted around the tender for the purchase of corvettes, in connection with which the competition will be re-launched, writes Defense News 10 November.
The competition will be attended by seven leading shipyards of the country. In January, the Defense Industry Executive Committee, chaired by Prime Minister Recep Tayyip Erdogan (Recep Tayyip Erdogan), signed a contract for the construction of six corvettes with the country's largest business group, Koc Holding, which owns the shipyard RMK Marine (Istanbul). However, this decision was canceled, probably due to a political scandal. During the civil unrest in the country, the management of the holding supported the protesters. In particular, in June, demonstrators took refuge in a hotel in Istanbul, owned by a business group.
16 June angry prime minister, speaking at a public rally, said that "we know what hotel owners helped terrorists (protesting citizens) to escape from the police, this crime encourages terrorists to unlawful actions, and it will not go unpunished." The police used tear gas and pepper spray in the hotel, which is forbidden to be used indoors.
13 August Defense News announced that the government may revise the contract for the construction of the corvettes of the Milgem class, 26 September the contract was canceled. The head of the Undersecretariat of Defense Industry, Murad Bayar, stated that there is no political context.
The Corvette will cost 300-350 million. Turkey plans to use the experience of designing and building corvettes (8 units) to develop the first national frigate TF-2000 in the 2020's.