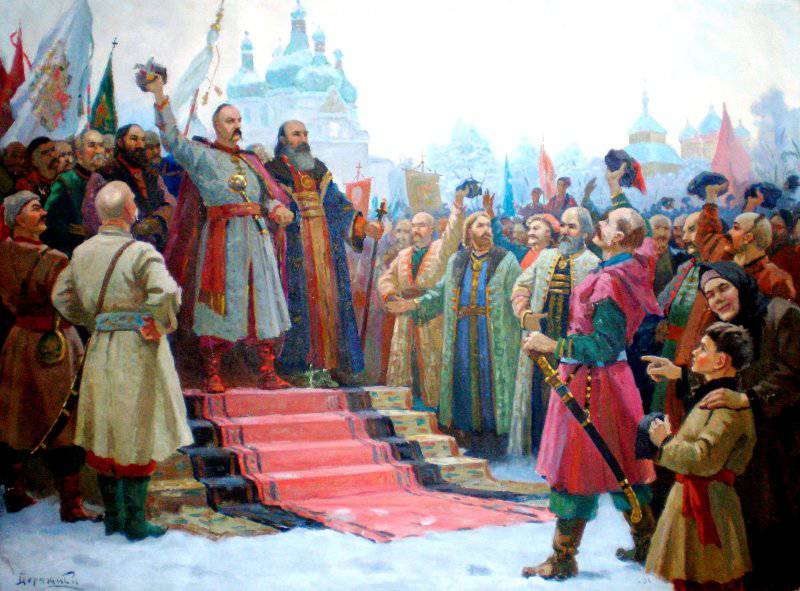 Recently, the number of articles on the European election of Ukraine, about the hateful association has simply gone wild. Or else it will be when "
historical
»Summit in Vilnius. Oh, oh, oh.
For me, this is not the most important topic regarding Ukraine. Much more important is our common cultural and religious space, our common history and common future, family ties and identical genes, as well as attempts to challenge and vulgarize all of the above.
What is 20 with a tail of TEMPORARY boundaries, if we are tied together by centuries of joint victories and accomplishments, what is it nezalezhnishist, if even 1000 years before the first mention of the term "Ukraine" we were one. Adherents of the "most ancient people of the world - ukrov" and collectors of the shards of Tripoli culture, take care: or honestly, call your "historical works" boringly written fantasy.
What difference does it make if Newmazpe subscribes to Eurocabal or not, this will not change anything. Do you really think that the Ukrainian authorities respect any scribbles? In vain in Moscow, Brussels, Washington and Beijing, treaties with Ukraine are kept in vaults - throw them out quickly, zero sense from them. When in Kiev they think that the association is not profitable for them, it will be canceled, and the outside signatory can be imprisoned "for exceeding their authority" (it will be funny and not at all surprising if Tymoshenko is imprisoned by Yanukovych).
Believe me, in Vilnius there is no device stolen from Dr. Evil, splitting Eurasia into blessed Europe and a dull and oppressive Asia (although many Russophobes are suffering about this). Let the Europeans sign what they want, but it would be better to read the "Leader of the Redskins". I am more concerned about the reaction of Russia.
The Kremlin had to grow up and go pro-Russian force in Ukraine itself, which would convince its citizens in unity in the move (or svidomo divorced, who, if in Russian, do not believe a word) and language. The big problem is that in the countries of Eastern Europe and the former Soviet republics, sensible people, unlike Euroidians, lack a tribune.
Unfortunately, Russia was not interested and is not interested in this area, limited only by accounting debit and credit.
In Ukraine, the stake was made on Yanukovych and his PR, but this figure, by definition, could not be a figure uniting the whole of Ukraine, since when he tries to speak the national language (the second is not, eh?), no one can understand him. He is interesting, until recently, as if pro-Russian, but after he had quit in his own way superhit by Verka Serdyuchka "Rush, Goodbye", it is better not to talk about him as a politician at all.
In my article "The Party of Heat Will Win in Ukraine," I suggested that a new powerful pro-Russian force would arise with the inevitable serious deterioration in the standard of living of the population after the association.
Now, despite all the press from the Donetsk mafia, there are politicians who are not afraid to protest against the disastrous course of the West. It seems to me that the leaders of the conditional heat batch of Ukraine will be among them; those who will not bend, will not break, will not sell, will be guidelines for the Russian part of the country. And for Western Ukraine, it needs its own strength, which, I repeat, on the pure move, will explain to the greats the advantages of the Eurasian Union, will find in the history not only repressions dragged by their ears, famines and occupation, but will also inform Svidomo that the times of flourishing and victories.
Let a similar party be marginal at first, but over time it will turn into a serious force. After all, we do not think a year or two in advance, but we want to find friends and like-minded people on TEMPORARY Torn-off lands. Right?
If you do not pay off the epidemic called "acute Svidomo brain", we'll get ideological Russophobes with the Ukrainian lands, which the evil Muscovites again prevented us from breathing the Euro-Atlantic air of freedom. We already have one difficult mountainous region, we can get another one.
We need to work with the heads, thoughts and feelings of the people of Ukraine. In the vanguard of the liberation of Ukraine should go what unites us - the common church, culture, history.
Another important thing: you need to stop the "ukrosrach", starting with the gatherings in the kitchen - "here, you yourself separated, that's what you need, traitors" - and to the statements of politicians.
Ukroagitatory directly say that Zhirinovsky every time he speaks about Ukraine, he does a lot more for Ukrainian self-consciousness than a crowd of ardent svidomitov. And they are right.
Let us recall that the overwhelming number of Ukrainians voted for the preservation of the USSR, and the subsequent referendum on the Nazis - a scam and a successful provocation. PR came to power, saddling pro-Russian sentiment. The fact that Yanukovych and his accomplices fraudulently stole several years of normal life from their land is not the fault of the people of Ukraine, but their misfortune.
Vladimir Vladimirovich once said that Russians and Ukrainians are one people, and that we will meet somewhere. Gold words!
Just why do representatives of the same people, crossing the border and going to visit, work or reapply, feel like third-rate people (second-class are citizens of Kyrgyzstan and Kazakhstan, whose rulers signed some kind of agreements with Moscow that make life easier their citizens).
I remember that I, a Russian citizen of Ukraine, who lived in Russia because of my duty, were very indignant at the bias and greed on the part of the police, FMS officers, customs officers. In principle, I perceived my Ukrainians in my own Homeland as a ridiculous incident and separated in my mind callous greedy officials from my native fields, forests and rivers. Flies and cutlets in one word. And there are people (more recently Russians) who consider a greyhounds precinct, under the threat of deportation extorting last money, the personification of all of Russia.
The man to whom Hillary Clinton could not get through to everything, Mr. Lavrov, "pleased" everyone that there would be no visa regime between us and visiting the neighboring state would be "only" on foreign passports. " Most of all will get poor people of the frontier region, who will have to pay a certain amount for a new document to travel to friends and relatives. How to get through to this, without a doubt an intelligent and talented person, explain that this is a bad idea.
Another ridiculous idea: the joint installation of barbed wire obstacles "in a checkerboard pattern." It is clear why the Ukrainian side is doing this: it outlines a territory where human rights are respected, democracy and other European values ​​from the kingdom of darkness, ignorance and tyranny reign. Or they think so.
Why do we need these fences? Are we not looking for anything behind the thorn, and this is the natural border of Eurasian integration? What we give the signal to Russians in Ukraine? Approximately the same as Stalin would have given, give it to the Nazis during a hypothetical armistice at the very beginning of the Second World War, when everything was shaky.
There is no need for Russia to "fight" with Ukraine and its people, do not sow anger and hatred, it is enough.
Imagine such a picture: in the winter, a car with Ukrainian pipes arrives at the Russian customs, there are contagious rust in metal products "by the method of Onishchenko" that can consume all the iron in Russia. Naturally, the car is wrapped up, and everyone understands where the legs actually grow from this non-existent rust, and the poor boy driver sings hot tea with raspberry jam, soothes, empathizes, but cannot do anything, translating righteous anger towards "native" power .
Russia needs to re-gain the trust of ordinary people, pretty confused lately, and it doesn't matter whether they are talking or crushing.
We are in any case to be together, the matter is only in the timing and price of the issue. And as history shows, it is often more difficult and longer to develop the loyalty and favor of the inhabitants on the newly annexed lands than to build bridges, roads and factories there.