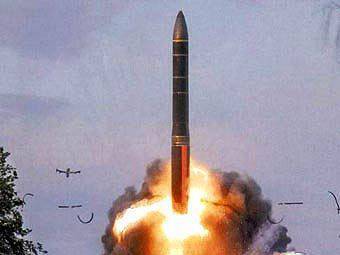 In the Ivanovo region, the first in Russia regiment armed with the RS-24 "Yars" mobile strategic missile system took up combat duty. About this, as reported by RIA
News
, said the official representative of the press service and information of the Ministry of Defense of Russia Vadim Koval. According to him, the regiment consisted of two divisions RS-24, which in 2010 were put on trial combat duty. During trial operation, the military confirmed the stated tactical and technical characteristics of the complex.
In the future, the new missile systems should replace the old RS-18 (Russian classification UR-100N UTTH, NATO classification - SS-19 Stiletto) and PC-20 Voyevoda (P-36М, SS-18 Satan). As expected, Yars, together with the mine and mobile base complex PC-12М2 Topol-M, will form the basis of the strike force of the Strategic Missile Forces.
Information:
In the Ivanovo region (Teikovo), the 54-th Guards Missile Division of the Order of the Kutuzov is a part of the 27-th Guards Missile Vitebsk Red Banner Army of the Strategic Missile Forces. The division consists of four missile regiments. The divisions are armed with: RT-2PM Topol, RT-2PM2 Topol-M (mobile) and now PC-24 Yars (mobile).
PC-24 Yars is a Russian solid-fuel intercontinental mobile-launched ballistic missile with a split head, developed by the Moscow Thermal Engineering Institute under the guidance of Academician of the RAS Y. Solomonov. It is a modernization of the Topol-M missile complex.
Basic TTX (little data, classified information)
Number of stages - 3
Length (w / w) - about 23 m
Length (without warhead) - about 17 m
Diameter - 2 m
Starting mass - no data
Drop weight - no data
Fuel type - solid blend
Maximum range - 11000 km
Type of head - RGCH IN
The number of combat units - 3-4
Charging power - 150 CT - 300 CT
Control system - autonomous, inertial
Home-based - mobile and stationary