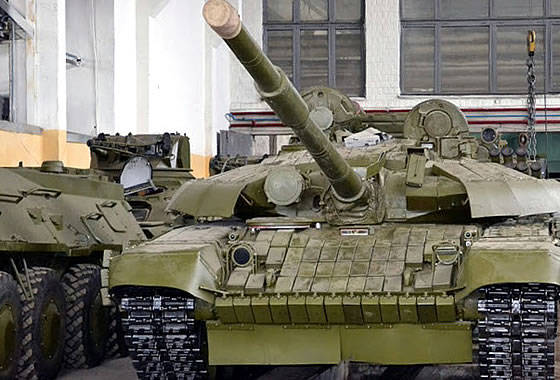 Ukraine continues to supply the main combat forces of the Ethiopian armed forces
tanks
T-72. Shipment of MBT to the customer is carried out under a contract for the supply of 200 T-72 tanks, signed in June 2011 with Ukrspetsexport.
According to Janes Defense Weekly, satellite photos taken on August 24 in the port of Oktyabrsk in Ukraine featured 16 tanks and other equipment prepared for shipment. Presumably, this batch of tanks was loaded onto the transport vessel Ocean Power, which departed 7 September to the port of Djibouti.
The agreement, signed in 2011, whose value exceeds 100 million dollars, was one of the largest contracts signed by the Ukrainian special exporter over the last 15 years.
Simultaneously with Ukrspecexport, contracts were signed for maintenance and repair of the T-72 fleet of the Ethiopian armed forces (the Armed Forces of Ethiopia have 60 T-72 XBT re-exported from Yemen to 2003).
According to official information released by the State Export Control Service of Ukraine, Ukraine shipped 72 MBT T-72 to 2011 Ethiopia in 99 and 2012 tanks in 29 year. Thus, in the current year, XNUMX tanks should be shipped.
The T-72B MBTs that are shipped to Ethiopia are being upgraded to the level of T-72U1, including equipping with a new engine, guided weapon systems and dynamic protection.
Production of the T-72B version began in the 1985 year (export designation T-72C). MBT T-72B is equipped with a new engine and suspension, dynamic protection package. The MBT armament is 125-mm smoothbore gun, 7,62-mm coaxial machine gun and 12,7-mm anti-aircraft gun. A tank can fire various types of ammunition, including 9M119 guided missiles of the Svir complex (target range 100-4000 m).
Ethiopia is interested in strengthening its Armed Forces due to the tense situation in the Horn of Africa. Over the past decade, the country has been involved in several conflicts with neighboring countries. During the armed conflict with Eritrea in 1998-2000. The Ethiopian armed forces increased the number of T-55 tanks and rocket-artillery systems, including the MLRS BM-21 and the towed howitzer D-30.