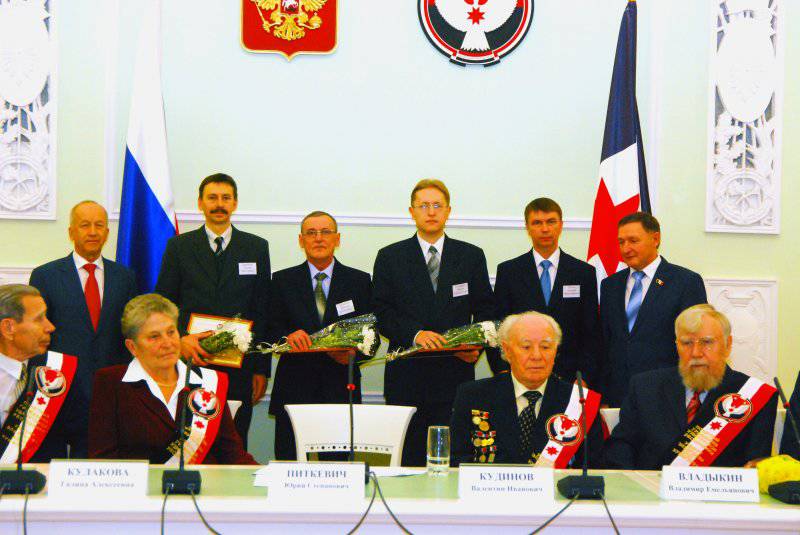 Design engineers of the Kalashnikov Concern, part of Rostec State Corporation, were awarded the State Prize of the Udmurt Republic in the field of science and technology for the development and production of Biathlon rifles.
Among those awarded are Vladimir Susloparov, Maxim Nagovitsyn, Alexey Shilov, Nikolay Berdnikov and Sergey Agapitov, who participated in the creation of the rifles "Biathlon-7-4 isp. 11 "and pneumatic" Biathlon-7-5 ".
Sports rifle "Bi-7-4 isp. 11 "was developed in accordance with the requirements of the athletes of the Russian national biathlon team - the trigger and locking mechanism, the aiming device were improved, the shooting accuracy and ergonomic indicators were improved, the weight was reduced
weapons
.
Air rifle "Bi-7-5" is a training version of the weapon - it has fewer restrictions on the conditions of transportation and use and is optimal for organizing the training process for beginners and experienced athletes.
The Kalashnikov Concern (formerly Izhmash) is the largest Russian manufacturer of automatic and sniper weapons, guided artillery shells, and a wide range of civilian products - hunting rifles, sporting rifles, machine tools and tools. The company was founded in 1807. Included in Rostec State Corporation. Kalashnikov united the largest state enterprises of the Russian rifle industry (NPO Izhmash and Izhevsk Mechanical Plant OJSC). In the future, the concern will include the Vyatsko-Polyansky Machine-Building Plant "Molot", the Koshkin Design Bureau, and the Progress NITI. The products are shipped to 27 countries of the world, including the USA, the UK, Germany, Norway, Italy, Canada, Kazakhstan and Thailand.