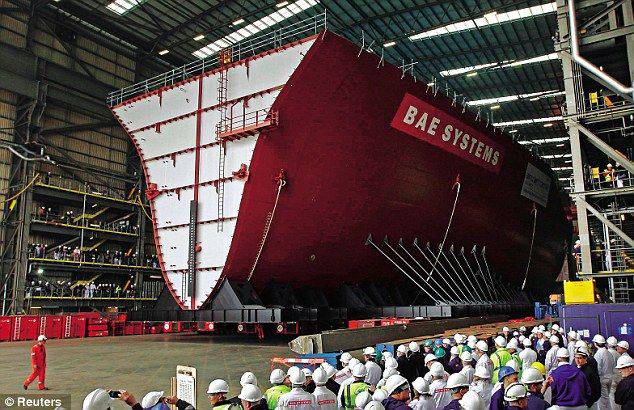 As a result of the closure of three shipyards in the UK, including Portsmouth,
история
which has 800 years, 1,7 people will lose thousands of people, according to the Ministry of Defense of the country and the company owning shipyards BAE Systems.
According to representatives of BAE Systems, production at the shipyards in Portsmouth, the Scottish city of Rosaite and in Filton near the port of Bristol became unprofitable due to the lack of orders. Recently in the shipyards major works were completed on the construction of two new aircraft carriers, after their completion the shipyards remained unloaded, ITAR-TASS reports.
BAE Systems said that the production of warships in the UK will continue in two shipyards near the Scottish city of Glasgow - in Gaven and Scotstuna.
BAE Systems stated that production will be maintained in Glasgow for economic reasons.
However, some politicians and the media suggested that the decision was made because the complete collapse of the industry in Scotland could increase anti-British sentiment on the eve of the referendum on the issue of independence there next year.
The shipyard in Portsmouth will stop working in the second half of next year. There will still be a dock to repair ships. Of the 1200 shipyard employees, only one in four will save the job.
The history of shipbuilding in Portsmouth dates back 800 years. Britain's security and prosperity as an island trading power depended on strong
fleet
Therefore, the industry was given strategic importance.
The marine museum of Portsmouth houses the hull of the ship Mary Rose, built at the local shipyard, which sank in the 1545 year and lifted from the bottom in the 1982 year - the flagship of the fleet of King Henry VIII.
The ships of the British fleet were built at the shipyard in Portsmouth, which in 1588 won the Spanish Great Armada, which approached the English shores. The flagship frigate "Victoria" also descended from local stocks, in which Admiral Horatio Nelson defeated Napoleon in the Battle of Trafalgar in 1805.
In Portsmouth in 1860, the world's first all-metal warship with a battleship Warrior was built. In the year 1906, a giant battleship Dreadnought was built at the same shipyard, making a revolution in the naval business and giving the name to a whole class of ships.
After the Second World War, the volume of British civil shipbuilding began to decline, now this industry is almost collapsed.
British companies buy tankers and other vessels in South Korea and other countries with lower production costs. The reason for the collapse of military shipbuilding is to reduce the military budget.
Now two new aircraft carriers are being built in the UK: Queen Elizabeth and Prince of Wales. The first must be built in the 2015 year, the second in the 2016 year. The shipyard in Glasgow plans to build new British frigates such as the 26.
The start of their construction was reported in 2007.