If a person says for decades that he is a pig, then sooner or later he will begin to grumble. If we talk for decades about the need for spiritual growth, the highest values ​​of collectivism and the interests of the people, then such a person will close the embrasure, saving his comrades.
This is the difference between the Russian world and the world of the West, between the civilization of God and the kingdom of Satan, between the mentality of our world and the policies of our geopolitical "partners". Call it what you want - the essence will be exactly that.
12 - the summer son of my friends in the summer went to a children's camp in the States. He returned from there far advanced in English and shocked by what he saw. Boys go to camp ... dressed as girls. They wear bras, tights. Painted Make women's hairstyles. Not all, but very many.
It is all open. Moreover, the parents of these boys WILL IMPOSE THEM NEW WOMEN clothes. Encourage their "search for their identity." The boy from Russia, as his parents told me, almost vomited when he saw these 12 male summer Americans in female clothes ... kissing in the streets of the camp.
When he began to make fun of these "boys", they complained about him, and the administration made a serious remark to the guy. The horror is that FOR ALL IN THE CAMP except him, it was all absolutely normal.
Why did this happen? Decades of propaganda of "tolerance", propaganda of homosexuality among children and adolescents. The homosexual theme in every film or series made this commonplace and sort of normal for Westerners.
Now they are all going to bring us. That is why the ban on the promotion of homosexuality among minors, introduced by law in Russia, is very important. Unfortunately, not everyone understands this yet.
It's impossible to wait until they understand - it will surely be late.
The attack on the psyche of a child begins with TAM since childhood. From fairy tales. If you do not put a barrier to this propaganda, your grandson may well be flaunting in the "pioneer camp" in a girl's outfit. And it will not surprise or frighten your children.
A terrible tale of how the king loved the king
Would you like your children to be raised on such fairy tales?
It always makes me happy when young people are interested in the causal connection between what is happening in their native country and the world. I want to share good
news
: in our regiment of activists arrived! Especially for our readers, Svetlana Bashlykova, a clever and beautiful woman who still has to become a mother in the future, wrote a note about the morals and family policy of modern Europe. Svetlana takes an active life position, she has already joined the ranks of our Patriotic Air Defense Party (regional office in Tatarstan), and she does not care what kind of bedtime stories she will tell the children of Russia in the future. This is Sveta's debut, and I ask you to support our comrade's good undertaking. And now we give the word to Svetlana: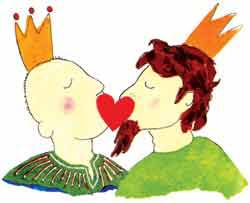 "In the world there are many fairy tales, each nation has its own individual, and there are also similar to each other. But they all teach us good deeds and warn us to do bad deeds on the example of heroes. Each country in a fairy tale reveals a national problem and its solution. We all remember these good children's fairy tales, on which more than one generation grew up. Such as: "Cinderella", "Masha and the Bear", "Little Red Riding Hood" "Pinocchio", "Geese-Swans", "The Princess - Frog". They teach children the good and the beautiful.
But for Europe, these good tales are in the past. In place of these tales came other, more modern and "tolerant". With the legalization of same-sex marriage in Europe, the corresponding children's books also appeared. What do modern European fairy tales teach children? The babies began to prove and show that same-sex families are the norm. Already in kindergarten children read books about same-sex love in order to show them an example of what a "real, strong and happy" family should be. It became curious to read this tale, so as not to "fall behind" from modern children's literature. She found the book only in English, read it ... To say that I was surprised means to say nothing. I was shocked!!! (By the way, I am very glad that there is no Russian-language edition of this terrible opus.)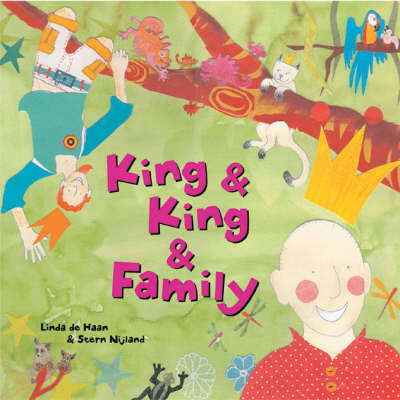 So, a summary of the tale.
Once the queen felt that she was already old and tired of ruling the kingdom.
And she decides that her son should marry before the end of the summer and begin to rule the kingdom. The Queen invites princesses from near and far kingdoms to marry her son. However, the prince does not fall in love with any of the princesses. ... This colorful children's book gets an amazing ending when the prince falls in love with another prince.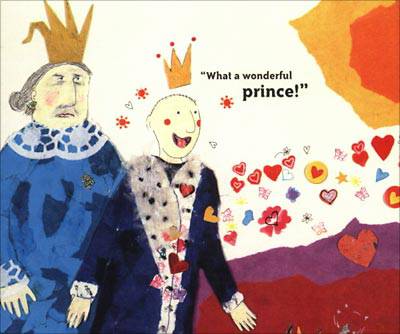 In general, there was a wedding at which the queen shed tears of joy. And at the end of a wonderful colorful picture, causing emotion. Two young men in crowns kiss, and between their lips - a beautiful heart.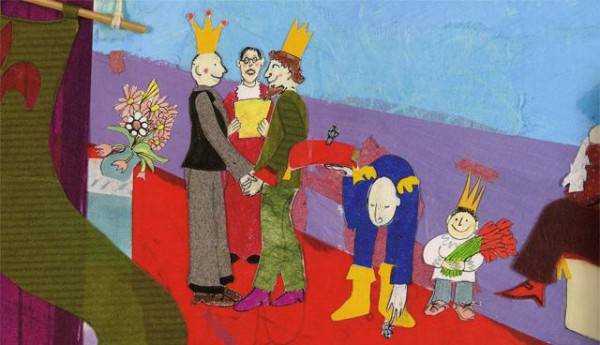 But the review of one of the Norwegian publishers on this tale:
"How many times should we re-read fairy tales to children about a princess falling in love with a prince with the same ending" they lived happily ever after "? Finally, like a breath of fresh air, fairy tales appeared with a different plot. The tale "King and King" is just one of such exciting stories. The book is colorful and bright, full of illustrations that capture the full imagination of your child. Same-sex families will be delighted with this.
history
. "King and King" is also a good book for any family who wants to show their children how diverse life is, where attraction to one's gender is the norm. In general, "King and King" is a book for children of any type of family. "
What can I say? What a fairy tale - and such a review. In the sense that it's terrible both! "
I fully subscribe to the opinion of Svetlana. From time immemorial, fairy tales are not just entertainment. Fairy tales help children become better and kinder, teach them to understand the wisdom of life, develop abilities. What abilities in children can this fairy tale develop? The answer is obvious. It is also clear to all of us that the unfortunate old queen from this fairy tale will never have grandchildren - crown princes. In general, kirdyk such a kingdom in the near future. Well, some people are not lucky ... As a patriot and a mother of many children, I sincerely hope that such terrible tales will never be published in Russian, and our children will never know the terrible details of this unpleasant story in which the king fell in love with the king. "