The parade on Red Square 7 in November 1941 of the year, carried out by the Soviet command literally under the nose of the advancing enemy, who earlier promised to hold his own triumphal march in Moscow that day, has no analogues in the whole world
stories
wars The parade had enormous ideological significance, and its successful conduct, called by historians the largest military operation, marked the first omen of the future Great Victory.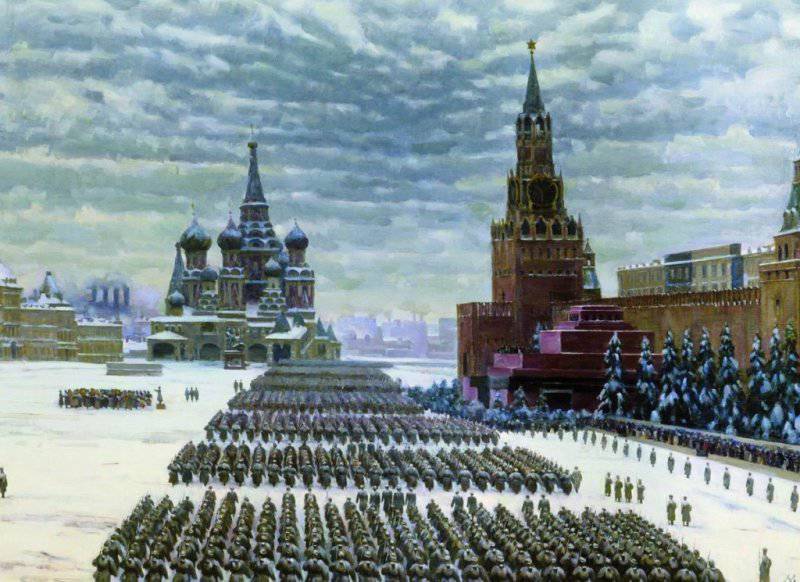 The enemy was literally at the gates of Moscow and was preparing to take her into the ring. Defeatist sentiments and rumors spread around the city that the leaders of the country had already left the city, and the enemy would freely enter it from day to day. In fact, preparations for the traditional solemn parade were conducted in Moscow in full secrecy under the strictest secrecy. On the one hand, it was intended to dispel defeatism from a part of the city's population, and on the other to demonstrate to the enemy the readiness of the Soviet troops to effectively defend the capital at the approaches to it. .
The most important goal of the Soviet command was to prevent enemy air raids during the parade. To this end, a series of bomb strikes were inflicted on enemy airfields, and the sky over Moscow was securely covered by all the air defense equipment at that time. As reported by the Soviet Information Bureau, on that day 34 of an enemy aircraft was shot down at the Moscow frontier.
The solemn 7 parade of November 1941 of the year began on 8 in the morning - on 2 hours earlier than the originally scheduled date, which was announced to the participants in the last hours before the march. Parade commanded by General Pavel Artemyevich Artemyev. Marshal of the Soviet Union Semen Mikhailovich Budyonny took the parade.
To give the march an atmosphere of special solemnity as an additional measure for raising the morale of its participants and residents of the capital, all the stars in the Kremlin towers were uncovered and lit.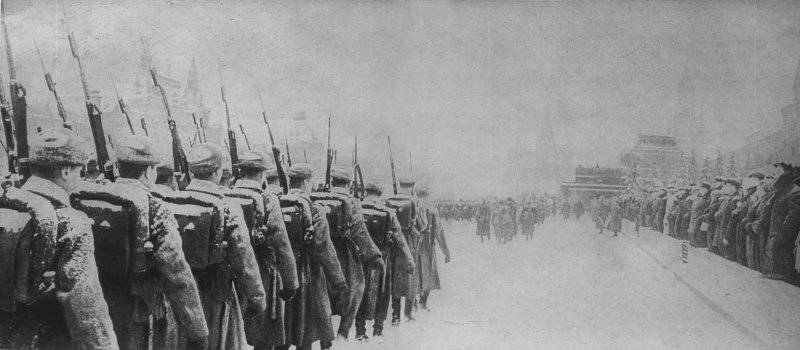 Following the cadets of the artillery school, infantry, anti-aircraft gunners, gunners and sailors on the snow-covered pavement of Red Square, the famous T-34 and KV-1 passed. Some units went to the front straight from the parade.
In mid-November, the fascist offensive against Moscow continued with particular intensity, some German units made desperate attempts to break through to the capital with the aim of conducting major sabotage on the territory of the city. In December-January 1941-1942 as a result of the counteroffensive of the Soviet troops, which began on December 5 of 1941, the enemy managed to push the capital's borders and force him to move to positional defense. Moscow was saved. Three and a half years left before Victory ...