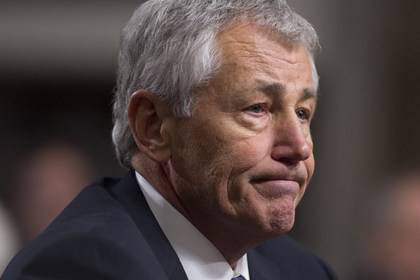 The head of the US Department of Defense, Chuck Hagel, said Tuesday that spending cuts under the sequester of the US federal budget threatened to reduce the capacity of the United States military.
"The current overly harsh, abrupt, deep cuts threaten the degradation of military capabilities," said Hagel, speaking at an event organized by the Munich Security Conference in the Center for Strategic and International Studies in Washington.
He recalled that in the framework of the sequestration, which has been in effect since March of the current year, the 500 billion-dollar Pentagon spending cutback for 10 years is planned, in addition to the already approved cost cutting of 487 billion.
Only in the fiscal year that began in October, the Pentagon is threatened with the loss of 52 billion dollars, Hagel specified, RIA "
News
».
"These cuts are too fast, too big, too sharp and irresponsible," said the head of the Pentagon.
In addition, according to him, in the absence of a normal budget, it is difficult for the Pentagon to plan its operations. Hagel called on legislators in Congress for a "more strategic approach" and expressed the hope that Republicans and Democrats would agree to adopt a budget.
Hagel also named a number of areas in which the Pentagon intends to save money. The US needs to get more mobile and flexible units with a smaller number, give priority to military units in relation to the garrisons, try to keep an uncontrolled increase in costs.
Also, according to Hagel, one cannot avoid "tough decisions" to reduce the payroll fund, which takes half of the Pentagon's budget.
At the same time, the US military budget still accounts for about 40% of world expenditures in this area, and many other major players are allies of the USA, the Minister of Defense specified. "The adaptation of the armed forces is necessary so that they remain strong, efficient, and the first in the world," Hagel concluded.
Recall, October 18 Pentagon chief Chuck Hagel has already stated that fiscal uncertainty may affect the US defense capability.
Prior to this, the United States had been in a state of crisis for some time, caused by the lack of a budget for the 2014 fiscal year that began on October 1, as well as the threat of default on its debt obligations.
October 17 Congress finally passed a compromise bill, which was immediately signed by President Barack Obama.
The document provides for raising the debt ceiling and temporary funding of federal ministries and departments, which then resumed their work.
According to the agreement between the Democrats and the Republicans, the government will be provided with funds until January 15 and will be able to continue borrowing until February 7 in 2014. During this time, the administration and the Congress will have to reach an agreement on the parameters of the budget, otherwise the threat of a crisis will arise again.