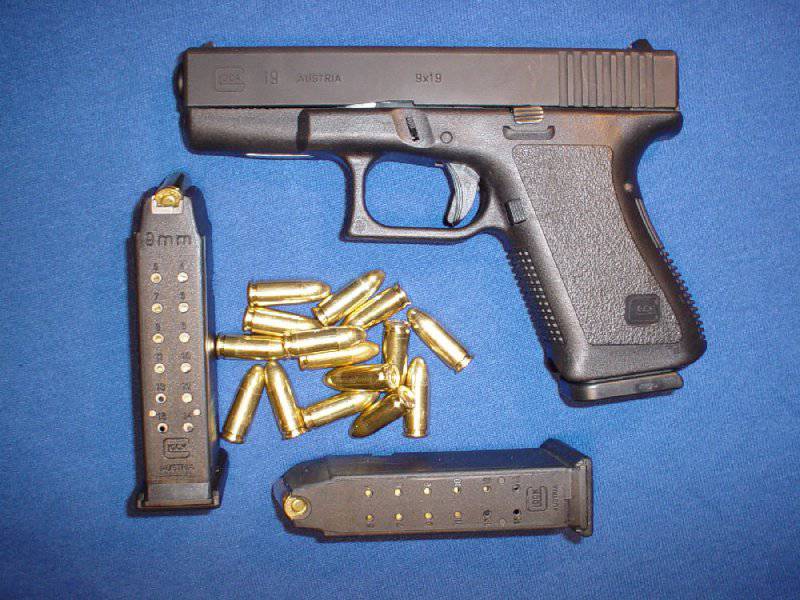 Shock from the price tag. Anyone who bought a car understands what we are going to talk about.
I myself was surprised to learn that a similar situation is observed with the purchase of firearms
weapons
.
Fortunately, when I first went to buy firearms, I had a premonition that the purchase of the weapon itself was not the end of this task. The purchase of weapons alone can be compared with the purchase of a computer without a keyboard, mouse and monitor. Yes, you will have a computer. But its utility will be no more than that of a brick ...
If you are an experienced shooter - this article is not for you. You already have all the necessary accessories and materials and you can just go to the store and buy new weapons.
This article will be interesting to people who did not have weapons and I will try to offer a sample for planning your purchase and give an example.
I will pay more attention to pistols, as this is the most common weapon to protect a home and the most frequently purchased weapon for concealed carrying.
There are still disputes over which type of weapon is best suited to protect the home (pistol, revolver, rifle or shotgun). This article does not support any of the opinions. I consider the gun only because most newbies will buy it.
Next, I want to clarify. State laws can be very different and I do not know the size of the additional costs in your area, including the cost of additional licensing, permits and special taxes on firearms and ammunition.
I live in Texas, where the price of firearms is all you have to pay if you don't need a license to hide it.
Please check your local laws and regulations before making a purchase. In addition, the price does not include taxes related to the Federal license for firearms and shipping costs.
If you buy in an online store, remember to have such costs. In our case, due to the difference in values ​​in different states, I assumed a tax in 7%. It may turn out to be a little less or more when you pay, but I don't want to lose sight of it, since it greatly affects the final cost of buying a weapon.
Also not included are the cost of visits to the shooting range or joining the shooting club to attend training sessions.
Too many options to consider. In addition, in the further description of the example, I will indicate the entire range of costs, and then select the average value.
Costs can sometimes go beyond the range specified by me. The main goal is to give you a general idea of ​​how much money you have to spend.
There are not unique cases when a person plans to spend on the purchase of a 500 pistol of dollars, and as a result, the costs exceed this amount by 100-200 dollars.
The following are the main accessories and materials you will need when purchasing your first firearm:
• Weapon itself - no comment
• Spare shop - you should be able to quickly reload the weapon, regardless of whether you use it to protect the house, or for hidden carrying.
• 200 training drills - you need to shoot enough ammo to get used to the weapon and learn its advantages and disadvantages.
• The trigger guard - if you do not have a safe - you need a lock to keep it safe.
• Ammunition for self-defense, in quantities sufficient for a full charge and one recharge - I personally recommend bullets with an expansive cavity (JHP) for any kind of protection.
• Safety glasses - for training. In 99% of cases, you will not need them, but when a red-hot brass sleeve arrives in your face, you will be glad to have glasses.
• Protective headphones - a weapon shoots loudly! So loud that you can deaf for a while!
• Cleaning solvent, gun oil, cleaning cloths and cleaning kit - for routine maintenance.
Now we will reveal the details, having considered an example with a Glock 19 pistol. I'm not a big fan of Glock, they don't impress me. But I have experience with them and these are solid pistols.
Another reason is that the Glock 19 is one of the best-selling handguns in the United States.
The Glock 19 is a self-loading dual-action pistol for the 9-mm Luger cartridge with the capacity of a standard 15 magazine magazine.
He has established himself as a reliable model, is accurate and generally not very picky about the type of ammunition used.
Below are the rates:
Glock 19 Pistol - from $ 500 to $ 550
Suppose its price is $ 525. At this price, you can always find it in many retail stores. Pistols are more expensive and cheaper, but Glock 19 among pistols is like a Toyota Camry among cars.
Spare Shop - $ 0
The Glock 19 comes with a spare magazine and a store equipment.
Depending on the weapon you choose, the cost of a spare magazine ranges from $ 15 to $ 40, but it may be a little more.
But the guns of most manufacturers, and all manufacturers, whose products I can recommend to protect the house, are sold complete with a spare shop.
200 cartridges 9mm Luger (FMJ) - from $ 13 to $ 15 per pack for 50 cartridges
In general, you can certainly expect to spend $ 14 per pack on 50 cartridges.
The price is given for "brass" ammunition, the sleeve of which is made of brass. Ammunition with a steel sleeve is cheaper, but it pollutes the weapon more, and for some pistols and revolvers they are generally not suitable.
I recommend the cartridges with brass sleeves to beginners, so that you do not worry about the peculiarities of using the cartridges with steel sleeves.
After you get used to the work of your weapon and its maintenance, you can pay attention to the cartridges with a steel sleeve to shoot at low cost. In addition, all full-metal cartridge (FMJ, CMO) cartridges are suitable for a wide range of applications.
40 ammunition 9mm Luger (JHP) as self-defense ammunition - from $ 21 to $ 24 per pack of 20 ammunition
This will increase costs a bit and this is due to the capacity of the Glock 19 store. To fully equip two stores, you need to buy 2 packs.
The remaining 10 cartridges should not be stored. I would recommend shooting them off at the shooting range, if only to verify the quality of the cartridges you purchased.
Glock will surely work fine with any self-defense ammunition, but it's never superfluous to double-check it.
Ammunition for the self-defense of many manufacturers is easy to find in the store, but you need bullets with an expansive cavity (JHP). These bullets are designed to expand when hit the target, causing greater internal damage, but at the same time they are less likely to pierce the inside walls of your house if you miss. In the end, I venture to suggest a price of $ 23 per pack.
Trigger Lock - $ 0
Most of the pistols and revolvers sold in the United States are equipped with a trigger lock. Basically you will not use it, but it should always be nearby.
Sometimes there are situations in which you need to secure your weapon, and if you do not have a safe, the lock is the best option. It will not protect the weapon from theft, but at least it will protect you from an accidental shot.
I do not recommend keeping the weapon under lock and key of the trigger all the time, as this will make it difficult to use if necessary. But there are special circumstances when you need to install a lock. Just do not go to the permanent storage of weapons, closed to the castle.
Safety glasses - from $ 10 to $ 20
I'll stay at $ 10. Despite the fact that this is the lowest price - you can always easily find points for shooting at that price.
There are very expensive glasses for shooting, but I would advise beginners not to go crazy. In any case - you need to buy glasses. I literally got a red-hot shell between my eyes. Surprisingly, I was wearing glasses and, thanks to them, was completely unharmed.
Ear protectors - from $ 15 to $ 20 for large headphones
There are cheaper options, such as earplugs, but the headphones are easier to use, easy to put on and work fine if you spend at least $ 15 on them. I saw headphones for the northern regions at the price of about $ 100, but for beginners the usual set will do. Highlight another $ 20 for this article.
Cleaning Solvent - $ 3
Buy some suitable solvent for cleaning weapons. It should not be something too strong, but it should dissolve the usual pollution and gunpowder carbon generated during the shot. It will cost another $ 3.
Gun oil - from $ 2 to $ 5
The average price is around $ 3. I mean gun oil in a special oil can with a fine tip applicator, similar to the tip of a tube with "super-glue", and not in the form of a spray. The presence of the applicator provides ease of cleaning and lubrication accuracy recommended by the manufacturer of lubrication points.
Cleaning wipes - $ 4
Yes, buy cleaning wipes. They are cheap and suitable not only for cleaning the barrel of the weapon, but also for removing excess solvent and gun oil. Even if the wipes are included in the cleaning kit - buy more.
Cleaning Kit - $ 0
This is not the case with all pistols, but at least the Glock 19 comes with a ramrod and brush.
In general, you will have to spend about $ 10 per caliber on the purchase of a separate cleaning kit, and many kits include oil and solvent. But if the Glock 19 is your first and only gun, you do not need an 9-mm cleaning kit.
And what did we get in the end?
$ 525 - Glock 19 Pistol, Spare Magazine, Trigger Lock, Cleaning Kit
$ 56 - 200 Cartridges with 9mm FMJ Brass Sleeve for Training
$ 46 - 40 Self-Defense Cartridges 9mm JHP
$ 10 - Shooting Points
$ 20 - Headphones
$ 10 - Detergents (wipes, oil and solvent).
Amount - $ 667
7% Tax - $ 47
Total payment - $ 714
Naturally, your costs may vary slightly. You can choose a gun more expensive or cheaper.
In addition, I did not consider various accessories and materials that are not important for the first purchase, but which would be good to buy later - for example, a holster or a special bag for storing and transporting weapons and accessories.
I advise you to review this article again before buying, think and prepare.
Yes, the first purchase causes a lot of additional costs. But in the future, you can buy yourself a couple more "toys" without any special costs.
About the Author:
Dan Zimmermann
- Chief Editor of the site www.thetruthaboutguns.com.
Dan lives in St. Louis since birth. Quite late he joined the rifle community - picking up a shotgun in the fourth ten. Five years ago, he bought the first gun and received a license to conceal the carrying of weapons. Now eyeing rifles.
In addition to the site, Dan is engaged in professional photography and writes interesting comments on thematic sites.