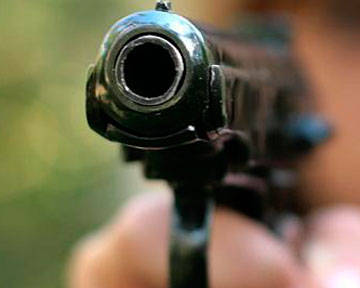 Both the state and citizens can benefit from the arming of the people
Today there are few those who are able to quickly and reliably split society into opposing camps who argue foaming at the mouth, often not finding points of convergence. This is not only the famous triad "Stalin, gays and Jews", but also legalization
weapons
. Let us set aside its moral and legal aspects and dwell on the economic ones. We are waiting for some interesting discoveries.
20 will be celebrated in December with the first Russian law on weapons. Three years later, the document that approved our right to arm was revised. We got the right to traumatic pistols, hunting rifles and even rifles, with which at least go to war, but lost weapons, perhaps the most interesting thing for any shooter, - "rifled short-barreled firearms". Simply - pistols and revolvers, which in Russia, in fact, argue themselves hoarse. A year ago, Senator Alexander Torshin came up with a sensational initiative to resolve the shortbridge, motivating this primarily with economic considerations. According to the calculations that he cited, the personal firearms market in five years would have reached the volume of 1,5 trillion rubles.
The amount is impressive, but not marginal. It seems that it can be significantly increased. It is amazing how our state, with its ability to regulate any idea to the point of absurdity and withdraw money from citizens at every step, did not seize upon such a promising and relatively safe initiative as the legalization of short-barreled weapons. It could even monopolize this market, and, paradoxically, society could also benefit.
Anyone who wants to get a weapon, anyway, they will get and will not spare the money, effort and time. On such and need to earn. About 60 000 people a year buy traumatic weapons in Russia. They are arming despite the fact that the uselessness of the "rezinrefs" has become the talk of the town. It seems that these weapons were deliberately allowed to discredit the idea of ​​arming the people: for self-defense traumatic pistols are almost unsuitable, and for tavern fights and shooting point-blank unarmed people - that's necessary. With an average price of "trauma" in 7500 rubles, we get the market with an annual capacity of 450 million rubles.
Real pistols can cost ten times more, especially if the state imposes a substantial tax on them or monopolizes the sale altogether: this is unlikely to be strongly affected by demand. According to a number of forecasts, the pistol-revolving market may grow by 11% per year. Director of the Institute for the Problems of Globalization, Mikhail Delyagin, asserted that five years after the resolution of the short-barred line, 20% of Russian men and 5% of women would arm them. They will need a lot of ammunition (training, gun shooting, maintenance of shooting skills), the monopolistic producer and exporter of which the state can easily become.
However, we treat one thing - the other is crippled. Having just emerged, the short-barred market will not only nullify the trade in traumatic and gas weapons, but also undermine the business of selling hunting weapons. It is believed that 70% "hunters" hardly ever spent the night in the woods, because they bought weapons for self-defense. Hunting weapons in Russia produce five factories, which, in order to compensate for the losses, will only be profitable to switch to the production of pistols, revolvers and their ammunition. So much for the support of the defense industry, about which we love to talk so much.
Another source of profit could be licensing - tough, expensive and, possibly, also monopolized by the state. A strict system of checks, examinations and issuing permits should simultaneously replenish the treasury and exclude any contact with psychopathic weapons like Major Yevsyukov (who went to the police, despite his mental disorder) and Vinogradov's pharmacy shooter. Recall the experience of the UK, where there is one of the toughest licensing systems: the Briton has to prove that he has no mental problems, is clean before the law and needs a gun (self-defense, by the way, is not considered a valid reason, unlike skeet shooting). The license is issued for five years, after which it is necessary to prove everything in a new way, and each time you lay out 50 pounds just for the "crust". In the United States, documents for weapons, depending on the state, can cost from 5 to 900 dollars, and all licensing procedures in some places cost in 1000 dollars. It means that the Russian budget even at not the most cannibalistic prices can be replenished by hundreds of millions of rubles annually.
Still, experts offer shooters civil liability insurance - they have already called him "pistol OSAGO". The proceeds can be used to compensate for damage from weapons-based emergency situations and to equip, for example, the pulley silo systems, which in which case it will be possible to determine in a few minutes who fired from what.
State revenues from the sale of pistols and revolvers can grow due to any restrictions. For example, a weapon can be made "disposable" by prohibiting its resale and allowing citizens to buy only new "trunks". Take and improve the system adopted, for example, in Mexico. Is the gun tired or hopelessly outdated? Hand it over to the police, where they will destroy it right in front of you, pay the fee, and only then get a new one. The total absence of the "secondary housing" will become an obstacle to the black market, although it will not completely destroy it. He will survive at the expense of criminals, who always have a weapon, and those who do not shine a legitimate purchase of the "trunk". Now, by the way, there are no insoluble problems with the purchase of illegal weapons. Makarov's pistol, long gone out of fashion in the world of crime, can be taken for 100-300 dollars, depending on its state and
stories
. AK-47? Two hundred bucks, and he is yours. For such trade there are special sites, although it is often engaged in the police and the FSB in order to keep the naive buyer behind bars.
In short, the Russian government is full of opportunities to create a full-fledged, tightly regulated domestic arms market and to receive from this a substantial benefit. There would be a desire! But there is no desire: the Kremlin believes that the population of Russia is "not ready" for the legalization of the short-barrels and the weapons culture is completely devoid of. When it is "ready" and where will this culture come from, if the authorities have always kept people away from effective self-defense weapons, they are not explaining to us. You can check our readiness only by allowing pistols and revolvers, for a start, with any kind of strict restrictions, if we don't trust ourselves. True, then in the Kremlin they risk losing the monopoly on violence and see on the other side of the red-brick walls armed and therefore much freer and independent people. Americans do not speak for nothing: if the government starts talking about gun control, he is not interested in guns, but in control ...