India is currently the largest importer
weapons
in the world there is every reason to believe that in the coming years and even decades the situation is unlikely to change. Traditionally, India more than the rest of the countries purchased Russian armament, and the backbone of its air, sea and land forces are exactly the samples of the Russian military industry.
Despite the fact that New Delhi was always ready to buy weapons from Western countries, its interest in Russian counterparts remains quite high. In the past, India, of course, bought some models of military equipment from France and the UK, in particular military aircraft Mirage 2000, Jaguar, SeaHarrier and Havoc, as well as Milan anti-tank missiles and some types of warships. This year, even a contract worth 20 billions of dollars was awarded to France for the purchase of Rafale multi-role fighters, the delivery of which continues to this day.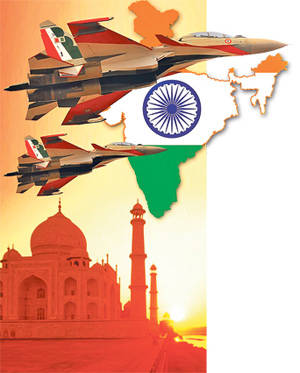 Nevertheless, Russia occupies a special place in the Indian arms market. The MiG-21 and MiG-27 fighters have been in operation for several decades and are in service with the national air force along with the Su-30, the number of which is planned to be increased to 270, and the MiG-29K (deck-based analogue of the MiG-29 for Indian aircraft carriers). Mi and Ka helicopters, Tu and Il planes,
Tanks
T-72 and T-90, various types of armored cars and their spare parts, anti-tank missiles, anti-aircraft weapons, boats, destroyers and submarines - all this Russia generously supplied to India. Nuclear submarines and aircraft carriers were no exception. It even launched production of a number of cruise missiles and their components, as well as fighter-bombers equipped with stealth technology to reduce visibility. This is the fifth generation of these machines, also called promising
aviation
Frontline Aviation Complex (PAK FA) and known as the T-50.
As the main producer of weapons for New Delhi, Moscow plays a key role not only in military supplies, but also in the transfer of relevant technologies. However, with the end of the Cold War, when Washington was striving to improve relations with New Delhi, and Pakistan's positions in the region were shaken, India's economic and political power in the world increased and the United States began to view this country as a serious counterbalance to China's increasing influence. Pretty soon, American-Indian relations developed in the military sphere. So, the last few years, India has been actively seeking the supply of American weapons. Although the bulk of military imports to this country are also imported from Russia, France, Israel and the UK, India's insatiable appetite is so great that some US military companies have also managed to make a big profit from entering into arms deals with it.
Replacing Russian weapons with American ones
The moment lost from the attention of the Russian government and its arms corporations is that India, having begun military cooperation with the United States, ignored Russian companies and their products, or even did not take them into account at all. After bidding for the supply of military equipment, in which manufacturers from the United States won, India began to replace Russian weapons with American ones. Of course, this replacement will cost New Delhi dearly, but it readily goes for it and deprives Moscow of a significant portion of its proceeds from the arms trade. In recent years, Russia has ceded to the United States a large share of the Indian arms market. As proof of this point of view, we present the following facts.
1. Martial Apache pushed Mi-28
India intended to replace its old Russian combat helicopters Mi-24 with 22 new cars. Choosing between different models, India preferred the Mi-28 and Ka-52 not offered by Russia, but the American-made Apache helicopters. The total amount of the contract for the supply of 22 of such machines is approximately estimated at 1,5 billion dollars.
2. Transport Chinook preferred Mi-26
The Indian leadership decided to purchase new heavy transport helicopters instead of Mi-26. This model is the largest in the world, and it can be said that the American Chinook is far superior in its flight qualities and price. It was the Mi-26 that once managed to deliver several Chinook helicopters injured in the mountains of Afghanistan to a repair base. However, surprisingly, India placed an order for the purchase of 15 helicopters of this American model in the amount of nearly one billion dollars.
3. Anti-submarine Tu-142 ceded P-8
For a long time the Indian fleet was armed with anti-submarine aircraft Tu-142 (a special analogue of the Tu-95 bomber). Despite this, India ordered anti-submarine P-12 from American 8 developers, and thus, together with the United States, became the first country to use these aircraft. The amount of the contract is at least estimated at three billion dollars. Perhaps in the future India will order more 12 machines of this model.
4. The victory of the transport C-130 over An-24
A significant part of the Indian transport
fleet
For medium-length lines, the Russian An-24 aircraft were, but India decided to find a replacement for them. Russia hoped that India would purchase new models of its transport aircraft, but it preferred the more expensive American ones, ordering 12 C-130 J models, known as SuperHercules, worth more than $ 2,1 billion.
5. Military transport C-17 Globemaster prevailed over IL-76
It can be said that over the past decades Russian IL-76 was a "star" of military transport aviation in Russia. India bought a lot of cars of this model for its own fleet. Nevertheless, despite all the advantages of the Il-76 and its latest modification, the Il-476, India, having concluded a costly contract with the United States for the purchase of ten C-17 military transport airplanes with a total value of 4,1 billion, has demonstrated its intention to acquire as much military equipment as possible. American production.
6. Triumph tactical military transport Gulfstream-3
By purchasing three Gulfstream-3 aircraft equipped with a special maritime observation radar and inertial navigation system, the Indian air force received the latest reconnaissance aircraft. More accurate information about this contract between India and the United States is kept secret.
7. Stinger vs "Needles"
Despite the fact that India once purchased a large number of Russian man-portable air defense missile systems (MANPADS) Igla-1 (according to NATO classification SA-16 Gimlet), it has now refused to continue cooperation in this area. Instead, New Delhi decided to purchase Xingmite Stinger MANPADS units and a certain amount of charges to it, thus refraining from arming their army with new and cheaper Russian Igla (SA-245 Grouse) and Igla-S (SA-18 Grinch ).
8. Project "Tejas"
The newest Indian fighter "Tejas", the production of which is now at the initial stage, is planned to be equipped with engines of the American company General Electric.
Looking to the future: the Russian Federation and military cooperation between India and the USA
Russia has missed a large economic benefit from US activity in the Indian arms market. This is evidenced by the total amount of military contracts concluded between the Americans and the Indians. Apart from the Tejas project, over the past five years, India has purchased 12 billions worth of weapons from the United States. Russia is still lucky that this list did not include more serious weapons, the delivery of which brings greater profits.
We are talking about fighter-bombers, warships and submarines, air defense missile systems, tanks and armored vehicles. India, of course, has begun to buy used US warships, but their number is still small. Given all these facts, it is worth noting that Russia needs to seriously worry about its future role in the Indian market. Most likely, India will not agree to acquire MiG-35 and Su-35, given the fierce competition from the French Rafale and future Indian fighters "Tejas".
In five years, India will update the fleet of 140 MiG-21 and 100 MiG-27 aircraft, replacing them with Rafale and Tejas. Old MiG-29, Mirage 2000 and Jaguar will also be written off in some ten years. Instead of these 260 aircraft, Russian military-industrial companies will actively offer their own products. Although the 140 Su-30 machines and more than a hundred Su-50 will most likely be purchased, Russia's efforts to maintain a monopoly over the Indian weapons market will face serious obstacles. Recall that she had not previously managed to sell the Buk -M1-2 anti-aircraft missile system (SA-17 Grizzly, according to NATO classification), because the preference was given to the Israeli Spider air defense system. The program of supplying a large number of T-90 tanks also stopped due to the start of production in India of its own model of this type of Arjun equipment.
Despite all these defeats, in the Indian arms market, Russian developers will still be able to withstand competition from French, Israeli and British companies, although it will be extremely difficult to compete with the Americans in this matter. India is already producing parts for the F-18E / F SuperHornet, which is in service with the US Air Force. The United States, in turn, makes India very attractive proposals regarding military-technical cooperation. Of course, Russia can hold a significant part of the Indian arms market in its hands for at least another decade, but the damage in the amount of 12 billions of dollars caused by competition from the United States should make a lot of thought.