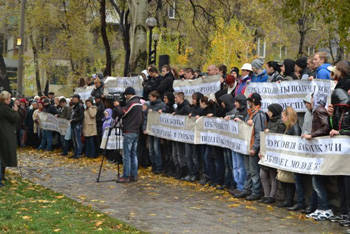 After the statements of the Ukrainian leadership that Ukraine will take the path of association with the EU and entering into a free trade zone with this interstate association,
geopolitics
in the region has changed significantly. The choice of Viktor Yanukovych was completely unexpected for those millions of Ukrainians who at one time voted for him in the presidential election.
October 31 in Kharkov, opponents of Ukrainian European integration held a mass rally. People came out under the bright slogan "We do not need a gay rop." Speakers at the rally said that the Ukrainian leadership is leading countries along the path of resolving their own industry and to final dependence on foreign manufacturers. All speakers delivered their speeches, standing on the flag of the European Union, emphasizing their attitude to the entry of Ukraine into it.
The European integration vector of Ukraine began to show itself even more actively than it was during Viktor Yushchenko. If, then, Yushchenko only declared his desire to lead Ukraine closer to the EU and NATO, the current president is already leading the country in this direction.
If Ukraine enters the FTA with European countries, Russia, according to statements by Russian leaders, will be forced to put up economic protective barriers so that goods from Europe do not rush through Ukraine to the large Russian market on preferential terms. Including about it there was a conversation during carrying out the Kharkov meeting. The people who spoke on it noted that Ukraine was going to be used only as a market and transit point for European products that could not be implemented within the EU itself. In this case, Ukraine may face serious problems of a production nature, because the European Union will require official Kiev to switch to EU technical standards, which for Ukraine would be tantamount to losing chances to send their products to the European market within a few years, because switching to EU technical regulations is not a matter of momentary. Moreover, such a transition is expensive, which seems to be absolutely detrimental for Ukraine, which already now has to apply for loans to pay interest on past borrowings.
Along with the transition to EU technical regulations, Ukraine may finally lose all the benefits for trade with Russia. Today, trade between our countries is about 15 billion dollars a year, but it is rapidly declining.
Detailed information on the consequences of Ukraine's accession to the FTA with the European Union can be found at
mirpolitiki.net
.