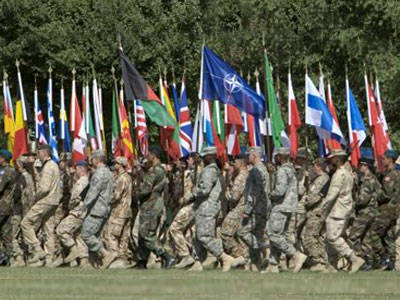 In the Baltics, the largest Steadfast Jazz - 10 strategic exercises are held in the last 2013 years, in which approximately 6 thousands of troops from more than 20 states, mostly members of the North Atlantic Alliance, as well as partner countries - Finland, Sweden and Ukraine, participate. The stated goal of the exercises is to organize the interaction of joint forces of rapid reaction in the conditions of a regional conflict. According to the organizers of the exercises, a non-NATO country makes territorial claims to Estonia and seizes part of its territory. In the media, information is often omitted that the exercise scenario, despite the ambiguity of interpretation, provides for a conditional adversary to deliver a massive blow to the network infrastructure for controlling troops from cyberspace. Accordingly, within the framework of NATO exercises, NATO is working on the reflection of this cyber attack.
The NATO Joint Cyber ​​Defense Center of Excellence, established in Estonia in 2008, is engaged in such tasks. By the way, it is precisely the specialists from this Center who take the initiative to equate a cyber attack with an armed attack with all the ensuing consequences. According to Article 5 of the NATO Charter, in case of aggression against one of the members, the alliance is obliged to take retaliatory steps. That is, in the event of an external attack on the network infrastructure of a NATO member state, the alliance neutralizes the threat, and then conducts cyber-encroachment on the enemy: disables troop control systems, blocks the work of state institutions, cuts off electricity, etc. In general, everything is like in a real war with
tanks
and airplanes, only using computers and the Internet.
Returning to the teachings of Steadfast Jazz - 2013. While on the Polish test sites, helicopters and artillery of NATO reflect the aggression of a potential enemy, the Tallinn Cyber ​​Defense Center conducts a cyber operation, during which several Ukrainian and Latvian sites were hacked to indicate their security gaps.
Probably, the activities should have been carried out in an artificially created information system, but because of an error, instead of duplicates, the real websites of large state organizations were hacked (http://news.pn/ru/incidents/90812). It is indicative that the operation was carried out against a non-NATO state, that is, it was actually offensive in nature.
However, some media outlets write that this incident is related to the recent activity of Ukrainian Anonymous. Hackers who oppose any alliances with the EU, NATO and Russia hacked several Russian and Polish resources, then attacked the website of the European Investment Bank and the website of the Estonian Ministry of Defense. Apparently, the topic of the possible signing of the Association Agreement with the EU is very acute in Ukraine even at the level of the hacker community.