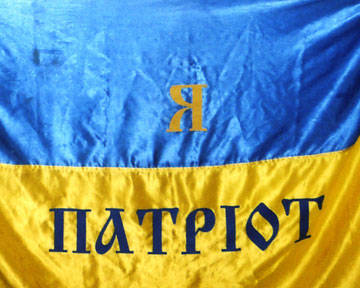 We need to live without Russia. In general, without Russia, and not two-faced, as we have lived all previous years ... To live in a European way, preferably with border posts, with a visa regime on the Russian-Ukrainian border, with migrant workers in Moscow as Asian drug traffickers. You need at least one day to become really independent and forget about Russia ...
It's time to become Ukrainians and fundamentally abandon Russian gas. How much can people rinse brains? Throughout all the years of its existence, the Ukrainian government only did that it fought for energy independence from Russia ... while receiving the cheapest gas from Russia in Europe. Why this mournful moan about the machinations of the Muscovites? Absolutely all the contracts that were signed with Gazprom, by the signatories themselves from the Ukrainian side, served as the greatest achievement of the Kiev negotiators. What claims can now be to Russia? Kuchma, Yushchenko, Timoshenko, Yanukovych are still alive, and we must ask from them how the most profitable contracts turned out to be the most unprofitable.
It's time to boycott the Russian market. To impose restrictions on the export to Russia of any products with the inscription "Zrobleno in Ukraine." In the twenty-third year, it is time to stop feeding Muscovites. This is already starting to bother. It is time to curtail all cooperation with Russia, and destroy the entire legacy of the "colonial regime", along with factories and institutions. Let the Europeans build other plants here. The sooner we drank the Soviet legacy, the faster we will get another? Logical ?!
We must live in such a way that the Russian spirit in Ukraine does not smell. So that not a single Russian film goes on Ukrainian TV channels, not a single Russian song is played on any Ukrainian radio. So that on all 365 concert and theater venues, Ukrainian talents "turned off" would perform "off".
We need to live without Russia to understand that without it we are nobody. Empty place.
In Ukraine, they are used to being Russian in one hemisphere of the brain, and being Europeans in the other, which is responsible for the realm of fantasy. I got used to speaking in Russian, reading Russian literature, watching Russian films, listening to Russian pop music, and calling myself Ukrainians. It's time to start honestly hating Russia with each of its cells, and not be a Russophobe or Russophile when it is profitable.
We must become Ukrainians and see what happens next. Because, despite the abundance of patriotic infusions, there are fewer and fewer Ukrainians in Ukraine. What normal Ukrainian patriot can support the signing of the Association Agreement with the European Union, which de facto deprives its homeland of sovereignty? No, a normal Ukrainian cannot support this. However, where did you see the last time a normal Ukrainian? On a political talk show where one elite asshole reproaches another such asshole for betraying national interests of the country or corruption, and millions of viewers rejoice! After all, the saddest thing is that in Ukraine everyone knows everything about everyone, they know who the oligarch is, who is the thief, who is the traitor, but neither the society nor the law enforcement agencies are concerned. An amazing people who learned to deceive themselves and be proud of it.
Come on, why bash my eyes to shame, don't the Ukrainian patriots dream of changing their passport for any European country? Throw a book with a trident in one place and forget about it as a serious illness. I dream that all European integrators at one moment collect their manat and leave for Europe, dear to their hearts. To their spirit was not here. In order not to fool the head of normal people with their idiotic tales. Let there be those who, with their own hands, without cheap words about patriotism, will be ready to work for the good of their country.
Ukraine is the worst place in Europe. Patriotic patriots resent my words, they say you can not cast a shadow on the bright name of Ukraine. The name may be bright, but the country is in shit. And the main merit is that of these same patriots, who 23, speculate on the national feelings of Ukrainians for personal gain. How many times I went over the names of the Ukrainian rulers in my memory. If only one decent man got caught. A wonderful country, which for so many years has not given birth to a single decent person. Go forward a hundred years ahead, think what historians can write about good modern Ukraine? Do you seriously believe that there will be at least one kind word? Me not.
Ukrainian patriotism must be banned. For each declaration of love for Ukraine should be punished as for a large consignment of drugs. Why do we need this "opium for the people"? I understand that many Ukrainian politicians will find it difficult to do without all this patriotic verbiage, because these leaders cannot say anything meaningful. And the Ukrainians themselves are waiting for breaking, because in their choice they are accustomed to focus on vulgar words "to love Ukraine." But once you have to start telling the truth: there are no Ukrainian patriots in Ukraine, and therefore the topic of Ukrainian patriotism must be closed.
Necessary addition:
"Impartially weighing the chances, we conclude that it is as likely and plausible that the new Ukrainian culture will satisfactorily solve the task of adapting the lower floor of a cultural building to people's roots, it is equally incredible that this culture can solve any other problem satisfactorily a new "upper floor" capable of satisfying the highest demands of the intelligentsia to a greater extent than the corresponding upper floor of the former, all-Russian culture. Successfully competing with an all-russian culture in satisfying higher spiritual needs, new ukrainian culture will not be able to .first of all, it will not have that rich cultural tradition that common culture has, and adherence to such a tradition and originating from it greatly facilitates the work of the creators of higher spiritual values , - even in the case when it comes to creating fundamentally completely new values. Further, for the creation of higher cultural values, the qualitative selection of creators is of tremendous importance. Therefore, for the successful development of this aspect of culture, it is necessary that the volume of the ethnic whole in which a given culture develops should be as large as possible: the more numerous the carriers of a given culture, the greater (other things being equal) the absolute number of those born among these carriers will be talented people, and the more talented people, the first, the more intense the development of the "top floor" of culture, and, second, the stronger the competition; competition, on the other hand, enhances the very quality of cultural construction. Thus, even with other things being equal, the "top floor" of a single culture of a large ethnological unit will always be qualitatively more perfect and quantitatively richer than those of cultures that could develop separate parts of the same ethnological unit, working for themselves, independently of others parts. Every open-minded representative of this ethnological whole cannot but be unaware of this, and therefore, naturally, with full freedom of choice, it will "opt" for the culture of the ethnological whole (in our case, for all-Russian culture), and not for the culture of a part of this whole case for Ukrainian culture). Opt for Ukrainian culture can therefore only be either a person in a certain way prejudiced or, a person whose freedom of choice is constrained.
At the same time, all that has been said applies both to the creators of higher cultural values ​​and to "consumers", that is, connoisseurs of these values: by their very nature, every creator of higher cultural values ​​(if only he is truly talented and conscious of his strength) so that the products of his work become available and be evaluated by as many real connoisseurs as possible; and every true connoisseur ("consumer") of such cultural values ​​of the highest order, in turn, strives to make use of the products of creativity of the greatest number of creators; This means that both parties are interested in expanding, and not in narrowing the field of a given culture.
Restricting this field can only be desirable on the one hand for mediocre or mediocre creators who want to protect themselves against competition (the real talent of competition is not afraid!) most and able to appreciate a particular product of cultural creativity only insofar as it is included in the scope of this regional variety of culture. Such people will mainly opt against all-Russian culture and for a completely independent Ukrainian culture. They will become the main adherents and leaders of this new culture and impose their stamp on it - the seal of petty provincial vanity, triumphant mediocrity, stereotype, obscurantism and, moreover, the spirit of constant suspicion and perpetual fear of competition. These same people, of course, will try in every possible way to restrict or completely abolish the very possibility of a free choice between all-Russian and self-Ukrainian culture: they will try to prohibit the Ukrainians from knowing Russian literary language, reading Russian books, getting acquainted with Russian culture. But this will not be enough: you will have to instil in the whole population of Ukraine a sharp and fiery hatred for everything Russian and constantly maintain this hatred by all means of school, press, literature, art, at least at the cost of lies, slander, rejection of your own historical past and disregard of your own national shrines For, if the Ukrainians do not hate everything Russian, there will always be the possibility of optics in favor of an all-Russian culture. However, it is not difficult to understand that the Ukrainian culture, created in the setting just described, will be very bad. It will not be an end in itself, but only an instrument of politics and, moreover, a bad, viciously chauvinistic and provocatively vociferous policy. And the main engines of this culture are not real creators of cultural values, but manic fanatics, politicians hypnotized by obsessive ideas. Therefore, in this culture everything, - science, literature, art, philosophy, etc. d., - will not be self-valuable, but will be biased. This will open up a wide road to mediocrity, reaping cheap laurels by subordinating to a tendentious stencil, but will bite the mouth of real talents who cannot limit themselves to the narrow blinders of these stencils. But, most importantly, we can very much doubt that this culture will be truly national. Fully embody in the cultural values ​​of the spirit of national identity can only real talents, working not at all for some side political purposes, but only because of irrational internal attraction. Such talents in the above-described vicious situation will have no place. Politicians will mainly need one thing - as soon as possible to create their own Ukrainian culture, no matter what, just so that it does not look like Russian. This will inevitably lead to a feverish imitative work: what to re-create, is it not easier to take ready-made from abroad (if only not from Russia!), Hastily invented Ukrainian names for cultural values ​​imported in this way! And, as a result, the "Ukrainian culture" created under such conditions will not be an organic expression of the individual nature of the Ukrainian national identity and will differ little from those "cultures" that are hastily created by different "young nations", statisticians of the League of Nations.
These are the unattractive prospects that await Ukrainian culture if it wishes to replace the all-Russian, force out the all-Russian, in general, if it embarks on the path of competition with the all-Russian culture. The situation in which every cultural Ukrainian will have to decide whether he wants to be Russian or Ukrainian, this situation will inevitably entail the selection of cultural workers that is extremely disadvantageous from the point of view of the development of Ukrainian culture. By raising the question of Ukrainian and all-Russian cultures in the form of a dilemma ("or-or"), Ukrainians condemn their future culture to that unremarkable state that we have outlined above. From this it follows that such a formulation of the question is essentially unprofitable for Ukrainians. In order to avoid the above-mentioned deplorable future, Ukrainian culture should be built in such a way as not to compete with the all-Russian one, but to complement the all-Russian one, in other words, the Ukrainian culture should become an all-Russian individualization of the culture.
Above, we have already indicated that the "lower", i.e. facing the foundation of the people, the floor of a cultural building should be built anew, and that in this building Ukrainian culture quite naturally can and should show its individuality; on the other hand, we pointed out that on the top floor of the culture, which includes the highest cultural values, it is impossible for Ukrainian culture to compete with the all-Russian one. Thus, some natural delineation of the sphere of general Russian and Ukrainian culture is outlined here. The distinction is, of course, not yet exhausted by the above, because after all, besides the "lower" and "upper" floors mentioned by us, the culture should also have "intermediate" and intermediate floors. But, nevertheless, the very principle of this distinction is indicated. "
Prince Nikolai Sergeevich Trubetskoy
The article was published in the collection "Eurasian contemporary", book V. Paris, 1927