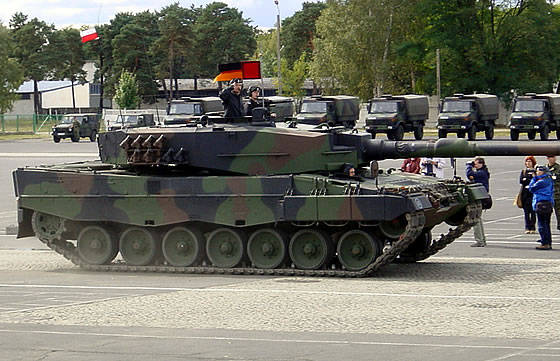 In November of this year, a final decision will be taken on the purchase of an additional MBT Leopard-116 MBT in Germany, said the Minister of National Defense of Poland, Tomash Semonyak.
The RP Armed Forces command intends to acquire 116 Leopard-2 MBT from the Armed Forces of the Federal Republic of Germany, incl. 105 units - in version 2A5 and 9 cars - in modification 2A4, which will allow to fully equip
tank
brigade. Together with the tanks, the Polish side expects to receive other equipment and systems for equipping the tank connection, similar to the contract from 2002, including the BBM M-113 in the version of the control vehicle and ambulance; ARV; bridge layers based on the Leopard-1 OBT chassis; trucks and light off-road vehicles.
According to Janes Defense Weekly, the total cost of MBT and other special equipment is estimated at 200 million euros (275 million dollars).
Currently 116 units. of 128 MBT "Leopard-2А4", received in 2002 from the Armed Forces of the Federal Republic of Germany, are in service with the 25 of the armored cavalry brigade (Sventoshuv) of the Army of Poland. Another 12 MBT is used to train personnel.
A new batch of tanks from the Armed Forces of Germany should go into service with two battalions of the 34-th armored cavalry brigade (Zagan) from the 11-th armored cavalry division, equipped with the Polish version of the T-72 - RT-91 "Tvardy".
According to the information of T. Semonyak, at present negotiations are being held with the German side on the purchase of the MBT, which may be completed soon. 22-23 October the meeting of the head of the Polish Defense Ministry with the Minister of Defense of Germany Thomas de Mezieres was held. The results of the negotiations allow us to predict that the contract for the supply of tanks will be signed in November.
In addition to acquiring the next batch of MBT Leopard-2A4 / 2A5, the MNO RP also intends to begin upgrading the currently operating Leopard-2A4 currently operating in the OBT RP. Despite the fact that T.Smoniak did not name the specific date for the start of the program, the decision to conduct it has already been made.
According to Altair, in November of this year, an agreement must also be signed with Elch-Komponenty (Jelcz-Komponenty) to purchase 866 highly mobile medium-duty trucks that will replace the Star-266 vehicles currently in service. »(Star 266) with wheel formula 6х6. New trucks will be equipped with MTU engines, which will be supplied by the center of military engines (Poznan).