Article 2010 of the year, but has not lost its relevance to this day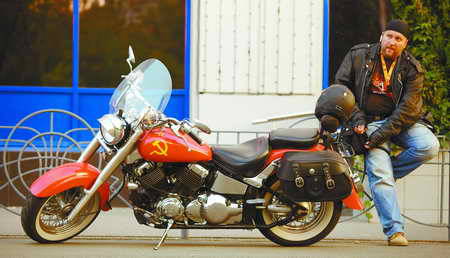 Last year "2000" was published by Maxim Mikhaylenko's article "Passing Independence Through Yourself" with the subtitle "Three
stories
about becoming a Ukrainian. " It is clear that the word "Ukrainian" means not a canceled count in a passport, but a belief system, feeling oneself as a citizen and patriot of the state of Ukraine.
Maxim sincerely told how he became "Ukrainian," obviously, having addressed the material to those who, despite the presence of a Ukrainian passport, did not become a "Ukrainian" in their hearts. Alas, I am one of those. Having become a citizen of a new state after birth and residence on its territory, in eighteen years I have not become its patriot. And since there are a lot of people like me, I consider it necessary to explain why this happened.
Of course, the concept of patriotism is multifaceted. But, no matter how much you talk about lofty matters (and I will definitely tell you about them), the attitude of an ordinary, "small" person to certain social and political structures (including the state itself) and processes is determined by their influence on their material well-being. Millions of people change their place of residence, move to other states solely for material reasons, and this no longer seems reprehensible to anyone! I did not go anywhere from my homeland, the city where I was born and lived all my life, independent Ukraine "came" by itself.
Independence will not be full
What did she give me and the millions of ordinary people? I will not compare the level and quality of life in independent Ukraine with the level and quality of life in the Soviet Union. I fully agree with Maxim that the collapse of the Soviet economic and political system was quite natural, as well as the difficult times that followed it for all the peoples of the former USSR. But did these times make it easier for us to go on an independent voyage? After all, the main argument in favor of independence was the famous Rukhov leaflets, with figures proving how Ukraine will live a satisfying life, barely stop feeding others. And what is the result?
The approximate parity of the living standards of Ukrainians and Russians (even with some preponderance of Ukraine) was maintained only in the first year of separate existence, until the banking systems of the two states were disconnected, and the Ukrainian leadership had the opportunity to emit a practically unlimited number of non-cash rubles, "exporting" its inflation to Russia The unilateral introduction of a full-fledged national monetary unit by Russia (and Ukraine, for obvious reasons, sabotaged this process in every way) led to an inflationary explosion of 1993 in Ukraine, which immediately threw it far back. The growth rate of prices in more than 10 times exceeded the not low Russian figures.
The difference in the standard of living began to be felt already at the end of 1993 — the beginning of 1994. Yes, the dynamics of "development" in Ukraine and Russia, like in other post-Soviet states, were the same: inflation, decline in production, closure of enterprises, delayed wages and pensions and so on. Negative was relayed through the media and created the feeling that "they have - like us". However, those who regularly visited Ukraine and Russia, even then, noticed that "their abyss" is not as deep as ours. And in the second half of the 90-s, Ukrainian foreign workers reached Russia, and not only to Moscow and St. Petersburg, which, in my opinion, is the clearest comparative criterion.
However, there is a subjective mass perception, but there are real economic indicators. The largest drop in GDP compared to 1990 in Russia was 40%, and in Ukraine - 59,2%! In the pre-crisis 2007, Russia's GDP exceeded Soviet maximums (14 743 dollars per capita), and Ukraine's GDP reached only 2 / 3 levels of 1990 (6916 dollars). The average salary in Russia was 529. in dollar terms versus 270 in Ukraine. A similar picture can be observed in almost all indicators of socio-economic development: housing construction, the number of cars in personal use, etc.
It is characteristic that in the post-Soviet years the population of Russia decreased by 6 million people, i.e., by about the same amount as Ukraine lost three times less! And this figure does not take into account even 6 million Ukrainians (not according to the "spirit", but according to the passport), who are forced to earn a living out of the country. In Russia, "alienation" as a phenomenon is practically absent - one cannot meet Russians and Russian women in Polish fields and Spanish construction sites, among Italian housemaids and carers.
Well, when the global crisis hit, Ukraine was again ahead of not only Russia and other post-Soviet states, but the entire planet. The average salary in May of this year in Russia was 18 190 rubles, or 4550 UAH., Against 1660 UAH. in Ukraine! The difference already exceeds 2,5 times!
The failure of economic arguments in favor of Ukrainian patriotism is so obvious that even Mikhailenko could not resist not to use the last argument of the conscious public - say, official statistics - this is "the average temperature in the hospital", and outside the capitals, resorts and oil and gas regions the Russians (this is my personal opinion, I do not seek to convince anyone) and now it is at least no richer than the Ukrainians, if only because Ukrainians are massively involved in the shadow economy.
But "paradise" in the capitals is not only a Russian phenomenon, and it is also fully present in Ukraine. My opinion is based on "personal" information, for example, from a distant relative living on the border of the Arkhangelsk and Kirov regions (it is difficult to imagine a "deeper" Russian outback) in the region administratively related to Kirov (officially - one of the most economically backward and depressed in Russia), regularly in Ukraine and having the ability to compare; from a fellow practitioner who moved from Crimea to Yeisk ten years ago (although a resort, but clearly not a "premium" class, an ordinary provincial town).
Finally, I live in the shipbuilders' microdistrict, and although the shipbuilding enterprises of our city (working around 10 — 20% of their Soviet highs) experience severe shortages of personnel, many of my neighbors still prefer to work in Russian shipyards, and who succeeded, moved there forever . I think that any reader will also recall many similar examples, and Maxim's personal opinion, I'm afraid, not so much an opinion as self-deception is an attempt to pass what you want into reality.
Maxim writes: "For me personally, it was obvious - to succeed here (in Ukraine. - Auth.) Is possible, just work!" But isn't it possible to say the same about modern Russia? Therefore, attributing this possibility to the advantages of independence is at least a huge stretch. A much higher level of economic development in Russia provides energetic, with an entrepreneurial streak to people who are immeasurably more empowered than in Ukraine. Again, pay attention to the fact that Russians who want to work and earn money do not need to look for such an opportunity outside their own country, unlike the Ukrainians. In addition, as scientists say, only 10 — 20% of people, according to their psychophysical data, are able to start and successfully conduct business. And the rest simply need normally paid jobs. And how similar work in Russia and Ukraine is paid, see above.
Thus, we have to admit that there are absolutely no economic grounds for becoming "Ukrainian" neither for me nor for tens of millions of our ordinary citizens! Only our dear politicians and their numerous and multi-service "attendants" unequivocally benefited from independence, and, perhaps, customs officers with smugglers at the newly emerged borders. Probably, this list can be added to the people of Kiev, thanks to their city acquiring the status of a capital and corresponding financial flows, but I don't think that the average Kiev resident lives better than a resident of some large Russian city (for example, Nizhny Novgorod). The rest is precisely the independence of Ukraine owes the fact that a significant part of their lives lived much worse than they could have lived while maintaining a single state!
Not by bread alone
Of course, such a feeling as patriotism can in no way be reduced only to "uterine" motives. Love for the Motherland should be just as natural and inherent in any person, as love for parents, who, as we know, do not choose. After all, the parents of each of us are ordinary people with their own strengths and weaknesses and all the more financial means, but we love them (with rare exceptions) not for "opportunities", but for what they are for us, and we are the most expensive for them and close people who should be together in joy and in sorrow.
Likewise, patriotism, pride in the history and achievements of the Motherland are usually in a person's blood, as they say, from diapers. And I, like tens of millions, from the earliest years (and I am not a young man) had a feeling of love for the Motherland - the Soviet Union, which was always and universally associated with Russia. Of course, we saw the shortcomings of the existing regime, told jokes about the senile general secretary, envied the abundance in Western shops and resented the lack of democratic freedoms. But we were proud of our country, the first person to launch into space, collapse of fascism, its thousand-year history with many glorious victories and accomplishments, dozens of geniuses donated to the world and hundreds, if not thousands, of outstanding personalities who showed themselves in all spheres of human activity .
And this great Motherland was taken from me, declared the "evil empire". My small homeland (hometown) became part of the new state - Ukraine, which no one (of my friends and colleagues in any case) shared with Russia before. Of course, you could try to love your new homeland - if not with your heart, so with your mind. But it did not work! It turned out to be impossible to accept that history and those "heroes" whom the ideologists of the new state offered in return for those who were rejected. Even a genius of world magnitude, Gogol, who like no one else sang of Little Russia (Ukraine) and could well have become the "calling card" of an independent Ukraine, was in fact rejected by them for his Russian patriotism.
The main national genius appointed Taras Shevchenko. Taras Grigorievich list of Ukrainian geniuses in the list of culture, science and art is practically limited. The achievements of Ukrainian science, industry (now rapidly degrading and leaving into non-existence) are directly related to the stay of Ukraine within the USSR, and earlier - the Russian Empire, which was, according to the official version of history, for centuries of oppression and exploitation.
And this imposed story with its new "heroes" can in no way cause at least respect from a sane person. Of course, it is not surprising that the same historical characters receive diametrically opposite assessments on opposite sides of the current state borders. For example, George Washington has long remained a traitor and separatist for many in England.
All historical figures of all nations were not angels in the flesh, they were not shy in the means and methods of achieving goals; historians from neighboring countries love to "look for fleas" in their biographies, and they naturally idealize their heroes. As the saying goes, "their" spies are "our" scouts. The neighbors have a "pathological sadist" and a "treacherous traitor," we have a "son of his time" and a "skilled politician". It is clear that the truth is somewhere in the middle, and the place of certain heroes on the national historical pedestal is determined, as a rule, by two things: how much their activity met the interests and aspirations of their peoples and states and what successes they have achieved.
It is clear that within the framework of this letter I will not analyze in detail the activities of each of the Ukrainian heroes, quite a lot of material has been published on this subject, including on the pages of 2000, but I will try to draw general conclusions.
First: all the "heroes" were political losers, who suffered a complete fiasco in their activities. Moreover, the main reason for the catastrophes that had befallen them was not the external factors of insuperable force, but the rejection of the Ukrainians themselves. Moreover, if at a certain historical moment they were not needed as a tool for external enemies of Russia, they would have no chance to get into the pages of modern history textbooks (for example, as a certain Sapega, whose project of the Ukrainian campaign did not inspire Bonaparte).
Secondly: none of them can be called a strong politician, not even Mazepa, who, trying to outwit both Peter and the Poles with the Swedes, as a result, outwitted himself. Personal qualities that could cause respect for our "heroes" are difficult to find with a microscope. Adaptation, servility to more powerful and deceit — this is more than enough in their biographies, but principled, steadfastness in carrying out their policies, finally, just personal and political courage — Ukrainian history cannot cite such examples. It's absolutely impossible to find the ideological, national liberation component in the activities of the heroes of the Hetman's era, and later followers of their "cause" sold their "patriotism" too easily for bread places, including the recent opponents (like Petliura, to the Poles, and Hrushevsky to the Bolsheviks ). Once out of business, they began to look for new owners!
Actually, the place of the clerk at the foreign owners of Ukraine, the "native administration" was the main goal for all of them. Under the sauce of formal independence - well, no - also nothing terrible. And the definition of "collaborators" for them - the most accurate (if you refrain from more stringent). And these are the "fathers of the fatherland, which we should take for samples"? I think the rhetorical question is: is there still a country in the world where collaborators instead of deserved contempt have the rank of national heroes?
I'm sorry, gentlemen, patriots
I repeat, it is difficult to accept both the heart and the mind with a country with such a story (however, through and lying and false) and such "heroes"! It is obvious to any thinking person (and Maxim is not an exception, which he admits) that the "Project Ukraine" was artificially invented and implemented exclusively as a means of weakening and destroying Russia. Independence ideologists have pretty much tried to kill in the souls of people the sense of Soviet and Russian patriotism imbued with mother's milk, and frighten the history of our Motherland, but at the same time they killed many people with the very ability to display such a high feeling as patriotism.
Even a child who was taken away from a dysfunctional family and given to wealthy, caring adoptive parents, it is very difficult to restructure his feelings, he still considers his own mother the best. In our case, the situation is the opposite - at a quite conscious age, we were "taken away" from a completely prosperous mother-motherland and given to a thieving and deceptive station prostitute, demanding to be recognized as her own, - excuse me, dear Ukrainian patriots, for making such a comparison!
Yes, and for us, residents of the southeast, this "new" (after all, we did not leave our homes and cities), our Motherland is not a mother, but a real stepmother! How "orange" raged in 2004 about the card "So vigliadak їх Ukraine"! But this is absolutely true !!! The division of the citizens of the new state into "correct" (the more trap, the more correct) and the "wrong", which should be "taught to be Ukrainians" (by the way, in the latest issue of 2000, Leonid Kravchuk openly calls for this) - an objective reality, state policy is not only the "orange" power, but also their predecessors. I will not even dwell on the obvious prevalence of immigrants from Western Ukraine among the Kiev establishment, on their large-scale "landing" at key posts in the eastern regions in the complete absence of oncoming traffic.
I can only say about the "language issue"
I was born and live in the historical region - Novorossia (where, by the way, 50% of the population of present-day Ukraine live and 75% of its GDP is created), in a city founded by the Russian empress on lands conquered by Russian soldiers, so uninhabited because of the constant Tatar raids, in the city, which was and is Russian-speaking from the moment of its foundation until today. And I am not a guest in my hometown, who must respect the "indigenous people". I remember that in the period of sovereignty, it was fashionable to accuse the Russian-speaking people in the national republics of insufficient respect for the language and customs of the local population, to see this as a manifestation of imperial politics. But we, the Russian-speaking, are the indigenous people of Novorossia, which the Ukrainizers who had come from Galicia in recent decades should have respected!
According to the American Gallup Institute, 83% of its respondents in Ukraine prefer to give interviews in Russian. But why, even in my own, in 99% Russian-speaking city, I was deprived of the right to contact the official bodies, listen and watch TV and radio broadcasts and much more in my native language? Why was my children deprived of the right to study in Russian (both secondary and special)? But getting a child's education in a foreign language inevitably affects the quality of education. A separate conversation is that the Canadian-Galich dialect, which is difficult for Ukrainian citizens of Central and Eastern Ukraine, is hard to penetrate as a "correct" Ukrainian, i.e., additional competitive advantages are artificially created for people from Western Ukraine.
However, this is not enough. Ukraine stole from me what is, it would seem, the most inherent property of any person - his name! Both Ukrainian laws and international conventions on human rights guarantee the right to a name, as well as the right to arbitrarily change the name and surname. And the only exception, on the basis of a certain departmental instruction, is Slavic names, which must be written in documents in Ukrainian transcription. But excuse me - I am not Dmitro and do not want to be Dmitro !!! Parents called me differently!
And this state, which has turned me into a second or even third-class citizen, deprived me of elementary civil rights (and what is our formal right to form power by participating in elections, clearly showed Maidan), should I fall in love? But, you see, "I do not intend to indulge" my rejection of this state, Maxim Mikhaylenko?
Sustained - love?
However, Maxim is well aware that millions of Ukrainians have absolutely nothing to love and respect the state, the citizens of which they were "lucky enough" to be. Therefore, he is trying to convince us to love an independent Ukraine "by necessity", as a girl who is forcibly given in marriage is persuaded to love an imposed husband - they say, this is fate, and you cannot run away from her. In the interpretation of Maxim: "Yes, and does not happen in the history of accidents ... So it is with Ukraine. But our empire collapsed from the inside, in fact - it was Russia that separated from us. "
Of course, the re-creation of 1991 events would have taken a lot of space, but I have to remind you that already on August of that year, very high-ranking representatives of the new Russian leadership Rutskaya and Sobchak with the mission to "reason" the Ukrainian leaders immediately flew to Kiev. It was the complete failure of this mission that made Yeltsin accept the collapse of the union state (and Russia really didn't need an alliance with the Central Asian republics, and the correctness of this position cannot be denied). So Russia is not separated from Ukraine!
As for accidents and patterns in history ... Khrushchev is much cursed for the transfer of Crimea to Ukraine (by no means an "obligatory" step, from the point of view of history), but they forget about another of his "voluntarist" actions - the abolition of Karelo in 1956 -Finnish SSR. But if this did not happen, today Karelia would be an independent state! So the question of coincidences and patterns is by no means as simple and unambiguous as Maxim argues.
And is that a "place" in which Ukraine ended up in its "majority"? Or is this the natural result of the "development" of the state, which the "republican nomenclature has created for itself" (Maxim Mikhaylenko) with the help of "sausage" patriotism? Maxim tries to convince that "Orangism" is a disease of the growth of the young state, and even predicts: "Maybe the next Independence Day will be filled for us with a new meaning - and indeed independence from the forces that have been pulling us all these years into a dead end and downwards - hell.
I understand very well that, not being a super-optimist, it is very difficult to remain a patriot of the Ukrainian state, but personally I prefer to be a realist. Nowhere, Maxim, these "forces pulling us into the underworld" (internal and external) will not disappear, since it was they who implemented the "project" Ukraine ". Only for them it makes sense. Yes, and who can come to replace them? Are there such non-politicians, but statesmen in our country? Maxim didn't fail to remind about the "distance" of Yeltsin, which we safely avoided thanks to sovereignty. But these are "the affairs of bygone days", and what might the "udal" of the current Ukrainian leaders (to whom I will express my opinion, to the late Boris Nikolayevich - as to the stars), can be scary to imagine!
However, while I was writing this letter, the latest issue of "2000" was published with a new article by Maxim Mikhaylenko, "The IMF candidate," in which he writes: "But Ukraine and Ukrainians themselves do not take Ukraine seriously". And this is a sentence! After all, "not only ordinary Ukrainians do not seriously perceive Ukraine, but also its, so to speak, elite, for whom the" project Ukraine "is only interested in its financial capabilities (for them). As you know, the fish rots from the head. And why ordinary citizens of Ukraine should relate to this state, which gave them nothing - only took, better than those to whom it gave everything? Moreover, the lesson of the "pragmatic" attitude towards the Motherland was taught eighteen years ago.
If we talk about historical patterns, then what is eighteen years on the scales of history? And what is it compared to the thousand-year history of Russia, in which there have been more difficult and difficult times? Therefore, I remain an optimist with regard to the future of my Motherland, which I do not associate with the collapse in front of the "independent" (really - from whom?) State of Ukraine!