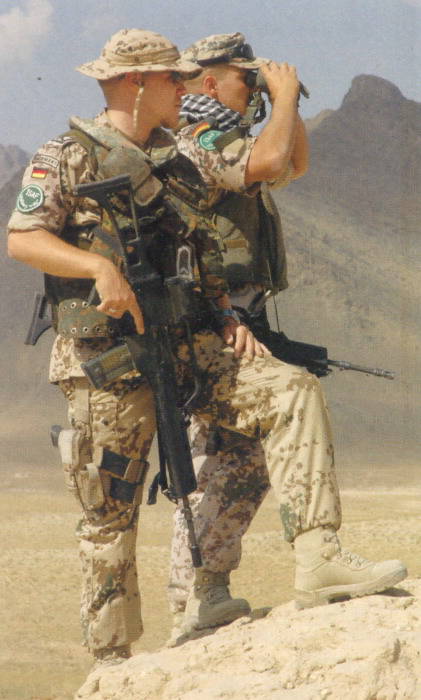 Germany for many years considered the legislator of strict and ascetic fashion. It is simple and
stylish clothes from Germany
distinguishes it from all that produced by Italian or French designers. At one time, Germany was also a European trendsetter in military clothing.
A distinctive feature of the military uniform of the Bundeswehr is a special camouflage, which is called Flecktarn. German manufacturers themselves define it as a color with a "noise" effect. The abundance of colored spots of special shades and dots allows a person dressed in such camouflage to remain not noticeable enough. Points do their optical business, not allowing the enemy to find a clear boundary between the fighter himself and the background around him. The maximum number of colors in Flecktharn is six.
The development of camouflage for the soldiers of the Bundeswehr was held in a special scientific laboratory. Scientists investigated the influence of colors and geometric shapes on the organs of human vision. In the end, it was found, according to the scientists themselves, the most optimal combination of colors and shapes, which allows you to "hide" a fighter. In the development of such military clothing for the German soldiers, particularities of the landscape of Central and Western Europe were taken into account.
If the Bundeswehr soldier appeared in Flektarna in the Afghan countryside or the desert of Iraq, he would have become an ideal target for the enemy. Therefore, the developers were given the task: to create a desert version of camouflage, which would be based on the main principle - minimal visibility on the surrounding background.
The desert version of the German camouflage is called Tropentarn. This is the form of the color of light sand, on which a special ornament of greenish and brown spots is applied. This combination allows the soldier to merge with desert landscapes and disorient the enemy.
German camouflage today has become one of the shaped attributes of NATO fighters. In recent years, German soldiers have managed to participate in various operations of the alliance: from operations in Serbia to military operations on the territory of Afghanistan. German camouflage became popular among participants in rifle clubs in different countries of the world.